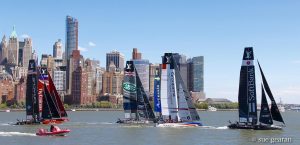 Our spectator fleet of yachts (updated weekly, listed below) sells out early, and is the ideal on-sea vantage point for viewing the race.  Hosting friends and colleagues during these weeks will prove to be thrilling, but you must reserve as soon as possible to ensure your place. For best results,  Contact us today to reserve the most coveted seats for this yachting spectacle!
Read on for details about the race, the racers and our fleet of available yachts, updated weekly.   Meanwhile, enjoy this video of stunning Bermuda and the world's fastest yachts!
About the Race
The America's Cup is the oldest and arguably the most coveted trophy in international sport, dating back to 1851.  To win the hosting spot for the 2017 event, Bermuda beat out San Francisco (host of 2014 34th Cup) and Chicago, with a bid of $77 million US dollars.  Known as the "Land of Wind and Water", Bermuda already reports that sponsors and spectators are buying up space on land and on the sea.  In this world class sailing race, 5 rival teams will compete to defeat current defenders Team ORACLE.
About the Racers
The Louis Vuitton America's Cup World Series will use foiling AC45 catamarans, also known as AC45f, a one-design wing-sail catamaran with foils designed specifically for the event by the Oracle Racing engineering team.
What is the cost of being a player in the Indy 500 of the ocean?  Back in 2013, the 62′ Catamarans cost $8Million to $10Million per boat and most all teams have a back-up!  Larry Ellis of ORACLE spent close to $250-300Million defending the title.  The entry fee is $3Million.
Currently the ORACLE Team AC45f is being built in New Zealand.  All teams agreed that a 45′ Catamaran would cost significantly less per racing yacht.  Only in December of this year, will they be able to start practicing and tweaking.  Along with the redesign, a series of rule changes will reduce team operational costs, essentially by racing in a smaller boat.
2017 Race Week Schedule (check with us for updates)
For instant updates, follow us on Twitter and Facebook.
May 26 – June 5:  All six teams compete in Louis Vuitton Cup Qualifiers (match racing)
>> 4 challenges out of 5 will qualify to join the Louis Vuitton America's Cup Playoffs.

June 6 – June 12:  4 qualified challengers will compete in the Louis Vuitton America's Cup Playoffs (semi-finals and finals).
>> the winner gets the rights to challenge the Defender in the America's Cup Match.

June 17 – June 27:  the Defender ORACLE Team USA will race against the winner of the challengers in match-racing during the America's Cup match presented by Louis Vuitton.
>> the first competitor to reach 7 points (1 point allocated by regatta won) wins the America's Cup)
CHALLENGER TEAMS ARE:  ARTEMIS-Swiss | LAND ROVER – UK | EMIRATES – New Zealand  | GROUPAMA – France | SOFTBANK – Japan
And if YOU want to claim the best seats in the house for this thrilling contest,  the Super Yachts we can offer you for charter are as follows:  (Rates based on 7nights/8days) 

Available Spectator Yachts for You to Reserve (updated weekly)
Here are a couple of examples. For complete list, see below.
283′ MALTESE FALCON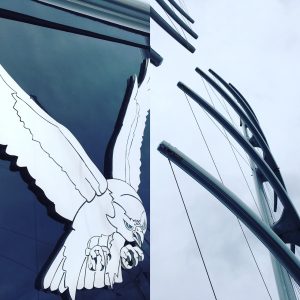 is unsurpassed in her status in sailing yachts.  She will be in Bermuda and is ready to take on charter guests.  This yacht will go fast on the market for the best viewing and entertainment platform for your guests.  FEATURES: Revolutionary sailing rig setting a new milestone in the yachting industry. Upper deck Jacuzzi and spa – new for summer 2016.  Capable of speeds up to 18 knots under sail.  Voted "Finest Superyacht Ever" and awarded the Superyacht World Trophy.  Highly experienced and carefully selected crew, offering the ultimate in charter service.  Great selection of water toys including a slide from the upper deck!
Sleeps 12 Guests in 6 Cabins | VIP cabin with a Queen berth on the upper deck, Master stateroom (full beam) with a King berth with a dressing room and private gym on the lower deck. Depending on a number of guests on board, the two VIP suites can be converted into four guest suites. | Details
154′ M/Y RHINO comes with 74′ Sport Fish (overnight for 8 guests)
Sleeps 10 Guests in 5 Cabins | Flexible Deck Plan is the Main Feature | Details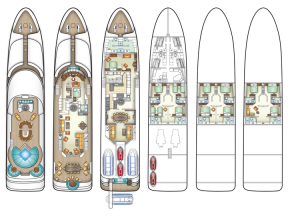 CLASSIC SAILING YACHT



115' S/Y EROS                                                                                                                                                                                            
Sleeps 9 Guests in 1 Queen(s), 2 Doubles (s), 1 Twin(s), 1 Pullman | Details

CATAMARANS – Click "Details" on each to review and reserve

 
BLUE MOON L56 56 Feet.
Sleeps 6 Guests in 3 Queen(s)  | Details  | SCUBA
BEST REVENGE 59 Feet.
Sleeps 8 Guests in 2 King(s), 2 Queen(s)   |  Details
SPLIT SECOND 62 Feet.
Sleeps 8 Guests in 4 Queen(s)  |  Details
THE CURE 62 Feet.
Sleeps 6 Guests in 3 Queen(s)  |  Details
MAVERICK 70 Feet.
Sleeps 9 Guests in 3 Double(s), 1 Single(s), 1 Twin(s), 2 Pullman  |  Details
SAILING YACHTS – Click "Details" on each to review and reserve

 

MOTOR YACHTS – Click "Details" on each to review and reserve
Save
Save