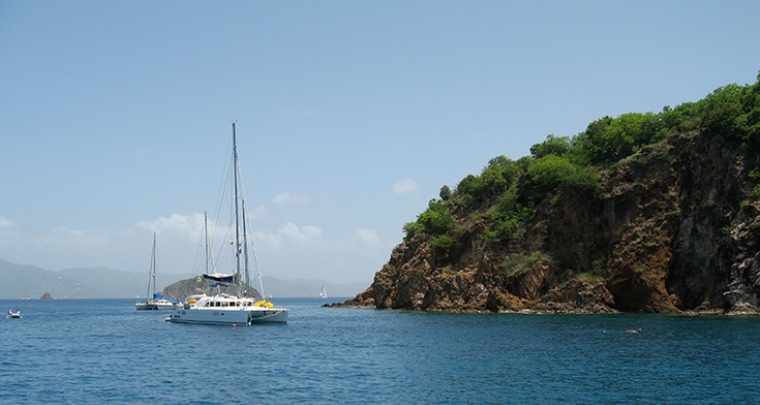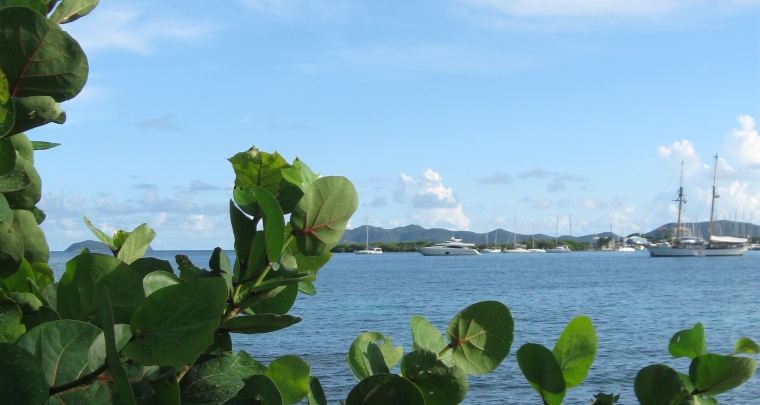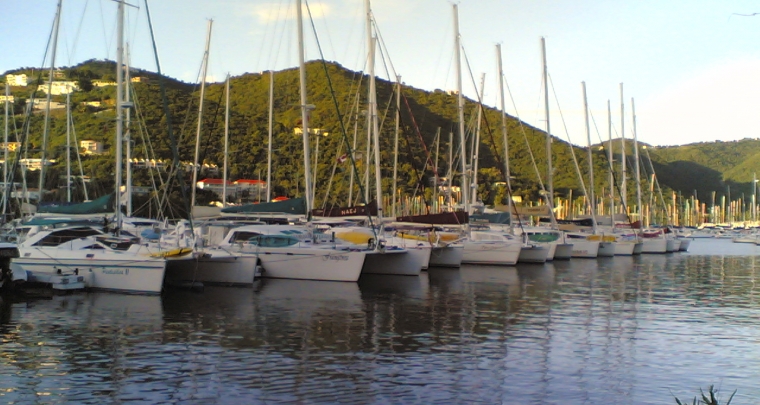 Cruising in the British Virgin Islands
The British Virgin Islands call to mind images of dreamy tropical escapes, lively ports of call, soft sand beaches, tranquil blue waters, a steady tradewind breeze and abundant marine life among the main islands of Tortola, Virgin Gorda, Anegada, Jost Van Dyke, and their 50 or so nearby out-islands.  Here we offer you:
a suggested itinerary; and
details on many other islands you may wish to include in your own custom itinerary.
This itinerary is a hit, but feel free to ask us to help arrange one that suits your plans and ideas.
A SUGGESTED ITINERARY
Day 1:   Tortola
Join your charter yacht in Soper's Hole, Tortola and set sail for an easy reach to the Bight at Norman Island.  Enjoy a tropical lunch and then dinghy to the caves for a snorkel. Have an evening cocktail at the famous "Willy T" (William Thornton) a floating bar and restaurant.  Overnight.
Day 2: Swim and snorkel 
Wake early and leave for "The Indians" for an early morning swim or snorkel and continue to "Deadman's Bay", Peter Island, for lunch. Then, sail to Salt Island, where certified divers will want to explore the"Wreck of the Rhone", which was lost in an 1867 hurricane.  Then, it's a short sail to Cooper Island to overnight.
Day 3: Virgin Gorda 
Make your way towards "The Baths" at Virgin Gorda, where huge boulders mass together along the shoreline. Large caves and walkways with magnificent rock pools take you through to Devil's Bay. Sail up to the North Sound to the home of the Bitter End Yacht Club It's a short dingy ride to Eustatia Reef for a snorkel where the seabed is littered with old cannons and anchors from galleons wrecked on the reef in years gone by.
Day 4:  Great Camanoe Island
Sail to Great Camanoe Island. Take a short walk through the huge aloe plants to Cam Bay and see lizards and hermit crabs. The snorkeling here is excellent, with schools of colorful tropical fish and a variety of coral.  At sunset, sail to Cane Garden Bay on the northern side of Tortola and enjoy live music in one of the many beach bars.
Day 5: Jost Van Dyke
After breakfast sail over to Green Cay for snorkeling off Sandy Spit. This is a tiny, tropical, sandy island – a must see! Move onto Jost van Dyke in the afternoon and anchor in Great Harbor. Visit Foxy's Bar to meet the world famous Foxy, who often plays Calypso music for his guests. Hike over the hill top or dinghy over to the Soggy Dollar Bar in Little Harbor. You will want to taste the famous "Pain Killer" while you swing on the hammocks listening to the waves come into this picture perfect shoreline.
Day 6: White Bay and West End, Tortola
Awake for a swim in White Bay. Then, set sail for West End, Tortola, home port of Pussers' Rum. Ashore is a cluster of fanciful pastel West Indian buildings, known as Soper's Hole Wharf. This houses some terrific boutiques and craft shops including Pussers' Landing Restaurant and Company Store. Around the anchorage is a mix of old classic brigantines, square-riggers and modern sailing boats. Overnight.
Day 7:  Return to Soper's Hole
Disembark at Soper's Hole, West End to complete your BVI yacht vacation.
Every island offers a unique experience.  Where would you like to go?
Tortola
Tortola, the largest of the British Virgin Islands, is known as the yachting capital of the Caribbean. It has a relaxed atmosphere and is bordered, mainly in the north, by uncrowned, white-sand beaches where excellent swimming and snorkeling can be enjoyed.
Mount Sage (1716 ft), a National Park, shows traces of a rain forest and boasts a nature trail where you can observe tropical plants and trees. Road Town, the capital (left) is the centre of administration. Here you will find the Botanical Gardens, Folk Museum and the Tourist Board's Visitor Centre, along with shops, banks, post office and a wide selection of restaurants and bars. Tortola is where most visitors arrive, either by plane at Beef Island or by ferry at Road Town or West End.
Norman Island
One of the southern islands of the BVI archipelago, Norman Island lies close to the boundary line separating the British Virgin Islands from the US Virgin Islands. With an area of over 600 acres, the island is approximately 2.5 miles long with a central ridge extending along the length of the island. The coastline comprises a number of bays and offshore reefs providing excellent snorkeling and diving.
Among the attractions on or near Norman Island are The Caves and The Indians – several pinnacle rocks sticking out of the water – not-to-be-missed sites for diving or snorkeling. A floating restaurant and bar, the 'Willie-T' can be located in The Bight.
Peter Island
The largest private island in the British Virgin Islands, Peter Island is located four miles south of Tortola. 1,200 acres in area, it has a hilly topography ideal for hiking and biking, lush vegetation, and white-sand beaches lined with palm trees. Peter Island is home to the luxurious Peter Island Resort and Yacht Club, a classic Caribbean resort featuring five beaches, deluxe accommodations and outstanding cuisine.
Dead Chest
A large rock formation between Peter and Salt Island, Dead Chest (so it is said) is where the British pirate Arthur Teach (Blackbeard) is thought to have abandoned 15 of his men, who he was most displeased with, on the island with a only a bottle of rum, hence the song "15 men on a dead man's chest, you ho and a bottle of rum"! Dead Chest is an uninhabited National Park that had three dive sites: Coral Gardens suitable for novice divers and snorkelers, Dead Chest West and Painted Walls, which is perhaps one of the most photogenic dive sites in the British Virgin Islands.
Salt Island
Salt Island is noted for its three salt ponds that provided a traditional source of seasoning for local islands and passing ships. Salt is still harvested here. The island is also famed for the RMS Rhone (Royal Mail Steamer) that went down off the island in an 1867 hurricane. Featured in the film version of Peter Benchley's novel, 'The Deep', it is the Caribbean's most spectacular and perfectly-preserved wreck and as such is a popular dive site. The Wreck of the Rhone is divided into two halves: The Bow at 60-90′ where divers can swim inside the ship and marvel at the many varieties of fish including Angel Fish, Parrot Fish, Snappers, Grunts and Blue Tang; the other half (15-60′) where the foremast and crow's nest as well as the boilers, wrenches and winch can all be seen. The varieties of fish here include Barracuda, Stingrays including the Eagle Ray and Turtles.
Cooper Island
A small unspoiled island that lies about five miles across the Sir Francis Drake Channel from Tortola. Here you'll find white sandy beaches, no roads and exotic plants such as bougainvillea, frangipani, yucca and orchids. A few guest houses and a beach club offer visitors a relaxing vacation away from the hustle and bustle of modern-day life.
Cooper Island Beach Club is a small resort on Manchioneel Bay on the northwest corner of the Island. Apart from the Beach Club and its staff, there is one local family, five holiday houses and lots of goats on the island. Originally a private house, the Beach Club was renovated and expanded in 1980. The beach front restaurant and bar offers one of the best sunset views in the islands.
Ginger Island
Ginger Island is completely uninhabited. It is known for its incredible dive sites: 'Alice in Wonderland' situated off the south shore, 'Ginger Steps on the tip of South Bay and 'Alice's Backside/Ginger Patch' on the north side of the island. All offer huge corals and a good variety of sea life including morays, eagle rays, octopus, turtles and lobsters.
Fallen Jerusalem
This uninhabited island was declared a National Park in 1974 because of the importance of it being a sanctuary for several species of birds including the endangered Red-Billed Tropic Bird. The island offers relaxing bird-watching along the shore where you can view Brown Boobies, Pelicans, Laughing Gulls, Nod dies and Terns, Good snorkeling can be found on North Lee Bay.
Virgin Gorda
An idyllic retreat, being less developed and slower-paced than Tortola, Virgin Gorda has a mountainous landscape dotted with palms and cactus. Virgin Gorda is really three islands in one, the southern third are flat with massive boulders and sparse vegetation, the middle of the island is mountainous with Gorda Peak and several lovely beaches with turquoise seas and fabulous coral reefs ideal for snorkeling and diving. The northern third is situated around North Sound with half a dozen other islands, an ideal area where you can enjoy water sports.
Virgin Gorda is an island of rolling hills, beautiful beaches and spectacular geological formations. The place to visit is 'The Baths', where immense boulders are scattered along stunning beaches (see photo in slideshow above) providing grottos and pools where you can walk through and explore this natural phenomenon.
Prickly Pear
Located in North Sound, Prickly Pear was declared a National Park in 1988. The northern and eastern shores has two excellent beaches offering good swimming and snorkeling. For hiking enthusiasts there is a hiking trail leading from Sand Box Bar down to the North Beach. Prickly Pear is home to resident and migratory birds.
Necker Island
Owned by Richard Branson (of Virgin Atlantic) since the 1970s, Necker Island is the ultimate private getaway for the rich and famous, providing a first class service for all who stay on this private island resort. There are several properties on Necker Island: the Great House, an airy Balinese villa built on Devil's Hill, and three other Balinese cottages. A beautiful coral reef almost encircles the island.
Anegada
The only coral island in the BVI, Anegada offers some of the best beaches in the Caribbean. The island (highest point of only 28′ above sea level) offers extensive spectacular reefs and more wrecks than any other Caribbean island, thereby being the perfect destination for divers and snorkelers alike. The deserted mile-long beaches on the island are perfect locations to end a day with a cocktail watching the glorious sunsets. Make sure you try the famous Anegada Lobster at either Cow Wreck Bay or Loblolly Bay – the best in the Caribbean! Anegada is also known for its wildlife especially the iguanas and pink flamingos.
Dog Islands
Rock formations present some great diving on George, Great, West and Seal Dog where a number of coral ridges forming canyons and archways are covered in soft corals and sponges. Marine life including snappers, moray eels, rays, nurse and reef sharks can be seen in abundance.
Beef Island
Beef Island is home to the BVI's Terrence B Lettsome International Airport (EIS) and where most visitors arrive. The island is connected to Tortola by a newly-constructed bridge (the previous bridge was the BVI's only toll-bridge, a narrow one-lane structure spanning the 300′ channel. Beef Island is sometimes referred to as Elisabeth Island, hence the airport code of EIS. As well as the airport, Beef Island offers ferry services from Trellis Bay to Marina Cay and Virgin Gorda.
Great Camanoe & Little Camanoe
Located off Beef Island, these islands are primarily residential but offer good snorkeling and diving in Cam & Lee Bay. The islands can only be accessed by boat.
Guana Island
Like Necker Island, Guana Island is a private island resort, so only guests may go ashore. The entire island is a wildlife sanctuary and boasts at least 50 species of birds. There are a couple of excellent snorkeling areas at White Bay and Monkey Point where large tarpon, turtles and an abundance of marine life can be seen.
Jost van Dyke & Little Jost van Dyke
Jost van Dyke, named after a Dutch pirate, is renowned for its laid-back style, beautiful white-sand beaches and local entertainment – Foxy's. Foxy himself is a great entertainer who keeps his audience spellbound by his musical folklore. Cars, electricity and phones have only been introduced to the island in the last decade. The island retains its charm of days gone by and understandably is a popular destination to anyone staying on Tortola and a must for any charter yacht. The only access to Jost Van Dyke is via a 20-minute ferry from West End, Tortola or by boat. Neighboring Little Jost Van Dyke, now uninhabited, was the birthplace of Dr John Lettsome, founder of the London Medical Society.