Yacht Charters for America's Cup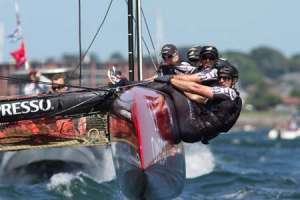 Welcome to the most exciting sports event on the world's oceans!  Each year, the Luis Vuitton America's Cup races are held in a different ocean.  In June 2017, it's Bermuda! Wherever the America's Cup race appears, we help clients get prime viewing and overnight accommodations aboard a luxury yacht.  Our spectator fleet of yacht charters (view / reserve below) always sells out early, so make your reservations now to ensure prime accommodations for you and your guests.
About the Race
The Louis Vuitton America's Cup World Series is without a doubt the most exciting event in the world of ocean racing.  It is the oldest trophy in international sport, dating back to 1851.  The America's Cup race  uses "foiling" AC45 catamarans, also known as AC45f, a one-design wing-sail catamaran with foils designed specifically for the event by the Oracle Racing engineering team. 
What is the cost of being a player in the "Indy 500" of the ocean?  Back in 2013, the 62′ Catamarans cost $8M to $10M USD per boat, and most teams brought 2 boats.  Larry Ellis of ORACLE spent close to $250-300Million defending the title.  The entry fee in 2013 was $3Million.
Yacht size and style can vary from year to year, as teams continually strive for the best blend of weight, design and cost.
Available Yachts for Race Week
Act now to select from our weekly updated fleet of yachts for viewing the upcoming America's Cup race. Consider also following us on Twitter and Facebook for other news.  
CATAMARANS
January update: Catamarans BEST REVENGE, MAVERICK and THE CURE are taken. Please select from these exceptional yachts.
Special requests:
Call us at +1 781 631 1800 (USA East) or use our planner page.
SPLIT SECOND
62 Feet.
Sleeps 8 Guests in 4 Queen(s) | Details | Inquire | Reserve
BLUE MOON
L56 Feet.
Sleeps 6 Guests in 3 Queen(s) | Details | Inquire | Reserve | SCUBA
Monohull Sailing Yachts
Listed by size / length
MALTESE FALCON
283 Ft. Sleeps 12 Guests in 6 Cabins | VIP cabin with a Queen berth on the upper deck, Master stateroom (full beam) with a King berth with a dressing room and private gym on the lower deck. Depending on a number of guests on board, the two VIP suites can be converted into four guest suites.
Details | Inquire | Reserve
MONDANGO 3
185ft (56.4m) Alloy Yachts - Sleeps 10 guests.
From: $ 196,000 Per Week.
Operating in: SE Asia/Indian Ocean, South Pacific & Caribbean
Details | Inquire | Reserve
ROSEHEARTY
184ft (56m) Perini Navi - Sleeps 12 guests.
From: $250,000 Per Week.
Operating in: West Med & East Med
Details | Inquire | Reserve
EROS
115 Ft Brooks Motor Craft - Sleeps 8 Guests
$42,000 - $63,000 weekly
Operating in: Caribbean, East Coast of North America, and beyond
Details | Inquire | Reserve

MARAE
108ft (32.9m) Alloy Yachts - Sleeps 6 guests.
From: $ 43,000 Per Week.
Operating in: Caribbean, East Coast of North America
Details | Inquire | Reserve
SAVARONA
93ft (28.3m) Custom CNB - Sleeps 6 guests.
From: $43,000 Per Week.
Operating in: West Mediterranean
Details | Inquire | Reserve
SIMPLE HARMONY
68 Ft Swan. Sleeps 7 Guests in 3 Cabins
$16,000 - $18,500 weekly
Operating in: Caribbean
Details | Inquire | Reserve

SERENITY
64 Ft - Sleeps 6 guests in 3 cabins
From $20K - $26950 weekly
Operating in: Caribbean and E Coast of N America.
Details | Inquire | Reserve
MOTOR YACHTS
Listed by length
AQUAVITA
164ft (50m) Westport – Sleeps 12 guests.
From: $295,000 Per Week.
Operating in: Caribbean, West & East Coast of North America. Details | Inquire | Reserve
RHINO
154 Feet. Comes with 74' Sport Fish.
Sleeps 10 Guests in 5 Cabins.
Operating in: Caribbean, Bahamas, New England
Details | Inquire | Reserve
RENA
145ft (44.2m) NQEA Yachts – Sleeps 12 guests.
From: $105,000 Per Week.
Operating in: Caribbean, East Coast North America, The Bahamas. Details | Inquire | Reserve
LADY VICTORIA
120ft (36.6m) Feadship – Sleeps 8 guests.
From: $62,000 Per Week.
Operating in: The East Coast of North America & the Bahamas. Details | Inquire | Reserve
DECOMPRESSION
103 Feet, Sleeps 8 Guests in 4 Cabins.
$36,000 - $44,000 weekly.
Operating in: Caribbean. Details | Inquire | Reserve

SYCARA IV
108ft (32.9m) Burger – Sleeps 8 guests.
From: $225,000 Per Week.
Operating in: The Bahamas. Details | Inquire | Reserve
T-ZERO
90ft (30.2m) Cheoy Lee – Sleeps 7 guests.
From: $30,000 Per Week.
Operating in: The East Coast of North America & the Bahamas. Details | Inquire | Reserve