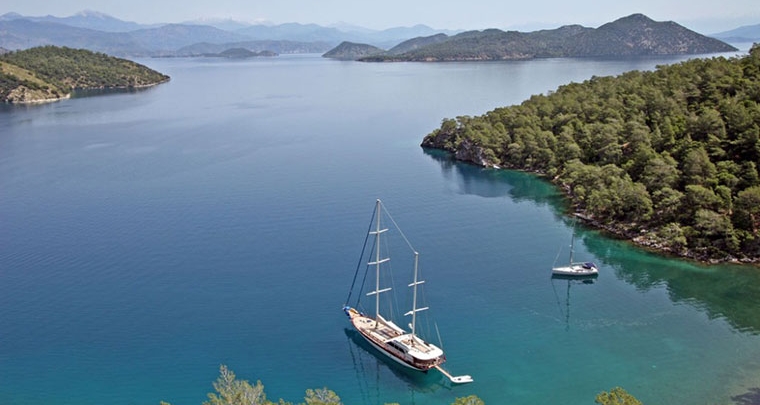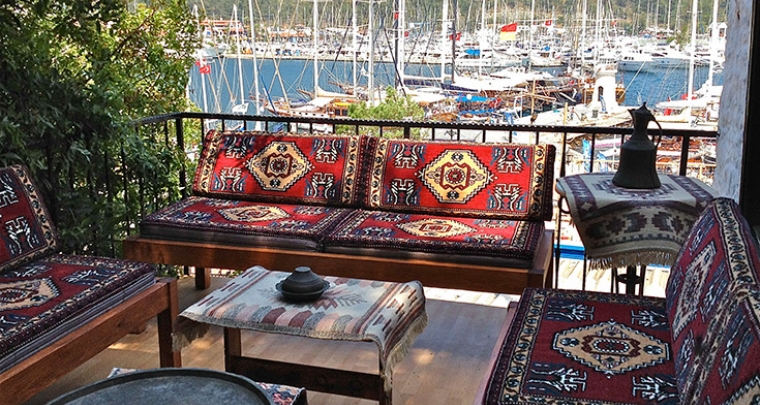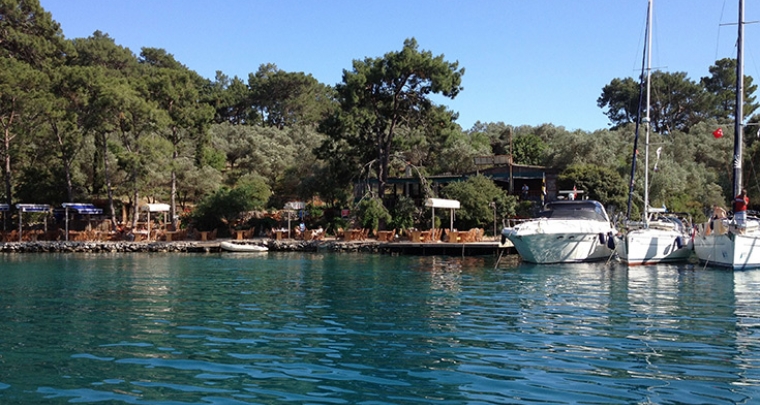 Gocek-Kas-Gocek
An ancient town in the Fethiye region of Turkey, Gocek has long been known for its carefully preserved traditional architecture, its secluded bay and its easy access to the 12 islands that lie near the coast. A tour of the area is best done by gulet, the traditional sailing boat that is built from wood by local craftsmen.
Just 20 minutes from the Dalaman Airport, Gocek is surrounded by pine trees, and it overlooks the bay with 12 islands. It is a thriving marina during the summer months with several hotels to spend the evening. Great restaurants are within walking distance along the quay. This quaint town offers shopping for clothes, food and marine supplies.
A SUGGESTED ITINERARY
Day 1: Gocek
Board your yacht in Göcek and anchor in one of the nearby coves after 30 minutes of sailing to relax and enjoy a nice swim. Overnight in a bay or the port in Göcek and discover this wonderful small town in the evening.
Day 2:  St. Nicholas Island 
After a delicious breakfast in the morning set sail for St. Nicholas Island where you will spend the day swimming and sunbathing. You will also enter the calm waters of the Ölüdeniz which is 10 minutes away with the tender. In the evening enjoy the stunning panoramic sunset from the hilltop. Cruising time from Göcek to St. Nicholas Island is 1.5 hours. Overnight in St. Nicholas Island.
A must stop is Cleopatra's Bath where she enjoyed sunning and bathing with Marc Antony.
Day 3: Kas 
After breakfast in the morning set sail for Kaş. Anchor in one of the nearby bays for the day before entering the port of Kaş in the evening to discover this picturesque town that has received a lot of attention from travelers all over the world in the recent years. Cruising time from St.Nicholas Island to Kaş is 4.5 hours. Overnight in Kaş.
Day 4: Kalkan
Set sail in the morning from Kaş and anchor in one of the secluded bays near Kalkan. Spend the day relaxing under the sun before entering the port of Kalkan in the evening. Cruising time from Kaş to Kalkan is 1 hour. Overnight in Kalkan.
Day 5: Fethiye
Set sail in the morning from Kalkan to Fethiye. Anchor in one of the nearby bays first to enjoy the turquoise waters before moving on to the port of Fethiye in the evening. Famous for its vibrant nightlife and abundance of shops, Fethiye is also the perfect location for setting off on a daily excursion to the Lycian sites in the surrounding area.
Day 6: Bays Near Gocek
Morning or afternoon departure from Fethiye to one of the surrounding bays of Göcek for a day of relaxation under the sun. Overnight in Göcek in the evening to enjoy the friendly atmosphere and finish up on last minute shopping.
Day 7: Return to Gocek
Breakfast onboard yacht. Morning disembarkation from yacht in Gocek.
Inquire how we can assist you plan your Air, Accommodations and Adventure on Land

"Our trip to Gocek was one of the most amazing vacations we have ever had. Carol found a traditional Turkish gulet for us to charter and the food on-board was wonderful!"