Belize Cruising Itinerary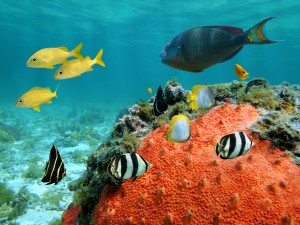 Belize cruising itinerary offers many options for diving, snorkeling and exploring on your private yacht.
Discover your inner Jacques Cousteau.
Belize  presents spectacular underwater scenes , "coral and land jungles", historical Mayan ruins, Creole culture and countless untouched islands.  It is an adventure destination.  Cruising areas are within the second largest Barrier Reef.
Belize lies on the western shore of the Caribbean Sea and just South of the Yucatan Peninsula of Mexico.  Only 35 years ago, Belize gained full independence from Britain (the former British Honduras).
It has a rich history with roots in Europe, Africa and the Americas. The first known inhabitants were the Mayas, the indigenous people of southern Mexico, Guatemala, Honduras and Belize.  It is a day trip to ALTUN HA from Belize City and well worth your time!
Belize is to be discovered by both land and sea.  In the rain forest there is so much to experience from an abundance of flora and fauna, 534 species of birds, five different wild cats, monkeys and a variety of insects.
There are multiple itinerary options for charters commencing from Belize City or The Placencia Resort and Marina.  One itinerary heads north to one of the channels through the barrier reef, to take us to Turneffe Atoll and Lighthouse Reef.
The second itinerary takes us in a circle through the inner deep water channels, among the cays with some anchorages just inside the barrier reef as well as some sailing along the barrier reef.
The Belize Barrier Reef and the many cays inside and atolls outside are famous for their fantastic diving opportunities.  All of the itineraries available from great yacht Dreaming On include great diving opportunities, so, on request, we can arrange Rendezvous Diving with local professional dive organizations for any divers on board. Diving with a local dive organization, whose Dive Masters dive these waters every day, ensures that guests enjoy the best possible diving experience.
Article for your enjoyment:  Motor Yacht SEQUAL P cruising in Belize article by Yachts International
47′ Sailing Catamaran DREAMING ON
A SUGGESTED BELIZE ATOLL CRUISING ITINERARY
For best results, tell your dates and ideas to our complimentary planning service today.
Day 1: Belize Marine Reserve
Depart The Placencia sailing North up the inner channel to Blue Ground Range.  Then work our way east through patch reefs to anchor for the night just inside the barrier reef at South Water Cay.  Great snorkeling and rendezvous diving opportunities here as well as just north at Tobacco Cay and near Carrie Bow Cay.  This is all part of the Belize Marine Reserve. There are three restaurants on the cay. Guides can also be arranged for flats fishing.
Day 2:  Turneffe Atoll
Slip through the South Water Cut and set sail to Turneffe Atoll. There is good snorkeling here, and exploring the waterways throughout Turneffe with a dinghy or kayak is very interesting.
Day 3 – 6:  Lighthouse Reef
We continue on to Lighthouse Reef and drop anchor on the west side of Long Cay. Arriving at Lighthouse Reef early in the week will allow us to spend up to 3 days at this amazing atoll. Take advantage of the fabulous rendezvous diving opportunities along the Lighthouse Wall.  Advanced divers can arrange to dive the Blue Hole. Another option is to take a shore excursion to Halfmoon Cay to see the Bird Sanctuary. The wall at Halfmoon Cay also offers beautiful diving.
Day 7:  Tobacco Cay
A downwind sail from Lighthouse to the barrier reef. Anchor just inside the reef at Tobacco Cay.
Day 8: Under way to Placencia Marina
Our final morning will be a sail back to The Placencia Marina.