WHAT OUR CLIENTS SAY
We love receiving stories, comments, photos and videos from recent clients sharing how their yachting experience has changed their lives. From "freshman" first-timers to savvy seafaring repeat clients, thanks to great feedback, we just keep improving, enjoying 85% repeat business!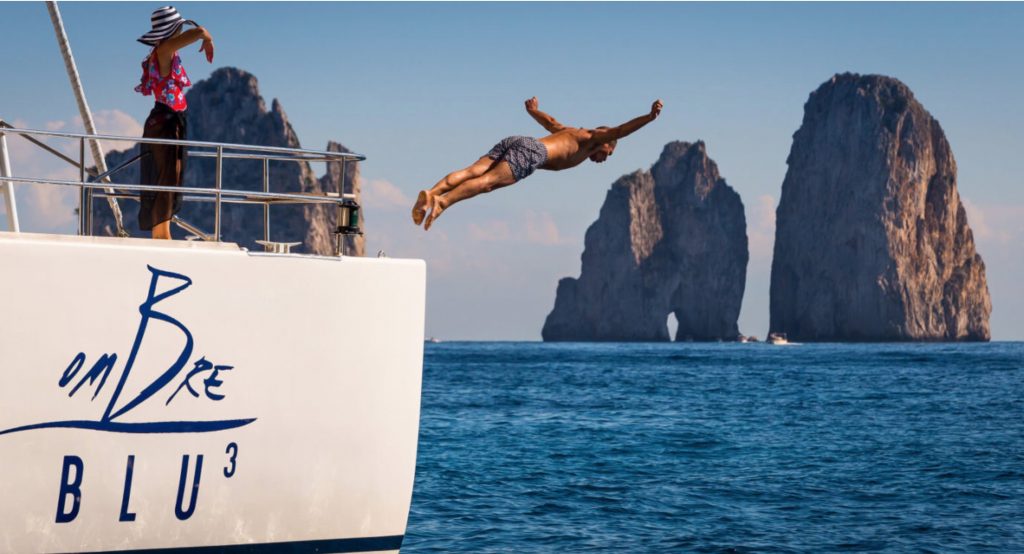 SECOND CHARTER ON STOP WORK ORDER: "IT'S LIKE TRAVELING WITH GREAT FRIENDS"
Since this was our second trip, Ryan and Dani had things down to a science. Everything was PERFECT. The food was perfect, the drinks were perfect, the new paddleboards were perfect, and even the weather was sensational. We just love Ryan and Dani so much! It's like traveling with great friends except these friends anticipate your every need and wait on you hand and foot. It just doesn't get any better than that. Can't wait to go back!
CHARTER WITH VITALITY: "ONE OF OUR FAVORITES"
We travel often and all over the world; this trip we look at as one of our favorites! Nothing like New England in the summer! We had so much on our side to make it a special holiday from Carol and her team finding our charter with little notice, to Captain Koch that helped plan our itinerary, did a fantastic job getting us place to place and looking out for our every need..from having bicycles waiting on the dock for us to getting us in restaurants that were fully booked …and to top it off we had the most beautiful weather.
Can't say enough about the whole experience!
"YOU SAVED OUR SUMMER"
"This was our first time chartering a boat, and it was a last-minute trip since our other plans fell through due to the pandemic. As such, I was not expecting a miracle. I was happy just to get away. I can't begin to explain how blown away I was by how wonderful this experience was. We were so impressed by the boat, which was simply perfect for our family. But the real magic was the crew. Ryan and Dani were just tremendous. How could we not have a fantastic time with such amazing people? The food was incredible and I never though[t] I could feel so pampered. I feel very blessed to have had the opportunity to have such a lovely trip during these crazy times."  Read the blog post HERE.
SAILING ABOARD CATAMARAN
KARIZMA
"Our trip on KARIZMA around the BVI's was amazing! From our first meeting with our captain Hylton and our first mate Amy, we knew we were in good hands… Movie nights on the deck were a huge hit but snorkeling with Hylton and Amy took it to a whole new level. They took care of all our needs without us even noticing. They made it seamless. We have already started saving for our next trip."
A SUPER FINE 13-DAY SAIL FROM ST. LUCIA TO GRENADA ABOARD THE S/Y ADASTRA
"Let me begin by conveying a short, but simple message: "THAT CHARTER ROCK'D!!" 📣⚓  K. Got that out. 
Really begins with where you're going. Then who you're taking with you. Then who's taking you. If you've been before to the same place you choose again, you can choose the same boat/crew if pleased with the last. In our case, we wanted to try someplace different, and with a different crew. We did our homework. Looking at 37 different boats, we whittled it down to 5.
A friend of mine from Newport, RI told me of a gal she knew who brokered yacht charters, and thought she would be helpful toward the end of our search. This proved to be true. Her name is Sue Gearan with "Carol Kent Yacht Charters".
I feel Sue spent valuable time pairing us with a crew we were compatible with. This was possible due to her professionalism, attending boat shows out and about the Caribbean, and personal travel to meet crews and see yachts in person. You really hit this one outta' the park!  Thx Sue!"
4 DAYS ABOARD 112′ FRISKY LADY
"About your crew: The crew was essentially invisible until you needed something! Their quarters are separated so don't even see them coming and going. Our group of foodies was blown away by the chef – he dealt with all of our special requests and prepared amazing, mind-blowing meals. The crew was completely accommodating and catered to our every request. I'm not sure these folks know how to say no!
The experience: This was one of the best vacations we've ever taken. There was something for everyone, and the luxury was unparalleled. Thank you so much CKYC!  Sue spent the time to understand our unique needs and was a fantastic advocate for us when matching us with the best yacht.
I personally was apprehensive about having to deal with a "salesperson". I usually do my research and think I know what I want and would prefer to not have ago-between. That said, Sue was amazing – she very clearly added value from the first moment."
~ Z.L. and Family and friends
Note: Brigitte Campbell has published her cookbook: A Culinary Voyage, 10 Days of Gourmet Dining at Sea. Last week Captain Don and Chef extraordinaire Brigitte took care of their 3 cruising guests (all professional men seeking a total sea immersion). The accommodations were perfect – 3 private staterooms with ensuite bathrooms. It is a wonderful thing when our vacation "match-making" surpasses expectations from both the guests and the crew. Sue works tirelessly with our clients to get these rave reviews!
"The trip was seamless. Don and Brigit couldn't have been nicer, more professional and a pleasure to be around. Brigit's cooking is excellent. Twice we told her we would eat ashore only to realize that nothing would be better than the delicious meal she had planned. Capt' Don was flexible with our itinerary. We made several changes over the 6 days and nothing seemed to ruffle him. The boat was very comfortable and well maintained. The trip was a real treat. Thanx Sue for setting it up."  READ MORE…
~ Best, Eric
SAILING ABOARD – FLIP FLOP
Thanksgiving Week 2014 (Sailing in the Spanish Virgin Islands). 48′ FLIP FLOP Catamaran does it again, entertaining families with young children and their happy parents. "Great to be back (although snow on the ground). Team, Again, Kudos all around! Our best vacation ever….and the boys are still raving about the experiences (especially Sling Shot). We had a blast – enjoying very much the boat, crew and the itinerary. The "Bio Bay" was really cool and very unique (when isn't kayaking in the dark) – the boys loved it…but if you asked them their highlights, it was definitely some of the new toys Capt. Jens had (the "Slingshot" and the underwater "Glider" – see our video). Overall, we loved Flip Flop and would definitely consider sailing with them again. Gave us great perspective and insight into chartering beyond our Freshman attempt."
Thank you ~ C.G. Family with 7 year old twin boys.
SAILING ABOARD – LADY J
Week in July 2013 (Sailing in New England). The 142′ LADY J motor yacht is ideal for families and friends. Captain Greg and crew of 8 can prepare beach clambakes anywhere, from Menemsha, Martha's Vineyard to a private beach in Maine!
"Thank you and crew who took such great care and attention to my family from the Midwest – a real thrill! Summer 2013 no one will forget!"
– Our family sends our thanks
SAILING ABOARD – LOLALITA
Week in February 2013 (Sailing in the U.S. Virgin Islands). Pet Friendly Yacht Charter in the U.S. Virgin Islands. Captain Ernie and Mate/Chef Megan are adorable and ideally suited for this dream job. Thank you for taking such good care of my clients. ~Carol "We absolutely needed to have our sweet Bijan join us in a celebration charter this past spring. Carol found the ideal catamaran for us." Every dog lover will go to added lengths to make it happen. This crew and family bonded for a week of diving in the US VIRGIN ISLAND waters and relaxing with their well-trained Spencer.
Thank you ~ Boston Couple + their Dog "Spencer"
FAMILY CHARTER BONDING FOR LIFE
Week in February 2012 (Sailing in the British Virgin Islands). "This was our first family yacht vacation. Our children, (ages 8 & 14 years old) cried when our 10 days were over. The crew knew when we needed family time and when to get the children excited about marine life and snorkeling. They were engaging, professional, and the food was fantastic (since we are picky eaters). Carol took all of our "what we want in a vacation" desires and matched us up with the perfect catamaran in the British Virgin Islands. Our children want another yacht vacation – and so do we!"
LUXURY CHARTER IN GREECE
Week in June 2013 (Sailing in Greece). "We called Carol since she has been in the business a long time. We relied on her knowledge for presenting the best Motor Yachts for our valued clients. She made us look great – clients went to Greece for 2 weeks – Carol arranged the yachting portion."
TRAVEL REVIEW
"Thanks so much, the partners will be pleased. I guess that is why you come to us so well recommended. We appreciate all of your guidance. You know how talk goes; I will certainly recommend you to others."
~ C.H. American Express Concierge
LADY J: Ready for our next adventure!
"142′ LADY J ideal for families and friends. [This] Summer is one no one will forget! We had a blast and are ready for are next adventure!"
~ Charles B.