bare•boat (bâr′bōt′) n. A boat, such as a yacht, that is chartered without a skipper or crew and usually without provisions.
Bareboating in the Caribbean is ideal for the experienced skipper.  Expect your boating resume to be evaluated by the selected charter company.
Review these FAQS to help make your search easier.
Choosing a Charter Company is much easier.  Owners pay us to inspect their yachts every year, offer their services, and guide you to the best fit for your vacation.  Charter companies are based in the US and British Virgin Islands. There are 3 examples provided to explore pricing and flexibility. Refer to COMPARISONS OF BAREBOAT COMPANIES.
Do I need a Captain's License?  To qualify for bareboat chartering you simply need to have experience skippering a similarly operated (Sail or Motor) yacht that is within 8-10 feet of the yacht you wish to charter.
With experience, a certification or license is not required in most locations. You will fill out a boating "resume". The US & British Virgin Islands is considered an "easy" sailing location with very little anchoring, docking and navigation. You do not need a large amount of experience with these skills to qualify to bareboat.
Can I charter a Catamaran with only Monohull experience?Yes! Catamarans are gaining popularity and many monohull sailors are easily making the transition. All the sailing basics are the same; the main difference is operating the twin-screw engines.
*If you need a skipper for a day to allow familiarization with your vessel, the company will put one on at your expense.  This usually runs $150.-200. Per Day (plus food etc.)
What's included?  It is a bareboat which includes a dinghy, navigation charts, towels, bed linens, cooking utensils and some basics (toilet paper, minimal spices, etc.) Refer to COMPARISONS OF BAREBOAT COMPANIES
 Where can I go on my charter?  A chart review is provided by each charter company at the beginning of your charter.  There may be restricted areas, depending on your experience.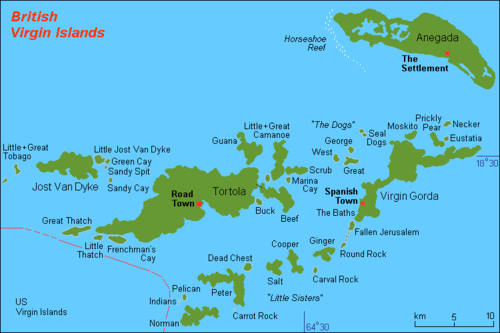 Count on one hour for your check out. As a minimum, the skipper and at least one other member of the crew should be shown: location and safe operation of all safety equipment, including fire extinguisher, life jackets & first aid kit; safe operation of cooking and refrigeration systems, correct operation of the heads, engine operation and regular checks; operation of the VHF system including mayday instructions; location of all charts and pilot books; location and operation of all halyards, winches, reefing lines and other sail controls; anchoring system; any other systems peculiar to that vessel or not covered above. It is important not to rush this orientation. Ask questions! An extra 15 minutes at the start of your charter could save you hours of down time during your vacation. Be confident when you leave the dock.
 Sleep aboard vs Hotel (cost comparisons may have you wanting to get that jump start in the AM)
 Provisioning (Plan your menu)
 Breakdowns happen – Chase boats
 Damage Insurance (What it really covers)
 Travel Insurance (planning a group vacation with family or friends)? Make sure everyone is protected so you do not end up footing the bill for "their share" of the charter cost.
Tips:  Plan your weekly menu (to avoid over or under purchasing) and no need to bring food – provisioning in has improved since the olden days; bring clips for towels and hooks for hanging on doors; Cruise Ship Wednesday in Tortola (avoid the Baths unless you want to share with 50 plus folks).
COMPARISONS OF BAREBOAT COMPANIES
bare•boat (bâr′bōt′) n. A boat, such as a yacht, that is chartered without a skipper or crew and usually without provisions.
TMM – Tortola Marine Management -BVI's & Belize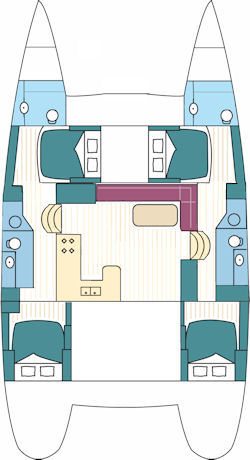 2011 Matrix Vision 45' Catamaran –
$6,000 (low season)
$8,700 (high season)
8 GUESTS in 4 Queen cabins & 4 Heads – no a/c, no tv's/no microwave
TMM EXTRAS:
Security Insurance: $50/day – $350
BVI Cruising Taxes: $2pp/night – $112
BVI Nat'l Parks Permit: $25-$75/wk
VI Search & Rescue: $1pp – $8/wk
Cell Phone Rental: $10.00 flat fee
Floaty Mats $20 x 4 – $80
SUP $175 x 2 – $350
Kayak $100 x 2 – $200
Fishing Gear & license $150 (est)
Refundable security dep $1,000.00
*NOT included: flights, transportation to/from marina, departure taxes, mooring fees ($25-$65/night), provisions, beverages and gratuities.
PROVISION PACKAGES
Full Provisioning – $33 pp/day: breakfast, lunch, dinner & snacks – $1,848 @ 8 people
Split Provisioning – $27pp/day: 7 breakfasts, 7 lunches, 4 dinners & snacks – $1,512 @ 8 people
Dinners Ashore – $22pp/day: breakfast, lunch & snacks – $1,232 @ 8 people
RESUME REVIEW:  TMM will be looking for previous experience skippering similar-sized and type vessels. Boat ownership, prior charter experience, and marine certifications such as ASA and RYA are also taken into consideration. If you have not skippered a yacht similar to the one you are chartering, or have limited experience, we offer a Check-Out Skipper service for an extra fee – $150.- 200.per day.  Check-Out Skipper will join you on Day 1 and stay on board until late afternoon.
TOTAL ESTIMATE for 8 included all (including Split Provisioning Package) high season: $11,547.00
PROS: Good value, hands-on service (small company), well kept fleet, FREE Wi-Fi on all boats.
CONS: Only 2 Bases, less yacht selection, no waterskiing/wakeboarding, security deposit in CASH

MOORINGS – Americas, Caribbean, Med, South Pacific, Indian Ocean, Far East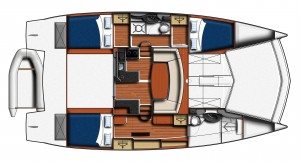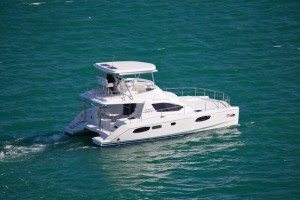 R&C 39' Power Cat (Exclusive) – $6,065 (low season)             $10,4300 (high season)
6 GUESTS – 3 Queen cabins (incl luxury suite) & 2 Heads w:a/c, gen, microwave, TV
MOORINGS EXTRAS:
Cruising Tax -$84.00
VISAR $2pp – 12.00
BVI National Park Fee – $35.00
Yacht Damage Waiver -$364.00
SUP x 2 – $238.00
Float x 4 – $77.00
Two Man Kayak x 2 – $280
Fishing- lic/rod/reel – $247.00
Split Provisioning $1,218.00
Refundable Security Dep $1,650
*NOT included: flights, transportation to/from marina, departure taxes, mooring fees ($25-$65/night), provisions, beverages and gratuities.
MOORINGS CLASS OF BOATS (MODELS & YEARS)
EXCLUSIVE PLUS LINE: The newest yachts in the fleet are less than 6 months old with the latest in design, state-of-the-art electronics, and modern furnishings throughout.
EXCLUSIVE LINE: In the fleet approximately 6 months to 2 years and feature the same amenities of our Exclusive Plus line.
CLUB LINE: Club class yachts have many of the Exclusive line amenities, are generally two to 5 years in our fleet, and are maintained to superior standards.
PROS: Locations, credit cards, early book/repeat discount, snorkel gear, 4 hour guarantee, BVI APP
CONS: Most expensive of all the companies, paid Wi-Fi, no waterskiing/wakeboarding
WHATS INCLUDED |  FAQ
TOTAL ESTIMATE for 6 included all (Split prov. package) high season: $12,985.00

HORIZON YACHT CHARTERS – BVI's, Antigua/Barbuda, St Vincent & Grenada
BAVARIA CRUISER 41' MONOHULL                                              $3,795 (low season)                                                                                       $5,295 (high season) 4 GUESTS – 2 Queen Cabins & 2 Heads with: A/C, gen, roller furling main/genoa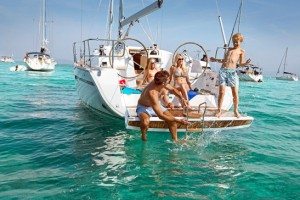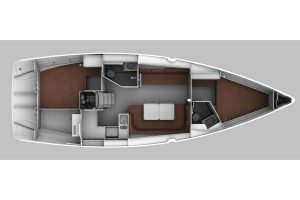 HORIZON EXTRAS
Cruising Tax – $2pp/day – $56
VISAR Contribution – $4
BVI National Park Fee -$25/wk
Damage Waiver $50/day – $350
SUP x 1 – $200
Float x 4 – $60
Two Man Kayak x 1 – $170
Snorkel Gear x 4 – $144
Hammock – $25
Refundable Security Deposit: $1,000
*NOT included: flights, transportation to/from marina, departure taxes, mooring fees ($25-$65/night), provisions, beverages and gratuities.
REFERENCE LETTER FOR BAVARIA 41
"Abby, I wanted to drop a quick note of thanks to you and the entire Horizon Crew at Nanny Cay. Our experience with our charter of Toes from Jan 31 – Feb 7 was great. Your team was very helpful throughout the entire process from the first call for info, through choosing a boat, our arrival prep and provisioning and then our return to Nanny Cay. Yourself, Rodney and Jalon were especially helpful. Please pass our thanks and regards along to them. We hope to be back soon."  James Dunn, Bavaria 41 "Toes" from Jan 31 – Feb 7, 2016 – British Virgin Islands
PROS: Excellent small company service, early book/repeat discount, Security Deposit accepted on Credit Card
CONS: 4 locations, less yacht selection, no snorkel gear, no Anegada unless , no water-skiing, paid WiFi
WHATS INCLUDED | FAQ | PAPERWORK | ITINERARIES SNORKEL SITES
TOTAL ESTIMATE for 4 included all except provisions high season: $6,329.00