Yachting and outdoor water sports engage the senses in appreciating nature's beauty and our connection to it. Traveling the world's oceans and experiencing human cultural variety and responsible culinary excellence deepens that appreciation.  We carry that wonder and a commitment to preserving the world's oceans in our service to you, our clients, and to the communities we call home.  Here is a look at some local, global and yachting industry activities we support.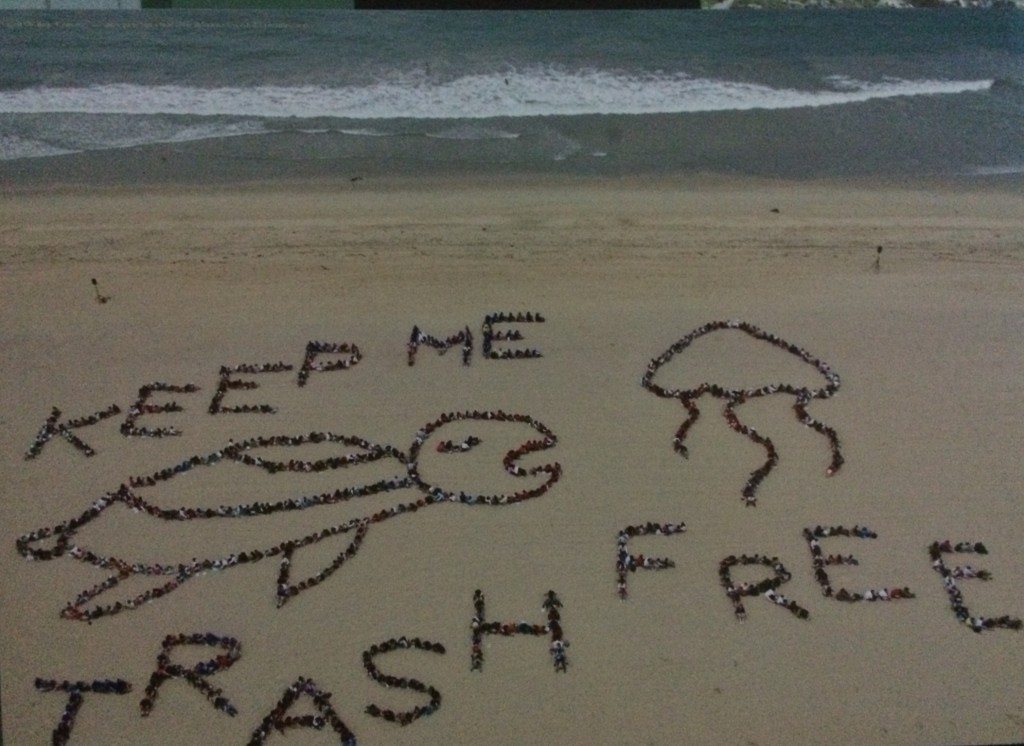 Labor Day Weekend in Marblehead is Beach Clean up day. We are committed to keeping a healthy ocean.   Special thanks to lead organizer Christopher Swain of One Healthy Ocean, and to all who participated and enjoyed the free Ice Cream.

Environmental Initiatives continue to be our focus in 2015 with the organization Chris Swain founded,  One Healthy Ocean,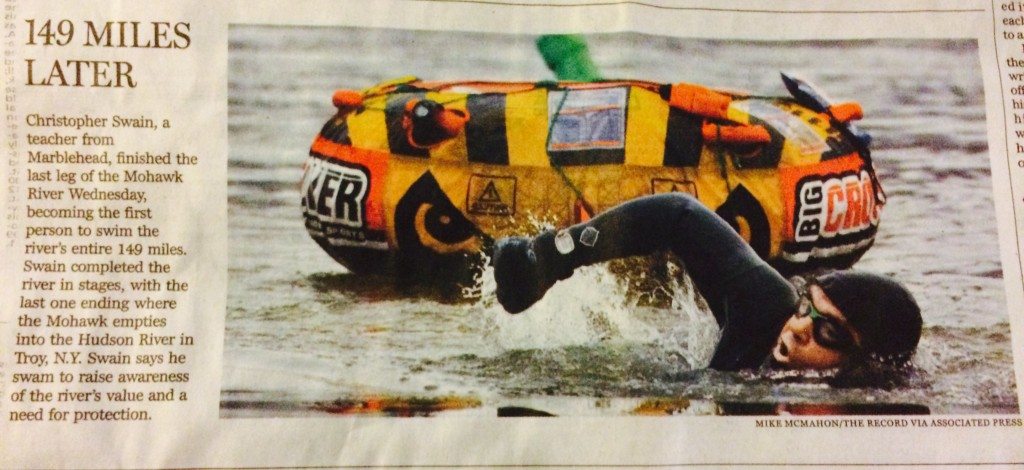 and the CYBA (Charter Yacht Brokers Association) program "Going Green to Save the Blue".
The CYBA's 2014 Charter Shows in both the US & British Virgin Islands and Antigua recognized yachts that made the effort to make their guests comfortable yet green through the use of environmentally safe cleaning products, water makers for fresh water (eradicating the notion that bottled water is better), solar power, and more.
2014 Going Green winners,  British Virgin Islands Show: 53′ Catamaran MAJESTIC SPIRIT  St. Thomas, USVI Show – 48′ Catamaran BLOSSOM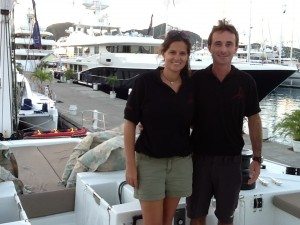 Antigua winners Luca & Lucrecia of 62′ Catamaran MOUN BEU
Audrey & Donald Harper winners 70′ Catamaran ALETHEIA
2013 British Virgin Islands Charter Yacht Show – CYBA Going Green Award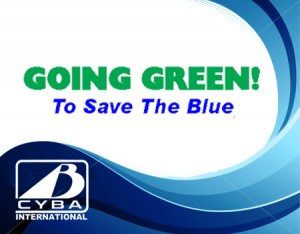 CYBA (Charter Yacht Brokers Association International) is the front runner leading a collaborative effort to reduce the use of plastic water bottles on charter yachts throughout the world.
Many of the pristine areas where charter yachts operate have no means of recycling. All trash ends up in the landfills. Plastic bottles are especially problematic as they can take over 400 years to decompose.
Most luxury yachts are capable of providing pure, filtered water made by their water makers. By offering the yacht's drinkable purified water, together we can prevent millions of plastic bottles from going into the landfills.
The winner is 60′ Catamaran B5
Congratulations Lucy & Nick!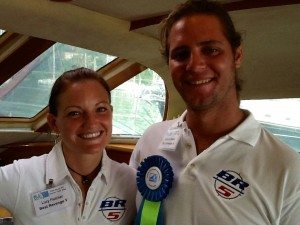 8 Guests | 2 Kings | 2 Queens
This great crew are enthusiastic about family charters.   They have the right attitude and service – by being mindful toward the environmental challenges living in the islands.

Choose your bottle!
Water purifiers to cleaning products that are ocean friendly – without compromising an extraordinary vacation.
See our listings…growing everyday!
"ECO FRIENDLY" YACHT CHARTER LISTING
October 2013   Motor Yacht DEFIANCE for Charter

72′ Motor Yacht DEFIANCE is participating in our "water sampling" project.  Leaving New York City, she will travel 1,114 nautical miles down the Atlantic Coast to Miami, Florida taking water samples each day to track water climate change.  We are also offsetting her Carbon Footprint by tracking her fuel consumption.
Captain Sandy Yawn is a seasoned women captain (having been on large yachts such as the 142′ LADY J) , she is committed to practicing her passion – by agreeing to assist us in taking a manual reading, recording her location and sending to Christopher Swain of One Healthy Ocean. "This is incredible knowledge that we gather – using portable equipment vs. hard wired into the hull like other yachts may have.  The yacht is a perfect size to get into the inland waterways."  say Swain.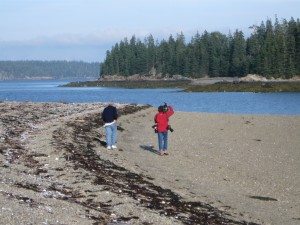 The results are in!  We had a great turnout for our local beach clean up. Read about it in the MARBLEHEAD WICKED LOCAL 9.04.2013
Thank you to all who participated!
"The activist is not the man who says the river is dirty. The activist is the man who cleans up the river." – Ross Perot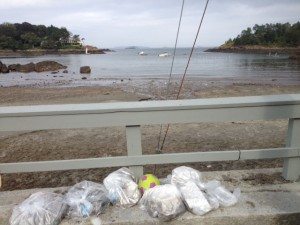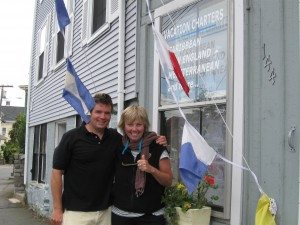 SEPTEMBER 2, 2013 || LABOR DAY – JOIN US!!
Join your neighbors as well as staff from National Grand Bank and Carol Kent Yacht Charters, grab a garbage bag, and comb the sands of Devereux, Goldthwaite, and Riverhead in search of trash.
Pack your water bottle, snacks, and work gloves, and head over to Devereux Beach. Check in under the pavilion where you'll get a safety briefing, free garbage bags and thank you gifts–like free ice cream–from Marblehead merchants. All are welcome! A parent or guardian must accompany children.  MARBLEHEAD REPORTER Wicked Local News for Labor Day Weekend...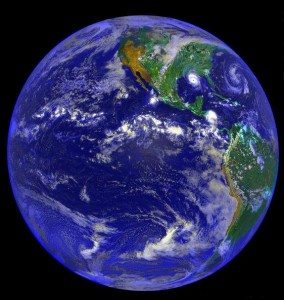 Carol Kent Yacht Charters and our partnership for
1% for One Healthy Ocean™
Since 2009, Carol Kent Yacht Charters (CKYC) has worked with Environmental Educator and long-distance swimmer Christopher Swain and his One Healthy Ocean ™ Project.  
In 2010, as part of this effort, CKYC became the first yacht charter company in the world to offer yacht charter clients the chance to balance the environmental impact of their vacations using premium carbon offsets, investments in ocean education and research, and coastal cleanups.
As the first-ever signatory to the Boater's Code of Ethics ™ in 2013, CKYC began sharing its ocean-friendly expertise with boat owners and crews across the globe in an effort to protect the ocean on which the yacht charter industry and our world depends.
Going forward, CKYC is committed protecting the ocean one charter at a time.                              1% for One Healthy Ocean™ initiative takes one percent of the value of every charter booked, and puts it to work in a hands-on ocean protection program that includes K-12 classroom visits, beach cleanups, ocean water sampling activity and public education – like the development and promotion of the Boater's Code of Ethics.
World Water Day 2013

– Carol Kent Yacht Charters and One Healthy Ocean participated…Read the full story here.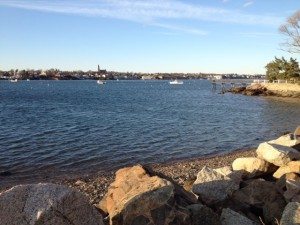 Dozens of volunteers work to clean Marblehead beaches
By Staff Reports
Marblehead Reporter
Posted Sep 12, 2011 @ 02:57 PM
Marblehead —
Golf balls, auto parts, wine bottles, fishing nets, pizza boxes, lobster traps, floor mats, flip flops, candy wrappers, newspapers, boxer shorts… it was all in an afternoon's work for the folks who turned out for the One Healthy Ocean Family Beach Cleanup Sunday in Marblehead.
The goal of the event, which was sponsored by National Grand Bank and Carol Kent Yacht Charters, was to make a clean sweep of Devereux, Riverhead, Preston, Gas House, Grace Oliver's, Little Harbor and Fort beaches at the close of the summer bathing season.
More than 40 Marblehead residents — and a few non-residents — removed 31 bags worth of trash from the coastline. The trash was hauled away courtesy of Nash Turf and Landscape and disposed of by the Marblehead Health Department.
Participants received thank-you gifts from several Marblehead businesses, including Arabella Lingerie, Babe, Coffey Ice Cream, DS Designs, Hestia Creations, Jambu, Marblehead Antiques, O'Rama's, Sea Gull, Shipshape, Shubie's and Whit & Whimsy Children's Books.
Swimmer and environmental educator Christopher Swain organized the event as part of his One Healthy Ocean campaign.
"It was great to see so many parents come out with their kids," Swain said. "Anyone who thinks kids don't like to work hasn't been to one of our beach cleanups… I guess the free ice cream doesn't hurt, either."
For more information about Swain's One Healthy Ocean campaign, visit OneHealthyOcean.org
Clean sweep: Multiple-beach effort nets

57 bags of trash in Marblehead

By Anonymous
Marblehead Reporter
Posted Sep 17, 2010 @ 08:29 AM

Marblehead —

Led by National Grand Bank president
Jim Nye and Carol Kent of Carol Kent Yacht Charters, nearly 50 people turned out last Saturday, Sept. 11 to clean Devereux, Goldthwait, Riverhead, Grace Oliver's, Fort, and Gas House beaches in Marblehead.

During the two-hour event, participants filled 57 garbage bags with everything from carpets to Styrofoam, all of which were carefully disposed of by the Marblehead Board of Health.

According to environmental educator Christopher Swain, who organized the day's activities, some of the smallest forms of trash collected were also among the most destructive:

"Most people don't realize that fish, sea turtles, whales and water birds routinely mistake cigarette butts for food and that the toxic chemicals trapped inside can sicken or kill these animals," he said. "Cigarette butts might be a pain to pick up, and they don't take up much space in a garbage bag, but when we capture hundreds of them at a cleanup, it goes a long way toward protecting the marine web of life."

Last Saturday's event was just one step in the ocean education campaign that is part of Swain's ongoing swim from Canada to Washington, D.C. This fall, with support from National Grand Bank, Swain will do assemblies and class visits at Marblehead schools, and in partnership with Carol Kent Yacht Charters, he will continue to consult with ocean-based organizations looking to reduce their environmental impact.

Eighteen Marblehead businesses supported the cleanup effort with donations of materials, equipment and thank-you gifts, including Arbella Lingerie, Babe, Bus Stop, Coffey Ice Cream, Crosby's Markets, CVS Pharmacy, DS Designs, Eliza Mellen-Smith Acupuncture, Georgie Living, Grace Sales Co., Madam Had'em, Marblehead Outfitters, Moran Studios, Mud Puddle Toys, Scribe Paper and Gift, Shipshape, The Sea Gull and Tory's Jewelry.