Great Dives in the Bahamas, from PADI, Professional Association of Diving Instructors®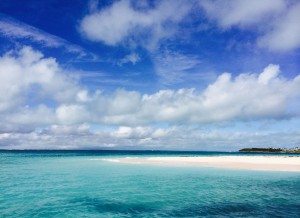 Shark Buoy, New Providence – Out in the middle of some of the deepest, bluest water in the Bahamas, and about an hour out from New Providence, is the large yellow Shark Buoy. The buoy attracts a lot of marine life, but the main attraction is Silky Sharks.
James Bond Wrecks, New Providence – Relive the adventure of 007 by diving the Vulcan Bomber, a wreck purpose-sunk for the movie Thunderball, and the Tears of Allah another wreck that was used in the movie Never Say Never Again.
Sugar Wreck, Grand Bahama – This old four-masted sailing ship went down during a hurricane in the late 1800s carrying a cargo of sugar. Located off the West End of Grand Bahama, it lies at about 6 meters/20 feet making for a nice sunlight dive with an abundance of fish life and coral.
Littlehale's Lair, Grand Bahama – Named for the National Geographic photographer, Bates Littlehale, in the 1960s, this site has two small caverns (lairs) – one that you can swim through, which was created by coral growing around surge channels. Home to grunts and snappers, this site is popular with underwater photographers.
Comberbach, Long Island – This purpose-sunk 34 meter/110 foot British freighter sits upright on a 30 meter/100 foot deep coral reef with lots of sponge and fish life. It's been opened up to make exploring safe for divers and includes a 1975 Ford van inside its open cargo hold.
Conception Island Wall, Long Island – This wall begins in 14 meters/45 feet and drops off to dramatic depths. Visibility is usually amazing and the entire wall is decorated with stunning sponge and coral formations.
Shark Rodeo at Walker's Cay, Abacos – This famous shark dive is reknowned for the large number of sharks that come to the feeding. Divers wait on a sandy bottom in about 11 meters/35 feet surrounded by coral reefs. Normally, more than 100 reef and blacktip sharks arrive and the rodeo truly begins.
Coral Caverns at Green Turtle Cay, Abacos – Tall coral formations create a series of twisting alleys and large swim-throughs to explore. Schools of silversides and a large variety of reef fish can be seen gliding in and out of the coral caverns.
Andros Wall, Andros – Called one of the greatest of all Bahamas' walls, the Andros Wall begins at 21-27 meters/70-90 feet and offers many sites with interesting canyons and unusual life due to the depth.
Great Blue Hole, Andros – This hole is the second deepest blue hole in the Bahamas. You start at the entrance at 12 meters/40 feet, then descend down an ancient waterfall chute and pass under a swim-through called the sky light room. The big room is next on the tour, where you can look down into the abyssal depths of the hole.
Bimini Wall, Bimini –The North Bimini Wall begins in 38 meters/120 feet of water and is typically a drift dive for experienced deep divers. To the south are many other shallower walls, such as the South Cat Cay Wall, Victory Cays Drop-off and Riding Rock Wall, that you can drift dive with the chance of seeing large pelagic species pass by.
Sapona, Bimini – This cement vessel grounded on Turtle Rocks reef in 1926 during a hurricane. Sitting in only 6 meters/20 feet of water, half the wreck is above the surface. Below, the Sapona is encrusted with invertebrate life and is home to numerous fish species.
Current Cut, Eleuthera – Experience the fast flow of water that moves through the narrow channel between Eleuthera and Current Island. It's a fast trip with the possibility of seeing sharks and eagle rays as well as lots of reef fish.
Devil's Backbone, Eleuthera – An incredible number of ships have wrecked on this jagged reef over hundreds of years. Great for snorkeling and diving, in the shallow waters you can see remnants of many wrecks like the Train Wreck, a Civil War era barge that sank carrying a steam locomotive.
Anglefish Blue Hole, Exuma – This hole is located in an enclosed bay and goes down to about 27 meters/90 feet. Jacks circle the entrance and eagle rays and turtles often swim past. Looking up from the hole provides nice silhouette photo opportunities.
Amberjack Reef, Exuma – This beautiful reef at about 15 metes/50 feet is full of interesting creatures, such as garden eels, and is known for its abundant fish life including pirate blennies. See schools of jacks, black groupers and several shark species.
Hole in the Wall, San Salvador – Along this coral covered wall is a huge indentation – the hole in the wall – that is about 30 meters/100 feet across and goes back about 45 meters/150 feet. Big sponges and soft corals line the hole's entrance and large gorgonians hang off the wall.
Vicky's Reef, San Salvador – Swim along large coral ridges and then peek over the wall that drops off into the deep. Look for black coral trees on the wall and a variety of life on the reef, including colorful sponges and bluebell tunicates.
Want to know more? Visit  ScubaEarth® for further information on thousands of dive sites, marine species, destination essentials and more.
Dive Summary
Visibility – Average visibility in the Bahamas is 24-30m/80-100ft.
Water Temperature – Average of 24°C/75°F during the winter, 27°C/80°F in spring and 31°C/88°F in the summer.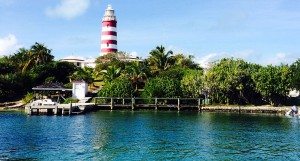 Weather – Lots of sunshine in this subtropical climate makes diving great all year long. The average air temperature during winter is 18-25°C/65-77°F and 24-33°C/75-91°F during the summer. June through October is hurricane season in the Caribbean, with the highest risk around September.
Call us today or use our complimentary services to get you were you want to go!