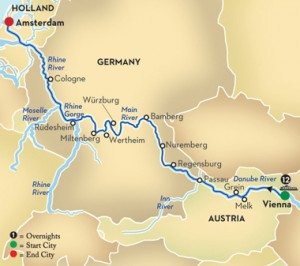 Dear colleagues, valued clients and friends far and wide,
I am proud to be in a partnership with a well respected and unique travel company in Boston – Grand Circle Travel.
Having experienced an incredible 10-day journey on the Nile River through Egypt (2011) on one of the many private Grand Circle Riverboats – I can attest first hand to the service and quality I experienced.  From Boston to Cairo – it was a seamless journey flawlessly executed and attentively serviced by the Grand Circle staff – all inclusive meals, professional guides to speak about the "old" ways and "new" ways of this region.  I was on board with like-minded travelers who value good food, service and history unfolding as we cruised down the historic Nile River.
You are guaranteed the same experience on this upcoming trip – Vienna, AU to Amsterdam, the NETHERLANDS.   Visit small port cities – a vantage point only experienced by river travel!   Call us for more details! 
Now booking for April, May and June 2014.  Only $264. PP Per Day (16 days total) Including  R/T Air, 16 Days river travel with food,  historic guides and like minded travelers!   Join me next year!  *Rates subject to change without notice.