One of our newest partners is this luxury 68′ modern sailing yacht, offering a variety of itineraries for yachting in Norway's vast coastline of fjords, Viking history and welcoming culture.  Here we offer some sage advice from her captain, followed by a suggested itinerary.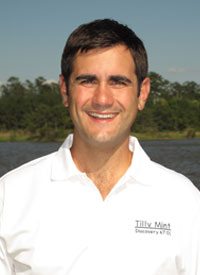 Advice from Captain Andrew on Sailing in Norway
First off, I have to fully admit that my vocabulary is entirely inadequate to express the experiences we had this past summer sailing in Norway. Before this summer, I thought that something being "breathtaking" was only an expression, but I found myself gasping for breath on several occasions.  Norway is a truly amazing cruising location with almost unlimited options!
All up and down the Norwegian coast, there was a feeling of being secluded but never far from fresh milk or spare parts.  As a general rule, population is more dense around Oslo / South Coast and grows sparse as one heads north.
As you might imagine, we found the most touristy bits to be found in and around the Fjords and Bergen. The good news is that even at the height of its chaotic tourism, Norway wasn't that bad compared to other places.
Southern Norway can strangely be colder and wetter than Northern Norway.  Case in point: we were well into the Arctic circle this summer with weather in the 70's and clear skies, while we had friends down south had spent the summer being rained upon.
In a nutshell, Southern Norway is less dramatic and is more populated and is therefore not my recommendation for a cruising destination.
Bergen and the Fjords are an amazing experience, but some of the prettier/ more famous spots can be a bit touristy.  There is not much sailing happening in the Fjords, but they are beautiful, with waterfalls and impressive views everywhere.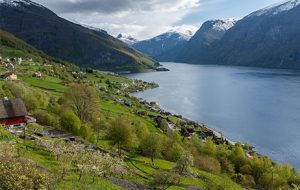 Northern Norway becomes sparsely populated, with more of an island landscape. There is more sailing to be had here and you are more likely to run into local tourism instead of  the "cruise ship" crowd. There is so little tourism up there that locals are excited to interact and help out.  We were offered free berthing on several occasions and met some amazing people.
One special note is the Lofoten Islands, which are dramatic and open. Google some images to have a look, but these are – bar none – my favorite place I have ever sailed!
One can cruise the entire coast in protected water, so this makes Norway a great place for first timers or people worried about seasickness. From an administrative perspective, everything was very smooth and friendly, immigration came out to the boat with a smile and that's all we saw from any authorities all summer. Food costs and alcohol especially are high, but this is offset by the fact that it's some of the cheapest berthing I have ever seen. Inter Norway travel is a breeze. Clients should not be worried about getting to smaller destinations.
Norway's infrastructure is amazing and traveling around is a breeze.   So don't let people feel like their only option is Stavanger Oslo or Bergen.  For example, charter guests met us with ease in the town of Bødo up north.  This is important because the coastline is long and valuable charter days could be wasted by feeling restricted to only a big airport.
A Suggested Itinerary
As Captain Andrew noted, there are thousands of directions to go yachting in Norway, so this suggested itinerary is quite flexible. Part of the excitement is that you have freedom to direct the yacht to wherever you want explore.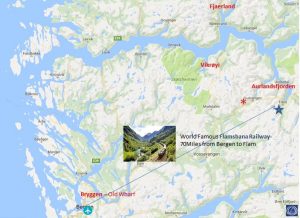 Day 1: Arrive on your yacht in Flåm, at the head of Aurlandsfjorden. One could arrive by car, but it is highly recommended to take the world famous Flåmsbana Railway. This is the steepest railway in Europe and descends into the Fjords, offering beautiful sights along the way. Tourists travel to this area for the express purpose of riding this train, so it's a bonus that the train can be incorporated into meeting the yacht. Get settled aboard and anchor off of Flåm for the night.
Day 2:  Make a slow and relaxed cruise out of Aurlandfjord and into Naerfjorden.   Naerfjorden is a UNESCO world heritage site due to its intense beauty. We can cruise up the Fjord stopping along the way to see little settlements and other key points of interest. We will end the day at anchor at the head of this fjord in Gudvagen. This anchorage is stunning, surrounded by 1000 meter cliffs, at the mouth of a salmon river, and surrounded by waterfalls falling from the cliffs – stunning!. There are local hikes in the area including one to a Viking burial mound.
Day 3:  Today we will take a longer cruise going from Gudvagen, out into the main vein of Sognefjord and into another branch fjord to the town of Fjaerland. This is a small town at the base of Europe's largest glacier. There are nearby hikes to the glacier as well as a glacier museum. Glacier aside, this is a beautiful little town in yet another picturesque setting.
Day 4:  Moving on from Fjaerland, we can move down the fjord to Balestrand, famous for the Balestrand Hotel History. This hotel is where Kaiser Wilhelm was vacationing when WWI broke out, he was given 24 hours to board his yacht and leave Norway. This is a mid size town that has a beautiful anchorage. Pop ashore for a stroll, shopping or a meal ashore.
Day 5:  Cruise over to Vikrøyi to visit Hopperstad Stave Church – Norway's second oldest Stave Church. Built in the early 1100's, this church is a fine example of constructions methods used when the Vikings brought Christianity back to Scandinavia.
Day 6:  Cruise out of the main vein of Sognefjord, stopping at 6 waterfalls anchorage where, as the name implies, we can have lunch amidst 6 major waterfalls falling all around us in the fjord. Moving on from here we will progress back towards Bergen, stopping in a remote anchorage along the way for the night.
Day 7: Continue through the islands back towards Bergen. We will come alongside on the historic waterfront- Bryggen.  We can even aim to be here early enough to give you time for an explore around town before making your way to your next travel arrangements.