Skippering your own charter boat for a vacation is similar to camping out on the water.  Whether you choose to charter a motor yacht or sailing vessel, you assume all responsibilities.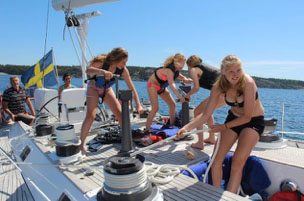 Know the Ropes
Knowledge of navigating in waters you may or may not be familiar with, the charter base will provide navigation charts and a thorough safety check out of boat electronics, fire extinguishers, sails, engines and to make sure you can handle the size vessel you have chartered.  You will receive a chart briefing that takes approximately an hour in a group setting. Should you need a skipper for a day or more, this will be at your expense.  Rates for skippers vary from country to country, but in general is will cost you $150.-$250. Per day + food and tip.
You assume the responsibility of boat handling (docking, anchoring), cooking and cleaning.
Insurance is additional. The hull deductible might be your responsibility should damage occur to the boat or the tender (dinghy).  Rates vary on the boat you are chartering.
Food and beverages may be or ordered ahead of time to be delivered to your vessel.  Some folks like to shop locally.
Start dates usually begin noon to noon, on a Saturday to Saturday, again depending on the country and company that manages the charter base.  Mediterranean bare-boats like to have you begin at 5PM and end at 9AM.  They tend to also charge a cleaning fee.
A Captains' license is not required, however, you will want to charter a boat you are familiar with handling.  You will have a resume to complete when choosing your boat.  You will list all your boating history which will be reviewed by the base manager prior to your commitment.
What do you get?  Boat, dinghy, linens, towels, provision starter kit with dish soap, dish scrubber, paper towels, cleaning spray, matches, BBQ grill, dish clothes, travel toiletries for each head, clothes pins,TP, cooking essentials – pots, pans plates, utensils. Each company differs in what they include.
What is extra?  Everything else (insurance, cruising taxes, park fees, moorings, fuel, water, food & beverages)
CARIBBEAN – Sample Rates (Low Season & High Season) (7nights/8days) – vary depending which country) – 34′ 3 Cabin Sail Monohul is less expensive per week starting at $2,700 – $3,100.00.  40′ 4 Cabin, 2 head Sail Catamaran range in price from $5,900 – $8,900.  60′ 3 Cabin, 3 head Power Catamaran range in price from $18,000 – $22,900.  51′ 3 Cabin, 2 head Motor Yacht price range from $6,500 – $9,500.
Suggested Motor Yacht Company in Tortola, BVI – VIRGIN TRADERS 
Suggested Sail and Catamaran Company in Tortola, BVI – HORIZON YACHT CHARTERS 
Should you decide to work with either one of these preferred companies…let me know.  I can make sure you get the best service from beginning to end!  
British Virgin Island Taxes have increased since 2017.  This can also add to the cost to your week.