Is it Smarter to Charter?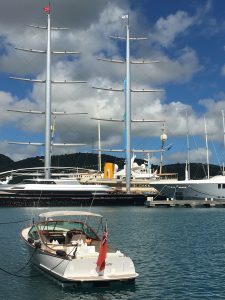 Whether you are a first-time explorer, a repeat customer selecting a new itinerary or destination, or building on a tradition, you will find this page useful.  Or, you may be investigating the merits of eventually owning a yacht by first taking a few charter vacations. We make it our business to personally know yacht owners, management companies, captains and crews, cruising areas, and great yacht sales brokers who can assist with that next step, whether it's a charter or a purchase..
When it comes to megayachts, you don't have to own one to enjoy one.  Chartering gives you unique flexibility and benefits.  A 2016 report from Bloomberg on renting vs. buying offers some helpful financial guideposts. Chartering a grand-scale super yacht for one week can cost $115,500 to $190,000, on average, the report found, while the average purchase price is a bit more than $10 million.  In 2015, 268 superyachts were sold worldwide, compared with 271 in 2014 and 242 in 2013. The average charter fee went up slightly, 1.3 percent, from 2014 to 2015.
We are happy to assist with any special requirements you may have, so if you have a unique question, contact us.
A. Selecting the right yacht for your experience
First up: how many guests will be sleeping on board?
Your comfort is our primary concern when looking at the many options. Consider the ages and preferences of children; do they often bunk together or do they need separate beds? Babies are welcome along with their nannies. Indeed, many larger yachts require a passenger who is  dedicated to watching children under the age of 5.
What are your party's interests?
What are the ages and interests of everyone in your party, such as diving, hiking, water activities?  Their past experience with yachting and vacationing are also very for us to consider in creating a memorable, customized vacation just for you!
Do you have a preference in yacht design?
Do you prefer a sailboat?  A motor yacht? A combination?  As an example, single hull/ Monohull and Catamaran (twin hull) sailing yachts offer a carefree way of travel, because fuel costs are minimal and usually included in the charter fee.  If you are adventurous in spirit and enjoy the wind in your hair, a sailing yacht may be a perfect fit.  But there may be other considerations.  Here are a few examples of different yacht types from our extensive selection of yachts available for charter.
Catamarans offer two hulls with plenty of room to lounge and separate from your party.  Luxury catamaran sailing is now the most popular yacht choice, because cabins and lounge areas are spacious with the beam being 30′ wide!  Click onto Yacht ALETHEIA and see her features.
Single hull / Monohull sailing yachts are for the folks who may want to take the helm and feel the ocean.  It is a romantic and traditional style of yachting. Many are built in the classic tradition where "all eyes" may be looking at you with envy. You may want to experience the thrill of "healing and racing" with at the many regattas offered during the year throughout the world. Dining on deck is most common in the warmer climates.  Weather protected isinglass on deck is common for New England cruising.  Click onto Yacht ANDROMEDA and see her features.
Motor and/or Power Yachts come in all sizes and designs. It can be a luxury hotel on the water complete with fine dining and service. Newest to the market are the power cats with two hulls. Motor yachts are most similar to a hotel room experience. They generally offer larger staterooms with kings, queens, doubles and twins. Families can often have 3 children in one stateroom (Pullmans are handy and useful). Outdoor dining is exceptional on a motor yacht. On a luxury yacht of 100'-200' feet, you may find several locations for formal and informal dining. A Jacuzzi is a common feature on this size yacht.  Please inquire for handicap accessible yachts;  some even have elevators.  Unlike sailing vessels, motor yacht fuel costs vary and are generally additional (yacht, jet skis, yacht tenders).  Click onto Yacht LADY J and see her features.
Motor Sailors and Gulets (pronounced "GOO-let") are spacious and can offer near equal staterooms with en-suite bathrooms. Powered by both wind and sail this design offers the best of both worlds. When the winds are strong, she is a c. comfortable way to travel. Gulets are popular in the Mediterranean.  It is ideal for couples and family way to travel. Spacious sunning areas are located both Aft and Forward on deck. Outdoor dining is perfectly sheltered by an awning.  Click onto Yacht REGINA and see her features.
B. Price structure and terminology
While the cost of your luxury yacht charter can vary considerably based on length of stay, season, size of party and type of yacht, most charter rates are based on 7 nights/8days, Noon – Noon local time.
INCLUSIVE
Inclusive charter rates are the Caribbean Terms as a rule.  The charter fee quoted covers a fully equipped yacht, professional crew, food, and beverages both soft and alcoholic, toys, dive equipment and yacht tender to get your party from boat to land. Expect to spend $2,500.00 USD per person per week; that price could vary based on size of party, size of boat, and any special interests or needs you may have.
PLUS ALL or PLUS EXPENSES
This is a term used for yachts that do include crew, toys and yacht tender. It does not include an Inclusive charter rate's features, such as food and beverage; we can help you find a suitable arrangement here.
APA (Applied Provisioning Allowance)
APA is based on the charter fee. We collect 25%-35% of the charter fee, based on the number of days in your charter trip. The balance of your contract includes these monies to provision with food, beverages, dockage and fuel expenses, which can also vary based on the type of boat and fuel needs. This allows you greater control of expenses. It is typical for luxury motor and sailing yachts to use this price structure. Receipts are maintained by the Captain or yachts' Purser and reconciled at the end of your charter.
MEDITERRANEAN TERMS
Mediterranean Terms are specified in two distinct cruising areas in Europe:
WMT (Western Mediterranean Terms) (aka MYBA Terms – Mediterranean Yacht Brokers Association) includes yacht and equipment, crew wages and food, ship's laundry and basic operating consumables.
EMT (Eastern Mediterranean Terms) refers to yachts that may charter in Turkey, Croatia, or Greece. However, these terms differ depending on the type of yacht and the country. Rates may include fuel costs up to 4 hours cruising per day, local cruising taxes and port fees. EMT or Turkish terms, may offer full or half board menu options.
Port taxes, cruising fees and the variety of yachts that charter will have their own price structure. We have up-to-date charter information and special contracts used for every country.
C. Life Aboard
On arrival
Life on board a privately chartered yacht is laid back, part of the pleasure of getting away from a busy world. The idea is to relax and not let inconveniences upset you. Remember you are on either "Island time" or exploring another country's cultural history for the first time, so the locals may move at a different pace and service may take longer than you may expect in more cosmopolitan restaurants and airports. Carry your valuables, medications, toiletries and a swim suit in your hand luggage in case your suitcase is delayed.  Know the exact dock address or location where your charter yacht will await you before you leave home.
Documentation/Passports

Please remember that all foreign nationals will require valid passports (not to expire while you are on vacation) to enter the British Virgin Islands , and in general you may do a search for Europe, South Pacific and other destinations.
Cash & Credit Cards
There are few places in the Caribbean to withdraw money, especially once the charter has commenced. Any cash you may require should be brought with you.  ATMs may not be common in some areas, but an ATM visit can be arranged, however this takes time out of your charter. Credit cards are accepted in 99% of restaurants and bars if you do decide to enjoy some of the local land based entertainment. In Europe, ATMs are abundant. When traveling in Greece and the smaller islands in the Eastern Mediterranean, cash is king. Do not count on using your AMEX for purchases in the remote areas of the world. Be prepared.
Baggage and Luggage
Space is limited on a yacht (especially sailing yachts) so bring soft-sided luggage or duffle bags, not hard shell or rigid ones; softer shapes can be stowed more easily in a boat's often curved compartments.  "Pack Light & Carry ON" is my advice for warm climate charters.  European destinations can have variable weather patterns, so bulkier luggage is likely, and checking luggage through is the norm.
Clothing
Pack like a Sailor!  Clothing should be kept to the minimum when packing. T-shirts & shorts are the usual uniform of the day in the Caribbean when you are not in swimwear, and only a few clothing changes are really required.   In the Caribbean, you shall be in swim attire most of the time. It is advised to bring a long sleeved and full length cover up that's light and cool to wear to prevent sun burn, especially if you fair skinned. Evenings can be cool on the water, so a light sweater will come in handy.  Caribbean temps range from 85-90F during the day and 75-80F at night with lovely Trade Winds. Eating out is normally casual attire. If you plan to visit one of the luxury resorts, you will require long pants, a collared shirt with closed shoes, and a dress or skirt for ladies.
Shoes
Shoes are generally not allowed on your boat, mainly to preserve its decks – especially in the Caribbean. If you really need to wear shoes, check with me to arrange special permission from your Captain in advance and avoid unpleasant surprises.  One pair of flip flops or sandals is all that is required ashore. For a fun read, here is an excerpt from "No Shoes Allowed" written by Jan De Groot: "Yachties and Millionaires, some well known and famous, mingle, match or clash, often with hilarious results. This book is filled with stories of the colorful characters who play their role in a collection of anecdotes set in a unique, Caribbean culture. Join the author during his escapades as owner and skipper of the luxury charter yacht Ring Andersen."
Sun lotions
The tropical sun can be very damaging to the skin, so bring protective lotion that does not stain towels, bedding, cockpit cushions, interior upholstery, and decks. *Sea & ski, Coppertone, and Clinique lotions are non-staining. Products such as Pre-sun and Bain de Soleil are very damaging, as are any spray on, aerosol sunscreens, tanning oils and self-tanning products.  These products are NOT permitted on board at any time as they stain the cushions, linens, teak and towels, and can make decks unsafe and slippery. After sun lotion with Aloe Vera is advised. A wide brimmed hat or visor and sunglasses will help shade you. A Lycra swim shirt is a good idea as well.  Most yachts will supply a selection of sunscreens. Incidentally, most yachts also provide each cabin with a selection of shampoos, conditioners and body washes.
Medications
Bring any medications, both prescription and over the counter, required with you. DO NOT bring illicit drugs, your captain will terminate the charter without refund if illicit drugs or contraband are brought aboard.
Snorkeling
You may want to bring your own mask and snorkel.  This especially the case if you have novices or young children in your party.  Having a mask that fits your face perfectly will help ensure that you can enjoy the crystal clear tropical water and its colorful reefs and aquatic life.  While most yachts can supply high end snorkeling equipment, they cannot ensure a broad selection of sizes.
D. Getting to know you 
On your arrival you will be welcomed by the Captain and Chef who will show you around the boat and let you settle into your cabins. The Captain will explain safety rules and ask about your special interests for the cruise. This is your chance to plot the course for where you want to go and what you want to do. The Captain has extensive knowledge of the islands and will be able to give you lots of ideas for places to see and entertainment to join in, including taking the helm and trimming the sails if you wish. On the larger luxury yachts, the Captain welcomes your interest in all the navigation gadgets, powerful engine rooms and chart plotting. You are chartering to relax, have fun and even learn. Remember though, the captain is responsible for the yacht and those aboard, and has the final word in all decisions.
Going Ashore
Activities on shore such as dining out under the stars, helicopter rides, land tours etc. can be arranged. Such excursions are of course at your own expense.
Entertainment & Communication
Most USA phones work on roaming in the BVI and free WI-FI is available aboard. Guests must bring their own laptops or i Pads if requiring the use of such devices. Please note that the wireless will work in most bays however, it can be temperamental and therefore is not guaranteed to work 24/7. There may be a complementary service for checking emails and basic communication only; downloading and streaming of movies, TV series etc. may not be included (but always check). Most yacht salons and individual cabins have independent HD TVs with DIRECTV and Apple TV. There are often many movies for all ages stored in a specific system on board. Ask if an I-Pod dock station may be available to listen to your favorite music. *Please inquire to your specific yacht of choice.
Electrical equipment
There are 220v (European) outlets in each cabin and throughout the boat, with plug adapters provided. Note that 99% of American laptops and iPods etc can be used, however please check for 110v/220v adaptability on all electronics you plan on bringing. Most yachts now provide hairdryers. Always inquire.
Provisions
You should complete a food and drink Preference Sheet (sent out to you after you have secured your yacht and date) form for members of your party charter. This helps the chef to plan meals that consider your preferences, strong dislikes, or food allergies you have noted. All Inclusive charters – all food and drink requirements for your charter have to be provisioned ahead of your charter start date. The yacht offers a selection of premium wines and drinks to stock a reasonable bar, which maybe included in the charter fee (please inquire). Any extra special beverages required can be put aboard, and added to your fees and expenses. For a Plus All Expenses charter – you will be able to fill out your requests and they will do the best to get your specific brands. If there is anything you think you may have forgotten, please be sure to let them know before you leave the dock, as it may be unavailable en route.
Itinerary
Once you have settled aboard and the Captain has given a safety briefing, he will discuss a suggested itinerary with you. The itinerary will depend on your input as well as the weather conditions for the week. Please remember that you will always be at liberty to make changes while on route.  Your captain will strive to meet your interests, subject to the weather and sea conditions and any area traffic conditions.
Working Relationships and Service/Gratuities
Whether you choose a yacht with Captain and Chef or a crew of 10 or more,  please know that they work 24/7 to create a memorable experience for you and your guests. It is customary to say "Thank you" with a gratuity. If you come to think of the crew as friends (and you probably will) tipping may seem awkward at the charter's end. However, service/gratuities constitute most of their income, and if you have enjoyed their efforts, they'll appreciate your letting them know in this way. Industry standards are a tip of around 15-20% of the total charter fee, the same as going to a fine dining restaurant in the U.S. Putting your service/gratuity in an envelope with a note of thanks at the end of the charter is a nice way to avoid any awkwardness. Also, we may hold your gratuity in escrow to be released at the end of your charter. This avoids you having to carry unnecessarily large  amounts of cash, or accidentally depleting your cash and coming up "short" at just the right moment when you'd like to extend a gratuity. Tipping in the islands for restaurants, taxis and other services is a customary 20%.
Checklist for your yacht vacation
Here's a list to check off your preparations to help ensure a carefree cruise:
Where relatives and associates can reach you in an emergency
Passport for each member of charter party
Soft luggage or duffle bags "PACK LIKE A SAILOR" blog
Adequate sun protection (lotion, hat, clothing, sunglasses)
Additional bug wipes or spray.  * Current information on the Caribbean Islands (Chikungunya)
Suitable footwear
Regular medications and others as required
Camera
Credit cards or cash for shopping, drinks/meals ashore, and other ashore expenses
It is never too late (up to the day before you leave) to purchase for your yacht vacation to cover your vacation. 
An amazing vacation awaits you and your guests!