Aqua Mekong Delta River Cruise: 2
Countries in 4 Days
Cambodia and Vietnam are home to some of the world's most iconic destinations. During our Aqua Mekong Delta River cruise, Phnom Penh and Siam Reap (home of the temples at Angkor Wat) in Cambodia, then Saigon, a.k.a. Ho Chi Minh City, the capital of Vietnam, were the anchor points of my first trip to Asia.
Traveling with my dear college roommate, like minds and love of our rebel 70's music, we experienced a world we thought we knew.  Back in those Vietnam protest days, we saw the war from our University of Wisconsin campuses, having known friends who being drafted and who were dodging.
Today, the impact of Ken Burns' HBO Vietnam War documentary and the surprising tourist boom to Cambodia and Vietnam mean that this fascinating area is on the world's travel radar; a place where tradition and change live side-by-side.  More details on our BLOG.
ITINERARY on the MEKONG RIVER
The AQUA MEKONG is the only 5-star boat – a.k.a. luxury floating modern hotel – that travels the Mekong River.  It is complete with screening room theater, library with Mekong Delta-related fiction and non-fiction books, a game room equipped with a foosball table, a spa with professional English speaking therapists, a lounging plunge pool on the aft deck, and a breezy observation lounge deck forward, 2 skiffs, kayaks, bikes and attentive 20 crew staff.
The ship's 20 cabins are air-conditioned, each one a generous 320 square feet, 8 with outdoor balconies.  20 staff are all Cambodian and Vietnamese and are hotel- and hospitality-trained.
The well-educated tour guides represent both Cambodia and Vietnam.
Breakfasts are typically at 7:30 AM with wake up calls at 7AM. Morning and day activities are discussed the evening before.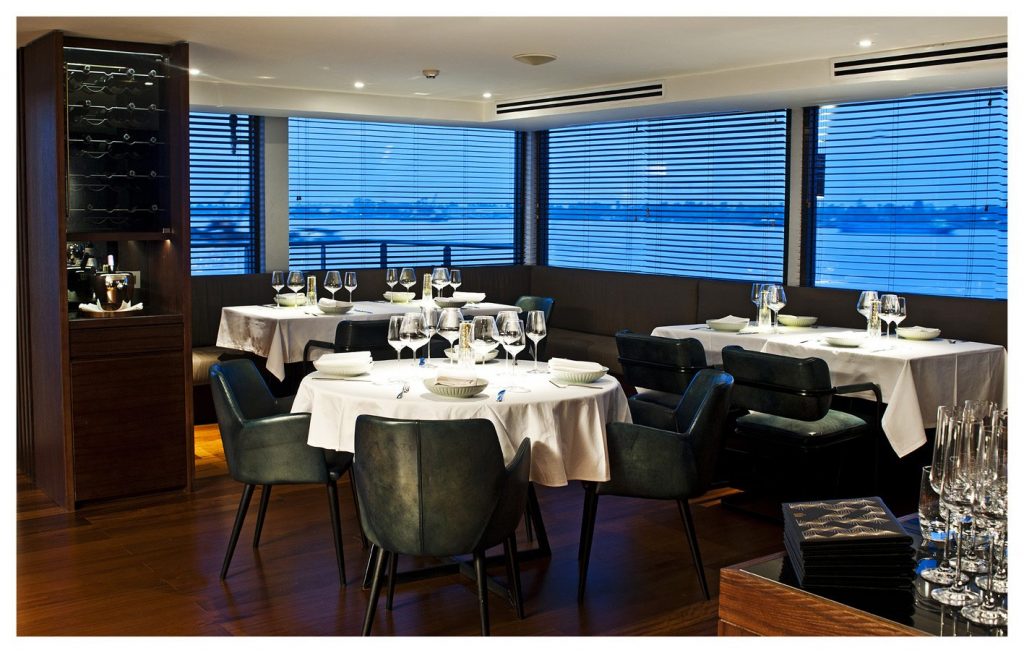 Wednesday 11.15.17
DAY 1  Chau Doc or Long Khanh
8:45AM Skiff along Bassac canal to Chau Doc.  Drive up to Sam Mt. by van to visit Long Son Pagoda, then down to Chau Doc market for walking tour.
Rickshaw ride back to the pier.  Back to Aqua Mekong by skiff.
Biking option:  14km on a flat paved road around Long Khanh Island.
12:45PM Lunch on board
Relax time
3:15PM  Biking option: bike along Gieng Island on concrete paved road toward My An Hung village (16km)
3:45PM  Skiff transport along My Loung canal to My An Hung My An Hung.  Walk around the village to explore local life, enjoy Mekong musical performance and taste local fruits, followed by Unicorn dance.
7:00PM  Learn Vietnam History while being served appetizers and cocktails. Review next day's activities options.
7:45PM. Dinner on board
Thursday 11.16.17
Day 2  BINH THANH / SA DEC – CAI BE
8:30AM
Option 1 – Skiff to Binh Thanh Island to visit mat making families, communal temple and locals to learn about their lives.
A) Biking on concrete paved roads 7 or 12km. Back to Aqua Mekong.
B) Skiff cruise along Binh Thanh canal back to Aqua Mekong.
Option 2 – Sa Dec river port: Walking tour to explore SA Dec Market with Chef and visit house of Marguerite Duras' lover
12:00PM  Lunch on board
2:15PM  Cooking demonstration
3:00PM  Cai Be:  Take local Sampan through Cai Be floating market to a handicraft workshop to see local people making coconut candies, pop rice cakes, etc.
Option 1-Biking:  12km on paved, trailed road to visit Mr. Kiet's ancient house. Back to Aqua Mekong by Sampan.
Option 2 – Continue by Sampan to visit Mr. Kiet's ancient house. Back to Aqua Mekong by Sampan.
6:30PM. Crew Daily briefing
Crew appreciation mixer with music and dance
7:00PM. Dinner on board
Friday 11.17.17
MY THO-HO CHI MINH CITY
7:00AM Breakfast
8:00AM Luggage collection
8:30AM Disembarkation
Drive to HO CHI MINH city.  Stop to visit Vinh Trang Pagoda en route.
11:00AM. Drop off at Park Hyatt Saigon Hotel