There is no more exciting vacation on earth than time spent on a fine luxury yacht.  And this year one of yachting's greatest events, the 35th America's Cup challenge, caps it all.  It is taking place in Bermuda in June.  Do not miss out on the best seat in the house.  There will luxury charter yachts lined up to share in the festivities and view competitive skilled racers.  Princess Kate will be attending and cheering Britain's "Sir" Ben Ainslie Racing (BAR) Land Rover Team and the other spectacular racing boats participating.  According to Talbot Wilson, America's Cup correspondent for the Royal Gazette: Bermuda however, Sir Ben has a real challenge in front of him.  Wilson points out in his article, that the US racing team, Oracle was  "the cream of the crop in practice" .

Here is the latest in our fleet that is currently open for charter.  There is no doubt that a yacht charter is expensive, but the good news it that this yacht, GREY MATTERS can take up to 3o guests for spectating on the front row each day, in addition to sleeping up to 8-10 guests in 5 cabins.
Motor Yacht GREY MATTERS– 150' Palmer Johnson – is currently open for June dates in Bermuda.  However, now is the time to secure your dates since it is constantly changing for availability.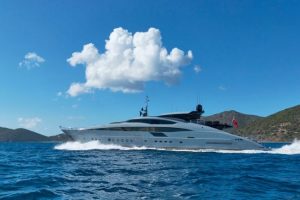 10 Great reasons to jump on Motor Yacht GREY MATTERS for the best view of America's Cup Racing:
GREY MATTERS is signed up for the VIP Package with confirmed dockage at America's Cup Race Village/Royal Naval Dockyard on the outside of the Breakwater Wall.
Flag State Approved for up to *30 Guests Daily Spectators (however, there are some conditions, which may affect the number of guests you can sleep aboard depending on the requirements of your client, since additional crew members may need to be hired at the Charterer's expense and slept on board or ashore in a reasonably priced hotel, among other parameters)
4/5 Staterooms to accommodate 8-10 Guests overnight.  Best for 8 guests overnight for comfort and crew service
Great Crew with Captain Andrew "Andy" Burridge in command and 6 Crew.
Toys for your enjoyment include:  2x Jimmy Style 10.6 Stand Up Paddle Boards
32′ Scorpion Tender with Twin 200HP Yamaha Outboards
18′ Castoldi Jet Tender
Inflatable Pontoon
Other amenities include:  New Savant operated A/V System
All new TV models including a 78′ Flat screen in the media room                                                                                                                                                                         2 large un-bright outdoor TV's on the aft deck; System has a PlayStation;  Movies on Demand operated by iPad controls in all areas; Dune media player boxes which allows easy connection of personal devices, music, Apple TV, Satellite TV includes Direct TV
GREY MATTERS will have a new 37 Foot AXOPAR ST Tender which will have 2 additional crew members for the AC 2017. This extra Tender is also included in the rate and is expected to be delivered in April 2017.   Communications include:  Full integrated WiFi network which extends to every area of the vessel; Satellite Communication System; KVH Mini V-Sat with internet capability.
Modern, sleek and a show stopper.
Palmer Johnson has the reputation for high standards of excellence, innovation, and performance.
HOW MUCH to get this coveted seat?
The "tiered" structure that we have put together, which is subject to discussion depending on the number of days or weeks desired. The AC 2017 activities and races span from May 26 to June 27, 2017. If you look at the calendar/schedule, you can see that the activities are separated into three 10-day periods, with a lay-day in between: https://americascup-images.s3.amazonaws.com/original/m2287_2017-louis-vuitton-america-s-cup-schedule.jpg.
To this, the "REVISED" rates (as of March 21, 2017) are as follows:
$ 180,000, per week, plus expenses for the 1st 10 days of the event, thus $ 257,150 plus expenses
$ 200,000, per week, plus expenses for the 2nd 10 days of the event, thus $ 285,715, plus expenses.
$ 220,000, per week, plus expenses for the last 10 days of the event, thus $ 314,285 plus expenses.
There will be No Delivery Fee to/from Florida to Bermuda.
Rates are subject to the dockage fee per day at $ 17 per foot, per day ($2,550) which includes the VIP Package.  (inquire)
We are independent yacht charter brokers.  Our commitment is to you, and not the yacht owner.  Let our 30 years put you in the front line for this highly competitive and life time must see race.