We're off again!  On December 4-9, Sue and I visit Antigua for the annual inspection of the region's yacht fleet.  Antigua will be visited this week by over 90 Super Yachts of all sizes and designs hailing from Europe, the Caribbean and America.  The three Host marinas include Nelson's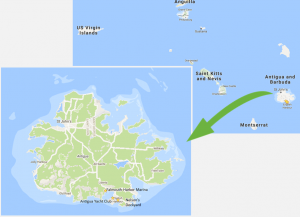 Dockyard Marina in English Harbour, historically significant as a former British Navy Base and now a cultural heritage site; Falmouth Harbour Marina; and the Antigua Yacht Club Marina; the latter two are both located in Falmouth Harbour.
Most major yacht charter shows take place in November and December annually.  These shows help us gain insights and updates on new and improved yachts, crews, itinerary ideas, maritime law and contractual updates, and industry trends, all for the benefit of you, our clients, who rely on us to make yachting a unique, pleasurable vacation experience.   Follow our Facebook postings as we undertake this daunting task.  We'll be posting videos and photos, doing our best to capture and highlight the most stunning features – spas, pools, toys, food, and more. Join us on Facebook!
Charter brokers, media and press will be filling the docks both day and night.  This is an ideal time to strengthen relationships in the industry while experiencing this British Island jewel nestled among the Leeward Islands.
Top Yacht Chefs Compete
The yachts we select for our clients often feature skilled chefs known for their ability at masterful menu creations amid the unique challenges of a galley kitchen. The Chef Competition is one we look forward to every year.  Captain Jan Robinson, the organizer, does an incredible job of managing schedules and judging.  She also happens to be my roommate for the last 4 years – what fun!
Now, the yachts 
Of course, our Yacht Search feature enables you to find one suitable for your needs, large or small, but we thought it would be fun to think big – in case you are, too.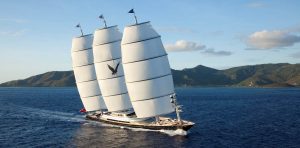 The largest yacht to visit the Antigua show this year is Sailing Yacht 289′ MALTESE FALCON . A Perini Navi design, she accommodates 12 guests with 19 Crew, and operates in both the Caribbean and the Eastern Mediterranean.  Use our clickable World Destinations Map to scout for itinerary ideas.  This is an option worth considering for a group getaway, family reunion, or corporate reward program.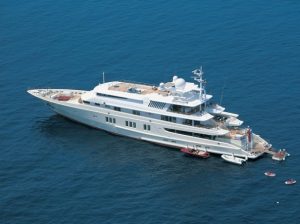 The largest Motor Yacht 238′ CORAL OCEAN accommodates 12 Guests in 6 Cabins with 21 Crew.  Click her link above to get a glimpse of her luxurious staterooms and accommodations.   Plenty of sundeck space, water toys, and indoor and outdoor mingling environments ensure a comfortable, exhilarating experience for your group.  If you want to visit a world sporting event, seal an important deal, or just bond with your tribe, M/Y CORAL OCEAN  will easily meet your needs.  She generally operates in the Eastern Mediterranean, so if you are thinking  about Croatia, Greek Easter, Turkey, and the Agean Isles, we can help you select from a variety of itinerary options – or tailor one that suits your plans and ideas.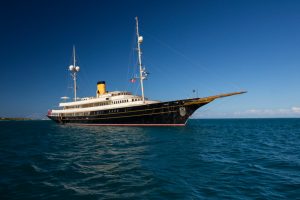 The largest Motor Sail Yacht, 296′ M/Y NERO accommodates up to 12 Guests with 20 Crew, and can be chartered for either the Caribbean or Western Mediterranean.  Whether you prefer the warm tropical Caribbean vibe, or seek the vibrant cultural immersion of the Western Med, such as Spain, France or Italy and their sunny, temperate climes,  M/Y NERO can be the focal point of that singular experience for your group.
Consider signing up to receive news of our travels, our Top Yacht Chefs, and insights on world events and ports of call.  Thanks for reading!