Captain Only Charters for your yacht vacation may make great sense if you are chartering for the first time, tired of being the Captain on your vacation, or just looking for a great value with all the amenities of a fully crewed yacht.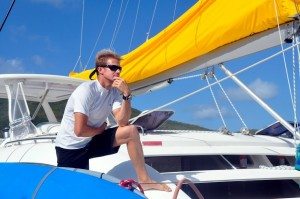 When you do the math to compare a "Skipper your Own" bare boat to a "Captain Only" charter vacation, you come out quite even, except a skippered boat includes a lot more peace of mind. For example:
Your Captain has the "insider knowledge" of the cruising area and the best private anchorages that a bare boater may not even know about.
Your yacht is equipped with toys and games that a bare boat company will not provide without charging extra.

Toys Galore!

What is included:  Captain, lines, towels, dishes, flatware, cooking utensils, Cookware, Toys listed on each yacht brochure.

What is additional:  Fuel, Water, Customs, Immigration, Food (for Captain), Beverages (Soft & Liquor), Mooring Fees, Diving, Plus Gratuity (15% of base charter fee)

Many Captains will assist in the provisioning ~ Please inquire!
 Your crew does the COOKING & CLEANING!
Note:  Most offer a fully crewed charter (includes food, beverages, cook to prepare and clean up, toys, cruising taxes, mooring fees, water, fuel).  You may also consider a Half-Board (most meals included except for some dinners onshore)…Click onto each brochure for rate information.  
Here is a sampling of some available yachts; find many more at our Yacht Search page.
Online brochure and Rates:  Sample 
50′ TWILIGHT RODEO Sailing Catamaran
Sleeps 8 Guests in 4 Queen(s)
50′ FEEL THE MAGIC   Sleeps 8 Guests in 4 Queen(s)
Cruising Sample Sailing Itinerary in the British Virgin Islands
Our Carol Kent "Yacht Charter Guide" link and "Process reserving your Yacht and Dates"