Cruising and diving in the Spanish Virgin Islands are very special, totally unlike her sister US Virgin Islands.
There is no better way to immerse yourself than in the natural bio-luminescent bay in Vieques, explore hiking around nature on the island of Culebrita, snorkel around Punto Colorado and dine on shore with the many great restaurants offered in these islands.  Diving is a treat!

One of our many yachts that charter in the Spanish Virgin Islands – Charter 56′ Lagoon Catamaran AZULIA II
Here is a suggested itinerary based on our experts who sail and dive the Caribbean waters:
Day 1:  Boarding in Charlotte Amalie, St. Thomas, USVI at Crown Bay or Yacht Haven Grande Marina.
Sail to either Buck Island or Water Island for snorkeling, diving, and anchoring overnight.  You are able to relax after your flight and anticipate your next day of cruising.
Day 2:  Morning set off to Saba Island for diving, beach combing, and lunch aboard your yacht.
Spend the afternoon downwind sailing (for sailors) to Culebrita.  Dining aboard at sunset.
Day 3:  Culebrita you can spend all day – Hiking, water sports, diving, and beach combing.
Potential 2nd night here if desired, otherwise later afternoon cruise to Alomodar for anchorage
Day 4:  Snorkeling after breakfast and cruise around to Punto Colorado, head to the beach at Flamenco
Ensenada Honda for Dinner (Dinghy Dock, Zaco's Tacos, etc…)
Day 5:  Sail to Vieques and explore the Eastern beaches, like Puerto Diablo and take in the Bio Bay Tour at night.  The National Geographic video on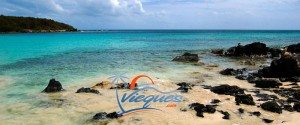 Sunset sail around the eastern tip and take anchorage on the Southside.
Day 6:  Head to Esperanza for island exploring and shopping, fantastic bars and restaurants (Top 10 restaurants in Esperanza main town by TripAdvisor 2016)
Day 7:  Sail to Puerto Del Rey, snorkel stop on the way.  Island tour to Choco Frio (Coco Frio Story), awesome Puerto Rican Waterfalls, and cliff jumps.
Spend the night at Puerto Del Rey
Day 8:  Hire a car or van back towards either Old San Juan for an evening of dining and gambling or direct to the San Juan airport.