Interest in Raw Food culinary technique and dietary habits are growing, and the yachting industry is taking notice.  Some of our featured yachts now offer  customized "healthy eating" experiences customized to each charter and each individual charter guest, if you desire.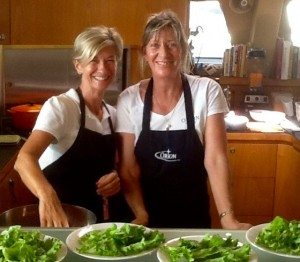 Co-captain and Holistic Gourmet Chef Allison Thompson on 90Ft Luxury Catamaran ORION
Allison in her own words:  "The raw food revolution is here to stay! Experience the health benefits of supercharging your diet with amazing cleansing and rejuvenating raw food on your next vacation. So, what is raw food? Simply put, it is food that has not been heated above 118 degrees Fahrenheit. Typically, it is pure unadulterated, whole, living food. I am a graduate of the Living Light Institute of Culinary Arts; to introduce you to artfully prepared raw creations that will leave you feeling energized and inspired to try more. Start your day with a "personalized yoga practice" on the expansive bow deck then enjoy a tropical smoothie before your morning swim." Allison and her team, which includes her husband and two healthy crew members, won my praises in preparing a total raw food lunch experience for us at the December 2015 Antigua Charter Show.
Our Menu (and her recipe) – Thank you Allison and Crew!

Raw Apple Waldorf Salad Apples, celery, soaked and dehydrated walnuts served on local just picked mixed greens dressed with an Orange, Poppy Seed and Flax Oil mix.
Raw Creamy Red Bell Pepper Chipotle Soup served with a dollop of Raw Cashew Mayonnaise. Raw Pasta alla Checca comprised of spiralized green and yellow summer squash "noodles" stacked with a mix of diced cherry tomatoes, capers, olives, garlic and fresh basil marinated in extra virgin olive oil.

Raw Key Lime Pie topped with Coconut Whipped Cream Macadamia, pecan nut and date crust filled with raw baby coconut meat, fresh lime juice and zest blended into a creamy smooth mouthwatering taste treat.
*More information on trends in Raw Food presented by the Food Network
~ Winter Charters available in the Caribbean & Summer Charters available in the Mediterranean