May is going to be a busy month, as Carol has packed her bags and is off to four European charter shows!
Her first stop is the MYBA Charter Show in Genoa, Italy. This show for charter professionals runs from April 30th to May 4th and features a select showcase of luxury charter yachts and the most exclusive display of ancillary services for the yachting industry.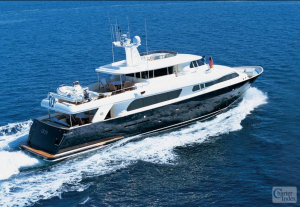 From there, it's on to the Greek island of Poros for the 2012 Charter Yacht Show (May 5-10). Carol has been invited to stay onboard the 101′ yacht Irisin order to familiarize herself with the crew and accommodations – to recommend to valued clients!
After Greece, Carol will be visiting Turkey for the Marmaris Show from May 12 to May 16. This is the largest yacht show in the Eastern Mediterranean and heralds the start of the summer yacht charter season in the area.

Finally, Carol will travel to the Adriatic for the Adriatic Boat Show May 17-20.
While there, she will be a guest on the 122′ Navilux; a brand new Croatian flagged commercial yacht. 37.3 meter long, with 6 guest cabins and 2 additional cabins.
Carol will return to New England on May 28th with a tan, a smile and some luxurious new options for clients!