We are excited to present the winning crew and yacht at the British Virgin Islands Charter Show this year.  TOP YACHT Chef Georgia and Captain Robert on 58′ Catamaran SECRET OASIS!  They are the 2016 winners of the culinary competition for BEST OVER-ALL DISH and Best Appetizer with the entry – Chocolate Lobster Mofongo!  You will have to charter her to find out!
This luxury 58′ Sailing Catamaran Secret Oasis can accommodate 10 guests in 5 Cabins and has King Master with 4 Queens.  Each cabin offer plenty of space with ensuite bathrooms and private accommodations for the crew.  She is equipped with Adult and Child waterskis, tow ring, Paddleboards, Kayak, Beach Games and great sound system for IPod Docking.
Catamarans offer great space on deck and below.  Chartering is easy to arrange with our complimentary services.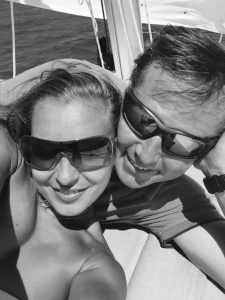 SECRET OASIS is based in the British Virgin Islands during the winter months and the Grenadines for July – October.
Her lovely crew welcomes families and couples to experience culinary delights at every meal.  Congratulations to them both!!
From the crew of 50′ Sailing Yacht XENIA – Congratulations Captain Peter and Jade!
It was our pleasure to see you at the 35th annual BVI Charter Yacht Show.
Captain Peter and First mate Jade from Yacht Catamaran XENIA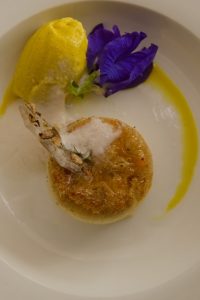 Best Dessert ( under 60') Starfish Sponge Cake, Turmeric Ice-cream, Rum Coconut Foam
Runner up for best Appetizer ( under 60')  Bush-tea Smoked Grouper, Caribbean pumpkin squid ink ravioli, honey lime glaze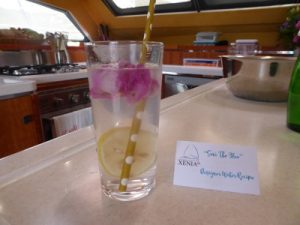 Honorable mention in the Designer Water Competition: Lemon ginger mint with Bougainvillea Ice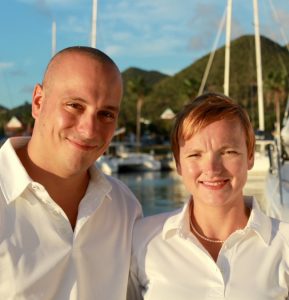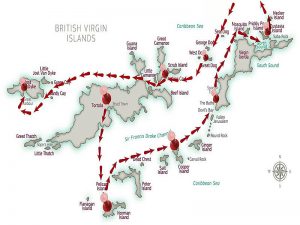 Top Yacht Chef JUDGES COMPETITION for BVI Charter Show 2016

Chefs limited to 2 entries: Appetizer Luncheon entrée Dessert You are encouraged to use as many fresh local ingredients as possible. Additional points for use of any of the following: Breadfruit, plantain, yucca (cassava), yam, pumpkin, eggplant, bok choy, collard greens, raw chocolate, coconut, starfruit, soursop, papaya, passion fruit, local fish, meat or chicken.
JUDGING CRITERIA: • Originality • Presentation • Taste/Flavor • Creativity • Use of fresh local ingredients • Execution Craft/Technique • Overall Impression
REQUIREMENTS The competition will be held on board your yacht; the choice is yours of where you serve your entries. Showcase any area of the yacht that you like.
CHEF'S CULINARY CONTEST CRITERIA: • Registrants will be split into 2 categories: Yacht ≥ 60' Yacht < 60' • Prepare on your yacht and serve in the location of your choice – aft deck, sun deck, saloon, dining saloon • Prepare 2 plates: One plate of a normal-serving size (as to a charter guest) for the photographer and one plate with extra forks for the judges to share. • Provide 3 copies of your menu, either handwritten or printed. • All the food is to be prepared by the Chef. Chefs will be judged on their yacht Wednesday 9th November 2016. Assigned times will be given to you, the chef, no later than 5 pm on Tuesday 8th November 2016 CONTEST JUDGING: Judges will be at your chosen area at your assigned time. Credit will be given to innovative chefs that are exceptional with their techniques and presentation.