I am just back from traveling 8,517 miles to one of the most amazingly scenic and dramatic familiarization tours I have ever been on – a yachting fam trip in Thailand. Traveling on exquisite yachts, we enjoyed the local custom and culture enveloping a three-week journey of Southeast Asia.
For a description of each motor yacht we were fortunate enough to have cruised on in the Bay of Thailand, please click on the links below.
97′ MIA KAI – Bilgin Motor Yacht is a stunning contemporary yacht that has 4 ensuite cabins and 5 crew.  We enjoyed outstanding service as we spent an entire day exploring Phi Phi Islands – a photographer's dream. Born in the UK, Capt. Chris came to Thailand years back where he met his wife. He has extensive cruising knowledge of the Mediterranean and now prefers the beauty of these waters. The chef prepared traditional Thai meals and was conscious of our virgin Thai taste buds. Perfectly paired with wines, we all enjoyed the aft deck lunch and atmosphere.
108′ DOLCE VITA – Numarine motor yacht is modern comfort at sea. She sleeps 8 guests in 4 ensuite cabins. Between DOLCE VITA's brilliant features and  Captain Danilo's great personality, one week on this cutting-edge boat is hardly enough! We sailed out of Phuket Marina and headed to the popular Krabi where both weather and water temperature were warm. READ MY BLOG:  Chartering in Thailand Onboard DOLCE VITA
101′ BLOSSON, built by Asondoa, has 4 contemporary en suite cabins for a maximum of 9 guests.  Her five crew includes a masseuse, a Thai Chef, and Ing (Chief Stewardess), a hospitality graduate of the University of Chiang Mai.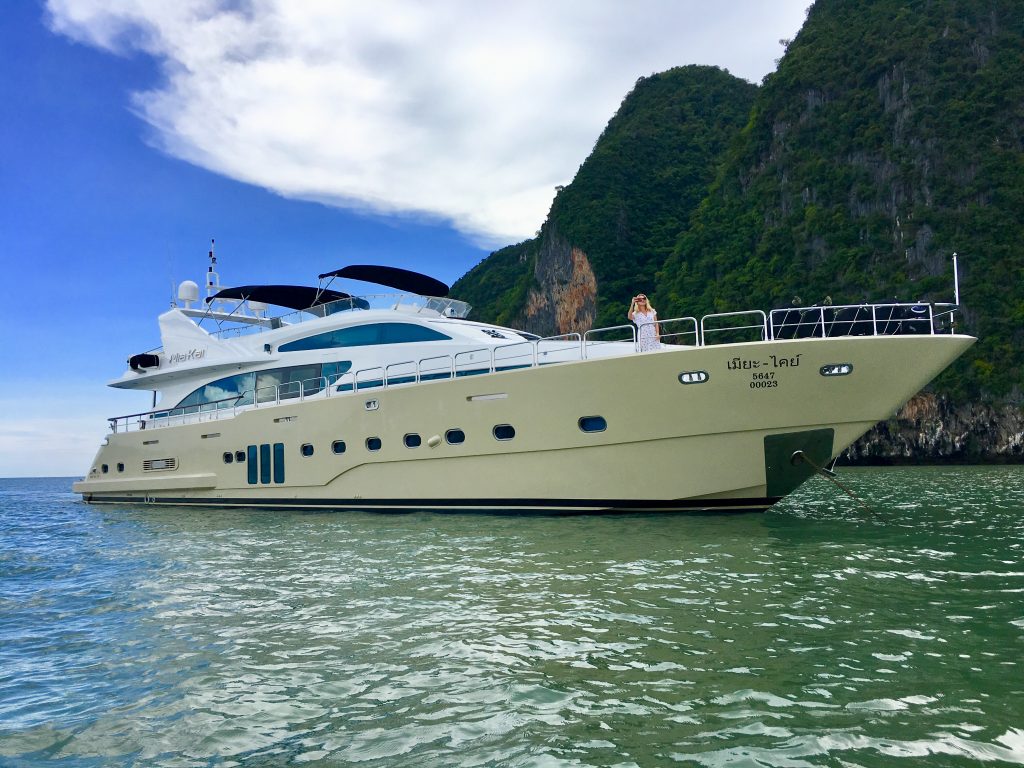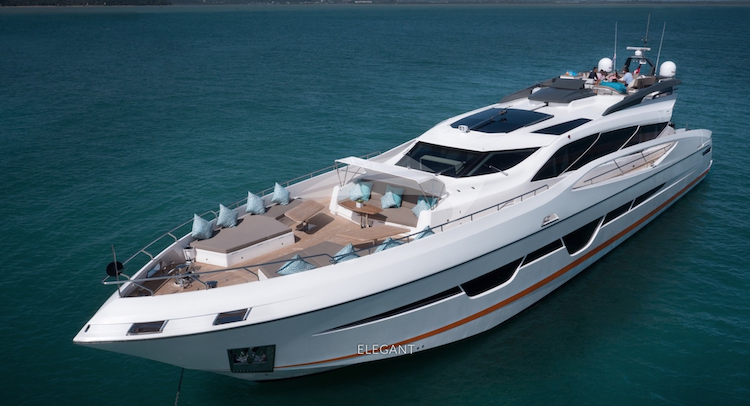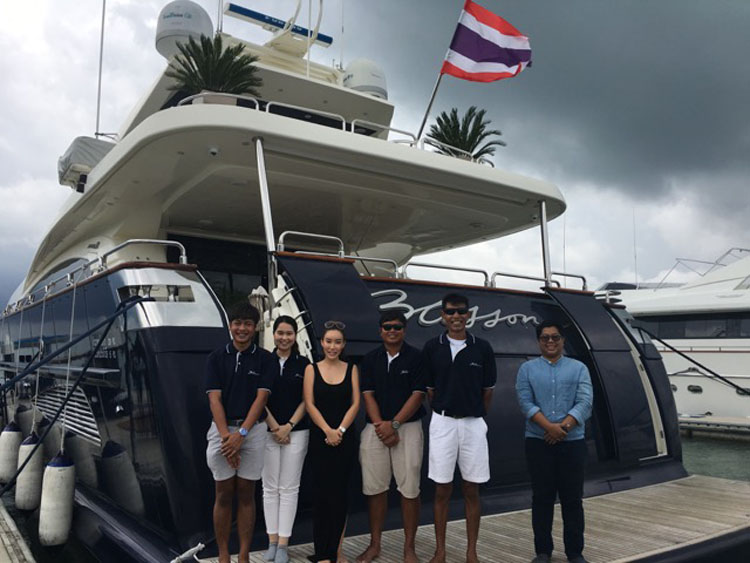 Flying from Boston to Tokyo then on to Bangkok took approximately 22 hours. The plane ride on JAL (Japan Airlines) is totally different than our Western air carriers. JAL provides fresh local cuisine accompanied by bona fide Asian service with a smile.
I booked a Boston to Bangkok roundtrip ticket so I could take advantage of low fare one way air travel to Chiang Mai (75-minute duration with 45+ flights per day) North, then a one-way to Phuket (2-hour duration but less choices for direct flights), and back to Bangkok. Flying back to Bangkok is only 3 hours and prices begin at $40 U.S.!
THAI-TINERARY
I spent 6 days in Bangkok, only 2 days in Chiang Mai, and 6 days in Phuket (4 of which were cruising on 2 exquisite yachts out of Northern Yacht Haven Marina).
My philosophy is to get the most out of traveling: with flying and driving such a long-distance and a time change of 11+ hours ahead, one needs to saturate all the senses.
One must spend time in bold, bustling Bangkok, where transportation choices can be quite exciting.  Choose your Tuk Tuk driver who displays a yellow license plate (the government supplies the fuel so rates tend to be a great value). You can also get around Bangkok easily with the BTW sky train, and combine the city discoveries riding on the "long tail boats' that ply the Chao Phraya river and intertwine major and small waterways.
Take three to four days to get acclimated to the heat and the many great aromas of street food stands. Bangkok has so much to offer, from temple-hopping (be sure to cover your arms, no shorts, and no shoes when entering) to shopping at the malls and street markets. Just for fun, we added a "must-do" side trip to Chiang Mai in Northern Thailand.  Home to elephant sanctuaries, the University of Chiang Mai where hospitality degrees are on the top list for students.  It has the best "Lady Boy' show in all of Thailand, they claim.
Now we were ready to begin our yachting adventure on the island of Phuket.
Why travel to Southeast Asia when it is so far away from the US? According to World Travel and Tourism Council, Thailand has had a 7.8% increase in leisure travel in 2018 already.  It is now the time to get your vacation plans in order for 2019.  Believe me, it really is worth the long distance travel.
Phuket Island is known for its beautiful beaches, bars, and nightclubs. To escape the noise of increased tourism and to meet the demand for boating, there has been an increase in yacht choices for every budget.
Choosing the right yacht means knowing what is included in the price and what flag it flies. Many of the yachts have a registered Thailand flag which allows an itinerary that would suit a 4-7 day (or more) charter beginning and ending in Phuket Island.
If it is a foreign flag vessel, you may start in Phuket, however, you would need to end in Langkawi, Malaysia. This just means you'll have to fly out of Langkawi International Airport, back to Bangkok – a 4-5 hour flight.
A one-way itinerary is also fabulous since many of the great dive sites are off the coast of Malaysia. This also means that being on your private yacht enhances your experience of the islands which are more remote. You can have your own Robinson Crusoe experience!
We help you find the right yacht, crew, and itinerary for your adventure. Our services are complimentary and help you make the most of all you want to do.