172′ M/Y BIG EAGLE was built for fun. Imagine celebrating your significant birthday, ultimate anniversary or successful work event on a charter yacht like this, filled with your friends and family having an unforgettable adventure.
Smart and luxurious, BIG EAGLE will accommodate family and friends for group fun with 6 Cabins, 2 Kings, 1 Queen, 6 Singles (ideal for the children or singles).  Her maximum capacity is 12 lucky guests with service from 10 professional crew. The special advantage of this yacht is she is dive-equipped for certified and novice divers alike.  It is a great charter yacht, loaded with water toys for adventurers of all ages.
The M/Y BIG EAGLE – like many that offer charters right now – is taking every precaution to ensure a safe, clean environment. Thanks to strict health protocols, BIG EAGLE is able to offer diving in the Bahamas this winter, 2020-2021. BIG EAGLE = BIG ADVENTURE! Live a ravenous life!
BIG EAGLE's Beer-fueled History
BIG EAGLE was built in 1980 in Japan. For years, she was owned by the late-Bernie Little, a Budweiser beer distributor based in Florida. He further owned the successful Miss Budweiser hydroplane racing team. Yachts were a real passion, with Little owning, and selling, a few yachts christened Big Eagle, an homage to the trademarked symbol of Budweiser's parent company, Anheuser-Busch.
BIG EAGLE was a popular charter yacht under his ownership, a practice that continues today under her current American owners. Her 172 feet allows for a number of intimate and expansive relaxation spaces. Particularly noteworthy is the creation of a sports bar forward of the saloon. That was done during her last major refit in 2008.
Film Fame
The cinematic-like capture embedded below isn't the first time that BIG EAGLE has been a film star of sorts. Movie buffs among you may recall that she appeared in the 1996 movie Striptease, starring Demi Moore. The megayacht's nameboard was changed to Big Sugar in the film. (Information credit to Diane M. Byrne 
The Captain is a Woman
There are a select few women yacht captains of luxury megayachts in our industry; most have been influenced by their family and love of the sea.
Captain Christina Virgilio is a rare success story, having now 20 years onboard BIG EAGLE.  Christiana grew up in San Diego, California. Her childhood revolved around the water; sailing, diving, surfing, windsurfing, and water-skiing. Almost every summer was spent on her family's sailboat. After graduating from UCLA with a degree in Economics, she decided to travel and have some fun working on sailboats.
Twenty years later the yachting industry is her career. Christiana served as the 1st Mate on board for four years before she obtained her captain's license. She then served as the 1st Mate and relief captain for Atlantic Crossings and other passages. In November 2006, she became the Captain onboard BIG EAGLE. She is also a divemaster and enjoys guiding the guests on dives.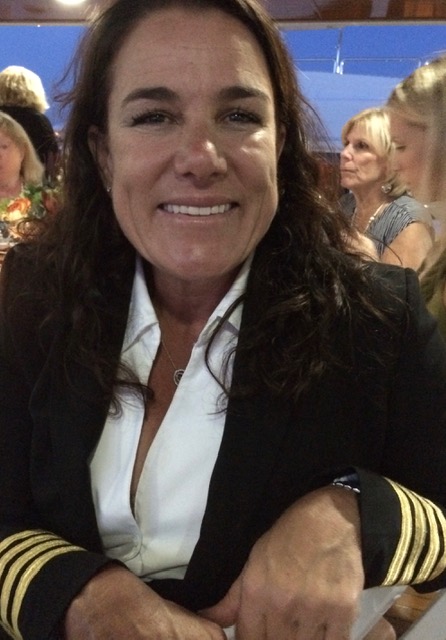 BIG EAGLE's Captain Christiana
She is congenial, warm and friendly, and if you would like to drive this yacht, she will share the helm.
Her crew come from around the world so you get a flavor of a world-class yacht and team that have traveled the globe.
CREW & TOYS MAKE THE CHARTER
Tenders & Toys:  DIVE EQUIPPED 
• 32″ Sea Vee w/ 2 x 300hp
• 16″ Ribcraft w/60hp
• 4 x Waverunners
• Big Water Slide
• Water Trampoline
• 2 x 2-person clear bottom kayaks
• Scuba Gear, 6 sets of dive gear
• Brownies Scuba Air compressor
• Snorkel gear
• Fishing,
• water skis
• Wakeboard
• Tubes, Big Banana
• Fitness Treadmill,
• Stationary Fitness Cycle
• Exercise Ball
• Free weights
• 4 bicycles
• 2 stand-up paddle boards
It's not too early to start planning your adventure – and we can help. Reach out to CKYCI and let's make a plan for your next big adventure!