The Pearl Islands archipelago is situated 40 miles off the coast of Panama City
Panama has so much more than straw hats and a canal. This off-the-beaten-path adventure is suited for anyone interested in a once-in-a-lifetime experience in the Pearl Islands aka Las Perlas Islands.  Keeping up-to-date on covid-19 travel restrictions, Panama is targeted to open commercial flights beginning July 22nd.  
Captain Giovanni Damiani and his S/Y LOLALITA crew have sailed in the British Virgin Islands, Turks and Caicos, and are now heading south to Panama. They'll explore
the Panama Canal

Pearl Islands (in August-October)

Coiba Islands

San Blas Islands, and then

La Paz, Mexico (November 20th onwards into 2021).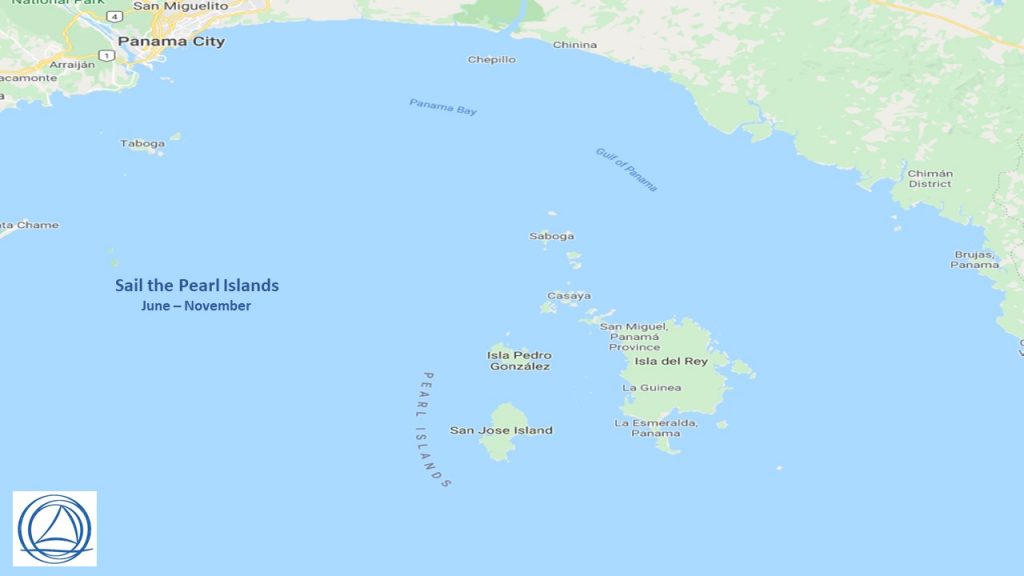 Sail Panama's Pearl Islands, June – November. Click to enlarge.
Whale Met: A beautiful place to meet whales and other marine life
This family-friendly, scuba dive-equipped luxury yacht, 65′ LOLALITA catamaran, will be exploring the white sand beaches, lush jungles and secluded islands that make up this extraordinary island chain.
It's the only place in the world where you can see both northern and southern hemisphere whales in one place as they overlap in their breeding grounds from June to November.
Also known as Las Perlas, it's famous for excellent snorkeling and diving opportunities with huge schooling fish, reef sharks and rays. Also, spot wild dolphins, whale sharks and manta rays!
Your Pearl Island Itinerary
DAY 1: Arrive by taxi from Tocumen International Airport in Panama City to La Playita Marina to join Lolalita, approx. 30 mins.
Have lunch onboard.
After lunch, set sail to Isla Taboga. Sail is approx 1 hr.
Explore the beaches by tender, adventure through the jungle on trails or grab a cocktail at the eco-resort.
DAY 2: After breakfast, set sail for Isla Pachequilla, approx. 5 hrs. Whale watching along the way.
Anchor at Isla Pachequilla for lunch.
Go for a fun drift SCUBA dive in the island cuts where whales are sometimes sighted near the northern shore.
Go to shore and walk the white sand beaches. Bird watch for large colonies of frigates, cormorants and pelicans.
DAY 3: After breakfast, sail to Isla Mogo Mogo where the TV show "Survivor" was filmed. Go snorkeling or diving along the reef and chill out on the welcoming beaches before lunch.
After lunch, sail 1 hour to Isla La Mina with whale watching along the way and anchor in a beautiful cove.
Take the tender or paddle boards to explore the mangroves or enjoy another SCUBA dive.
DAY 4: After breakfast, a 2 hr sail with whale watching along the way will get us to Isla Canas.
After lunch, explore the Punta Gorda river by tender, visiting the local settlement where one can buy fish, fruits, and yes, pearls.
Snorkeling and SCUBA activities can be enjoyed in the clear water, with many reefs to explore.
DAY 5: After breakfast, sail 1 hr to Isla San Telmo with whale watching along the way. Explore the wrecked submarine and the island nature reserve. Snorkeling is popular here.
Sail 1/2 hr to Rio Cacique and have lunch at anchor. After lunch, take a tender ride up the river to explore the jungle and white sand beaches.
Sail 2 hours to Isla San Jose and anchor at the eco-resort.
DAY 6: After breakfast, sail 1 hr to Isla Pedro Gonzalez, more whale watching along the way.
SCUBA or snorkel on the deeper western side of the island.
After lunch, go to shore and visit the local village and herb plantations or hike the jungle trails.
Alternatively, explore the island coastlines by tender.
DAY 8: After breakfast, enjoy some snorkeling or explore the coast by tender.  Take the tender to shore on Isla Contadora and catch a departing flight back to Panama City.
~~~~~~~
But wait! There's more to explore in Panama
Captain Gio and the LOLALITA offer two more itineraries that explore Panama's lush destinations.
Oh, and if you'd like to wear a Panama hat on your  Panama yacht adventure, that's okay. They're always in style.