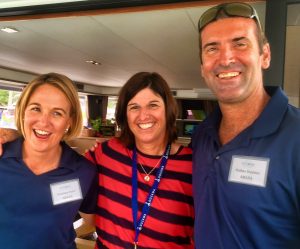 35th Annual BVI Charter Yacht Show is taking place at Nanny Cay Marina, Tortola, BVI this week.  Our broker, Sue Gearan has been busy all day and night visiting yachts and meeting new and seasoned crew for the upcoming Caribbean charter season.  These annual charter shows are essential updates to our knowledge base for recommending the best yacht charter options to your family and friends.
The BVI Charter Yacht Show 2016 has over 75 charter yachts on display for charter professionals to inspect, including interviews with their professional crews.  We look for teams who can customized service, safety and island guidance to everyone one of their charter guests.
How Our Charter Shows Benefit You
You can call or write to us anytime to get the latest updates and newest innovations in vacation yachting for any world region you desire.  We can also help you select a sailboat, a sailing catamaran, or a motor yacht that fits your needs and budget.  Once you've added in your own thoughts on what you want to happen on your vacation, then all that remains is to pack your bag and tooth brush, and corral your family or group!  Consider heading to the US and British Virgin Islands this upcoming winter.  You can rely on our local knowledge of the cruising area, charter yachts, local lore and the constantly evolving luxury travel industry.
What's included on a Caribbean yacht voyage
Breakfast, lunch, dinner, beverages, toys and terrific crew are typically included in the price of a 7-night/8-day Caribbean charter. Meals can be customized to suit your dietary requirements.  It's like an "all inclusive" resort where your accommodations move with you!
Top Yacht Chefs Awarded
TOP YACHT CHEF at BVI CHARTER SHOW is Chef Georgia and Captain Robert on 58′ Catamaran SECRET OASIS!  They are the 2016 winners of the culinary competition for Best Overall Dish and Best Appetizer with their entry, a Chocolate Lobster Mofongo.  Sorry, no free samples; you will have to charter her to find out!
Activity Ideas
Care to dive? Want to snorkel? How about trying out a paddle board or jet ski?  Many of our yachts include an extensive list of toys for all ages both for on the water fun and on board entertainment games.
For best results, tell your dates and ideas to our complimentary planning service today.