Where in the world was Carol Kent?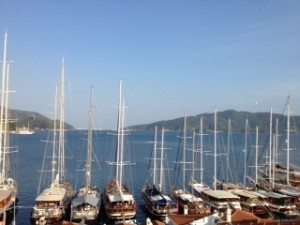 The month of May was quite the exciting one for Carol Kent Yacht Charters! Carol travelled from one yacht charter show to the next all across Europe. Her adventures include four impressive yacht shows, spanning from Genoa, Italy, Poros, Greece, Marmaris, Turkey, to Split, Croatia!
Carol wants to share her experiences with everyone! Here are some highlights from the Marmaris Yacht Charter Show in Turkey:
"It has been 14 years since I had been here and it truly feels like I am returning to friends," said Carol. "Gulet yachting has improved since my last visit! I am amazed at the overall quality of the crew (English speaking) and luxury now in the offerings."
Gulet yachts (pronounced "goo-lets") are two-masted sailing vessels. Originally built in Bodrum, Turkey, they were first used as sponge fishing boats. Now they also make striking charter yachts. They are the way to see the blue water of the Aegean Sea!
Now you can charter one for a week. These Gulet yachts can accommodate up to 12 guests in luxury and style. Prices range from comfort to luxury level. Gulet yachts are great for families, friends, or corporate incentives!