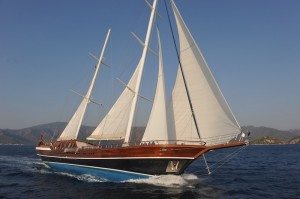 For the final week of June, there is a special offer on the traditionally-styled Gulet, QUEEN of DATCA – a 118 foot spacious, beautiful, and fun yacht available at a 25% discount! Her comfortable size, friendly crew, sailing ease, mahogany interior, and entertainment factor make her a desirable yacht to charter.
First launched in 2009, the QUEEN boasts five open-air lounging areas and five cabins, of which two are master cabins featuring king-size beds. Sail the Turkish Aegean and Mediterranean coast in comfort and style!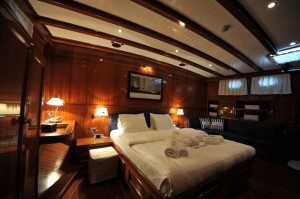 Her 1000 square feet of sail help her reach a speed of seven knots, which can be the perfect experience for those who have never sailed before! The QUEEN is also great for families since the crew is great with kids and even happily entertains them if parents wish to dine ashore at night.
Looking for a way to pass the time during the week of June 23-30th? Fill it with a great experience on QUEEN of DATCA, based in Marmaris, Turkey. Originally available at 24,500 euro per week of June, it is now available during the final week at 18,375 euro! Contact us for more information at http://carolkent.com/contact/ or make a quote at http://carolkent.com/quote/vacation-charter-quote-request/.