At the 34th Annual Culinary Contest sponsored by Mount Gay Rum, held at Nanny Cay Marina, Tortola, the sumptuous and imaginative culinary creations submitted by top yacht chefs gave the contest judges a difficult time selecting winners.  Culinary Contest entry requirements were based on the theme "EAT SMART, EAT FRESH".
How do you judge food?  To qualify, each dish was to contain at least 3 vegetables or fruits (or a combination), with bonus points awarded for use of fresh local Caribbean ingredients.  Judging criteria included Presentation, Taste, Creativity/Originality, and Overall Impression. Adding rum to any contest entry dish (or a separate one) also qualified those dishes to enter the Mount Gay Rum competition, where judging was based on the most creative use of the rum in any single dish.
If you'd like to experience great cuisine aboard your own private floating luxury hotel,  Contact  us today to arrange your own unique experience.
Here is a summary of the winners and their yachts. Congratulations to all!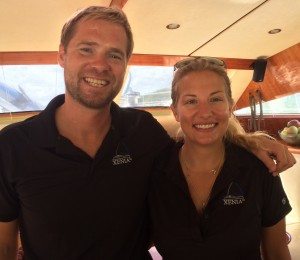 HONORABLE MENTION
Chef Kristine of   75′ XENIA Sail Catamaran   2 Crew, sleeps 8 Guests in 1 King(s), 3 Queen(s)
BEST APPETIZER  
1st Place:  Chef Brier from 76′ AKASHA Sail Catamaran  (4 crew, sleeps 10 guests in 1 King(s), 4 Queen(s), or 1 Twin(s);  SCUBA DIVE offered with Dive Instructor 2nd Place, Best Appetizer & BEST RUM DRINK: Chef Jade of 50' XENIA Sailing Catamaran   (2 crew, sleeps 6 Guests in 3 Queen(s)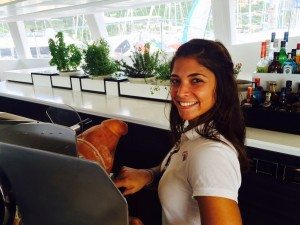 BEST LUNCH ENTRÉE
1st Place: Chef Christine of 62′ VACOA Sail Catamaran   3 crew, sleeps 10 Guests 5 Queen(s) 2nd Place AND Best use of Rum: Chef Cameron of  74′ 19TH HOLE Sailing Catamaran   4 crew, sleeps 10 guests in 4 Double(s), 2 Pullman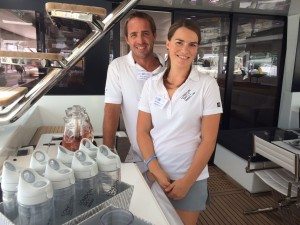 BEST DESSERT
1st Place: Chef  Maroussia of 62′ LONDON SKY  Sail Catamaran   9 crew, sleeps 8 guests in 4 Queen(s)
2nd Place AND BEST DISH OVERALL: Chef Richard "Richie" of 62′ LADY KATLO Sailing Catamaran   3 crew, sleeps 6 guests in 3 Queen(s)
MOST IMPRESSIVE USE OF FRESH LOCAL INGREDIENTS Winner: Chef Philippa of 55' FLYING GINNY VII Sail Catamaran   2 Crew, sleeps 8 guests in 3 Queen(s), 1 Twin(s)