GIRLS FOR SAIL 2014 in the British Virgin Islands
How to organize a successful yacht vacation with 10 women:  We did it!  You can too; just contact us! Our complimentary planning service will help.
10 GALS ~ 8 DAYS  Sailing the British Virgin Islands
60' Trimaran GRAND OASIS with Captain Jeff Hurd and Mate Allie.
If you ever saw The Women film (1939) or the 2008 American Comedy updated, well, you can only imagine.  What happened on Grand Oasis…stays…
I choose Grand Oasis for many reasons: Captain Jeff Hurd has been chartering in the BVI for as many years as I have been in business and I knew he would be able to handle 10 gals!
This 60' Trimaran was ideal for flexibility in cabin configuration (1 King, 4 Queens) for our "dormitory style" sleeping arrangements.  Should anyone choose to sleep in the Mid-ship's sofa style couches or on deck with the night stars ~ it was acceptable!
Steady and stable cruising – we had a couple gals that were prone to motion sickness and did very well.
The combination of having a seasoned Captain and an ideally designed trimaran offered us exceptional access to the beaches.  We anchored in close and many times we were the only yacht!
Dive equipped for 10 certified guests was a bonus for our one mates who brought her BC & Regulator. Grand Oasis is equipped with 14 scuba tanks and Jeff is a Dive Master and knows these waters intimately.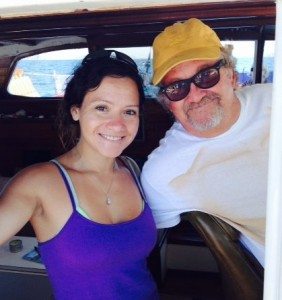 *Mate Allie joined Jeff in providing first class service as we were welcomed on board at Nanny Cay Marina at noon.
Jeff hails from Colorado and has maintained that mild mannered and easy "can do will do" style of taking care of his charges.
Allie compliments him with her lovely silent service style…and a great sense of humor.
Day 1
Picked up at Nanny Cay Marina – Sailed to Norman Island  where the Willie T was beginning to gather a yachting crowd.  Our party stayed on board that evening celebrating to the tune of the lively music.  We anchored overnight.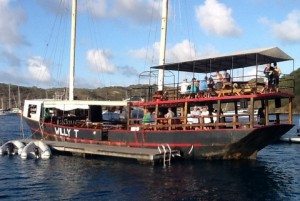 Our dinner was a perfectly a grilled steak , baked potatoes and veggies – with lots of wine and cheer for our first evening  on board!  Jeff handled all the cooking – and he and Allie were a "team in prep and service".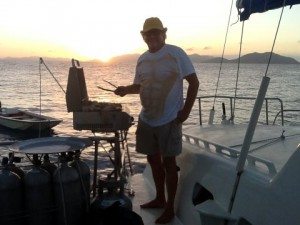 Day 2
Sailed to Great Harbor.   Enjoyed lunch off Peter Island.                      Great sail from Norman to Fallen Jerusalem (on Virgin Gorda)   Overnight – we were the only ones!
Captain Jeff knows the out-of-the-way anchorages and can get his yacht up close to the shoreline for additional privacy.
Day 3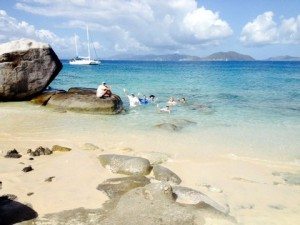 Fallen Jerusalem  morning swim to shore to explore & found conch shells in bushes that were cast away from the fisherman.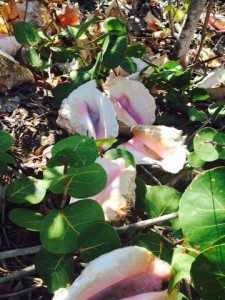 Sailed to Spanish Town – docked and provisioned.  The Baths was an memorable  late afternoon (no one was around)  snorkel and hiking amongst the rocks – lead by our leader Captain Jeff.  Overnight with few yachts.
Day 4    Sailed to Long Bay for lunch.   Next port of call – The Bitter End Yacht Club on Virgin Gorda for cocktails and sunset.   Spent the night – had a delicious shrimp scampi dinner on board.
Day 5  
Sailed to Anegada – 20 mile sail from the North Sound.   Daily morning weather briefing always happened after breakfast.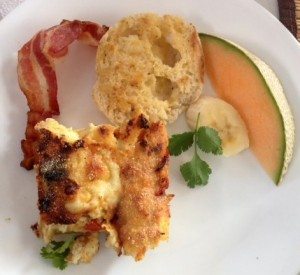 Captain Jeff would check WIND GURU to plot our coarse for the day.  He listened to our requests and did everything to make us happy.   We trolled for fish – and only got a barracuda (which was released).   Great timing – 3 hours with great wind.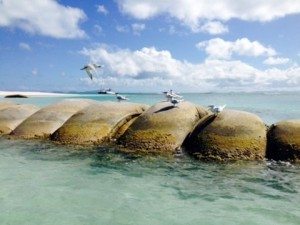 We anchored off the West End of Anegada,again we were alone. Cow Wreck Bar was our beach walk destination…
Private beach walk – with open ocean views was enchanting.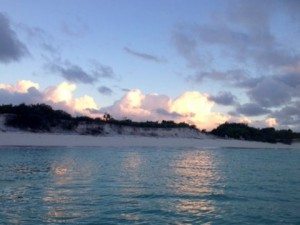 Our crew made sure we had a well stocked cooler of refreshments – as we watched sun set.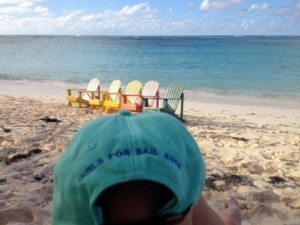 Back to Grand Oasis for a Surprise Birthday Party for one of our mates – decorations and music celebration – another delicious plated meal of Mahi Mahi made complete with homemade Birthday Cake and candles!
Headed off after breakfast to Scrub Island (25 miles), where we provisioned for water. Ideal wind but no fish were caught.
We then set sail for Over the Hill Bay on Guana Island, where the waves were perfect for body surfing.
After lunch we then headed to Cane Garden Bay for a night of eating on shore and dancing at Myett's Restaurant. We anchored overnight.
Day 7 
Next morning we headed back on the island to shop and explore.The BVI has instituted a Go-Green campaign over the past several years.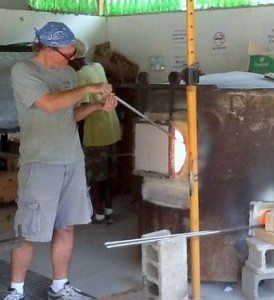 Not to be missed stop for support and souvenirs, The Green BVI Glass Studio in Cane Garden Bay.  This studio, located just behind Myett's restaurant, collects green and clear bottles. After the bottles are cleaned and labels scrubbed off they are crushed and put into molten hot ovens to be re-purposed.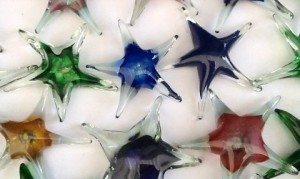 A bottle that once held beer can become a beautiful turtle paperweight.  The trained glassblowers are adept at explaining just how the process works and truly a must see operation.
Set sail for the Bubbly Pool and hike on Jost Van Dyke.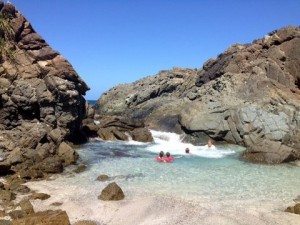 Some of us went on a fairly easy hike to this beautiful cove where the waves rush in.  Great also for shell collecting on our way back.  Others stayed at Foxy's Taboo for drinks under the shade of palm trees.  Jeff and one of our mates went to a secret diving spot during this time to catch our dinner.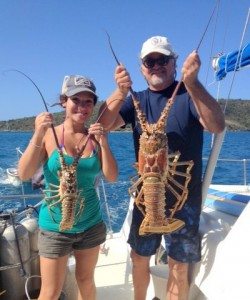 To our surprise – this was our dinner!  Wow…as big as Allie.
Set sail again for White Bay on Jost Van Dyke – to sample the Pain Killers at the Soggy Dollar Bar.
Dinner onboard was this amazing lobster!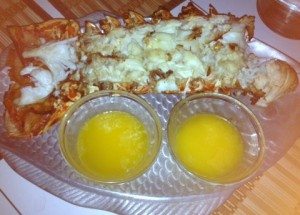 Stayed overnight in White Bay – Grand Oasis again was positioned for us to swim back and forth or dinghy in.
Day 8
Next morning we headed to Jost Van Dyke Great Harbor to visit the famous Foxy's bar…and more shopping.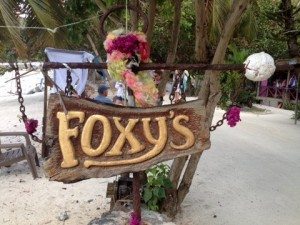 We had our last wonderful meal on board set off to Sea Cow Bay where we packed up our bags and left our home away from home. Captain Jeff took all 10 of us to the Roadtown Ferry dock.
Looking back- we covered a lot of cruising ground, had great sails and enjoyed every day with Jeff and Allie as they prepared the "day to day" adventures and excelled in creating every meal with love and care.
To All the Girls for Sail and Captain Jeff and Mate Allie – Thank You for an unforgettable week!