Packing your own gear for your yacht vacation can be easy.  Traveling with your kite board can be costly. Here are some tips for your next trip from ISS Global Marine Travel.
Use a golf bag design :
These bags are designed to contain and protect your gear and some airlines may check it in for free. Read more about the best kiteboarding travel bags.
Split kite-boards : 
Excellent for traveling, the board splits in half and can fit in your luggage. Among many split kite boards, FLYSPLIT is a good one to consider.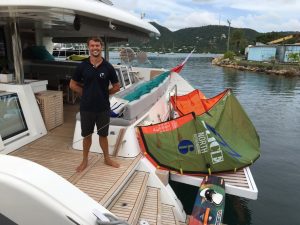 The other alternative is to charter a yacht that specializes in kite surfing:
You may want to try it out before buying your own equipment. This yacht offers kite surfing instructions, equipment and the top crew to show you the best surfing in the Caribbean.  Based in the British Virgin Islands during the winter charter season, the 62′ OCEAN VIEW accommodates up to six guests.
The best and most popular kite surfing is off Anegada where strong Trade Winds can carry you off in safety and added excitement.  The OCEAN VIEW catamaran heads across the pond and bases in Oblia, Sardinia.
Captain Pawel Jasica is a qualified IKO instructor as well as being an advanced diver!
Chef, mate and hostess Clare Chapple, compliments the overall program offered on this 2014 built charter yacht.
Here is her sample menu, and as always, yacht charter vacations are customized to the charter guests 100%.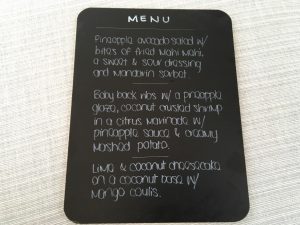 For best results use our complimentary planning to arrange your private yacht vacation.