"There are good ships and wood ships, ships that sail the sea, but the best ships are friendships, may they always be!"

― Irish Proverb
Time for Planning
To stay safe and responsible during the current coronavirus pandemic, many of this year's St. Patrick's Day celebrations will be canceled. I'm grateful that people all over the world are taking health precautions and I know that the Erin Go Bragh spirit is still alive and well.
While the travel industry is facing some enormous challenges right now, it's worth noting that yacht charters are not spur-of-the-moment vacations. We recommend that our clients start planning their charters 3 to 6 months before embarking.
During this time of COVID-19, many of us are looking out at the rest of the world and seeing places and people we love in distress – and we're distressed ourselves! You'll forgive me for saying that a vacation sounds really good right now.
We will keep on writing about the joys of travel. We're working hard to make sure that our clients realize their dream vacations. There is time for planning – and for dreaming. Let us help.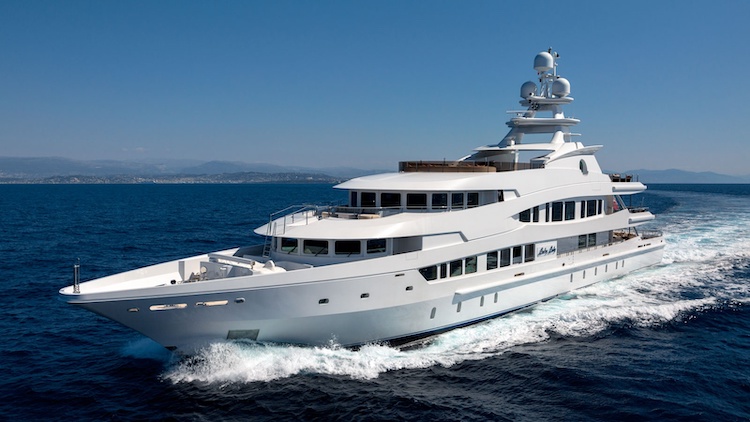 Luck be a lady tonight: 205ft Oceanco superyacht M/Y LUCKY LADY is available in the West Mediterranean, Caribbean and the Bahamas
Lucky Charms
The Luck of the Irish is a concept we celebrate every year on St. Patrick's Day here in the US o' A. We wear green clothing, leprachaun hats and shamrocks, drink beer and whisky, dye food and bodies of water green – whatever floats your boat.
Now, if you're lucky enough to own a private charter yacht, and you're celebrating your good fortune, and you want to protect your boat with a charm, you add "Lucky" to the name – like our 5 lucky yachts in this post.
Irish Lega-Sea
When I moved to magnificent Marblehead, Massachusetts, I met and married an Irishman who loved the sea. Christopher Kent, in all his red-haired, freckle-faced glory, taught me to love the sea, too. He captained our boats for years in his Irish wool sweaters and seaworthy beard. Now my son, Nicholas, a.k.a. Lucky Cap'n Nick, carries on the Irish lega-sea of boat skippering – sans woolly beard and jumper.
Another Favorite Irish Proverb
"Never dance in a small boat."
With this sage advice in mind, all of these "lucky" boats have plenty of room for dancing and shenanigans.
A Wee Bit of the Craic
In honor of these brave men, the luck of the Irish, and luck in its many forms, we've brought you these 5 choice charter yachts with "Lucky" in their names, just for a wee bit of the craic in these turbulent times.