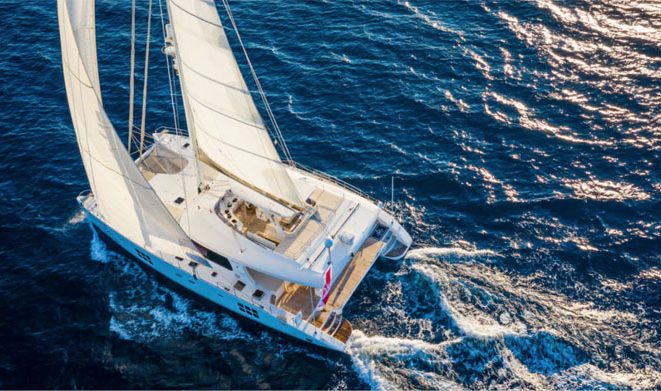 Waxing poetic about sailing the Amalfi Coast twice in two months may be hard work but someone has to do it!
Last month we wrote lovingly about the S/Y OMBRE BLU3, one of our favorite Sunreef catamarans, that currently operates along the Amalfi Coast in Italy. We're back again with a sailing and dining adventure put together by the brilliant people at OMBRE BLU3 and 2-Michelin Star Chef Gennaro Esposito. Read on and let your imagination take you to bella Italia.
MAY / JUNE 2019 – MICHELIN STAR SAILING
This May and the first week of June, on Amalfi Coast sailings, all OMBRE BLU3 guests will enjoy a special complimentary Tasting Menu + Wine Pairing at the Two Star Michelin restaurant – La Torre del Saracino, with Chef Gennaro Esposito. Stunning views to Naples and Mt Vesuvio will heighten the experience!
TRIP HIGHLIGHTS
POZZUOLI (NAPLES)
Oldest amphitheatre in Roman History and Underwater city of Baia Ruins of Cuma, first Greek settlement in Italy
ISCHIA
Berthing in the old town Port (which was the crater of the ancient Volcano). Visit the Aragonese Castle (pictured here). Private Wine tasting + KM '0' lunch at a family Vineyard + Wine Cave Thermal Pools
CAPRI
Sunset kayak through the faraglioni & caves. Single-file Chairlift to the highest point on the island Hike to Villa Jovis (Emperor Augustus)
Open-top car tour, shopping, bars, restaurants
SORRENTO
Berth right in the heart of the Sorrento, below the cliffs
Visit Pompei or Herculaneum
COMPLIMENTARY – Two Star Michelin tasting menu + wine pairing
POSITANO
Mooring Buoy right in front of Positano – famous for lace, linens and leather Aperitivo at Hotel San Pietro – views to Capri
Dinner on board watching the lights of Positano
Walk of the Gods – spectacular cliff-top walk between Amalfi and Positano
AMALFI & RAVELLO
Dock below the cliffs of Amalfi
Hike up the 1500 stairs (or down!) to XI Century Villa in Ravello
Enjoy a concert at Ravello music festival
St Andrew's Cathedral, lemons, limoncello & quaint seaside restaurants
Trip minimum 3 nights: embarking/disembarking in Pozzuoli (Naples) from €12.000 + Vat + Expenses Maximum 6 Guests / Private Charter Only
Our friends at OMBRE BLU3 have created this spectacular adventure for foodies, music lovers, history buffs, hikers, art afficionados and anyone who's ready for a trip of a lifetime to one of the planets most stunning destinations!
Take advantage of our complimentary planning services to make this dream vacation a reality. That's amoré!