OMBRE BLU3 is one of my favorite charter boats that cruise exclusively in Italy (2023). Dive the Amalfi Coast, Corsica, Sardinia and Sicily. Practice your Italian. This yacht charter in Italy offers a vacation with guaranteed immersion into Italian food and culture. Captain and Chef Francesco and lovely Melissa make this yacht charter experience the most indelible that you are ever likely to have.
"It's the crew" that makes the yachting experience special and memorable.
Speak Italian (or practice), since Francesco (hails from Venice, Italy) and Melissa (born in Tasmania) have been cruising the best of Italy for 10 years. They are so connected with the Italian Coastline, Corsica, Sardinia and Sicily and the many attractions you will want to experience.  Deckhand Marlowe (born in the Philippines) completes a fabulous working team.
OMBRE BLU3 is a 67′ Sunreef sailing catamaran, ideal for 3 couples (3 Queens) or a family of 8 guests (Twin and 2 Pullman) for a total of 9 beds.
Divers' Delight
Trust me, there are very few dive-equipped sailing catamarans or even yachts that offer PADI DIVE instruction for your first or 30th dive adventure.  Imagine exploring the underwater treasures of the Amalfi Coast, Sardinia, Aeolian, and Egadi Islands. OMBRE BLU3 is a registered PADI Diving Centre, and she is equipped for easy access directly from the transom.
Summer charters in Italy are booking up quickly with a few dates still open: Keep in mind, September is a glorious month on the water in the Med!
Between April 15 – June 8:         Amalfi Coast / Gulf of Naples OR Aeolian Islands – Sicily
Between August 9 – 18:             North Sardinia & Southern Corsica
From October 5 onwards:          Sicily
Estimated total with Italy VAT, customized provisioning, and customary crew gratuity:
€57,000 per week or € 9.500 Per Person based on 6 guests per week
Trips can be longer or shorter – just ask and we will quote – each trip is customized for each guest
Maximum 6 Adults + 2 Children, hosted in 3 queen cabins, one of which has an adjoining room with bunk beds.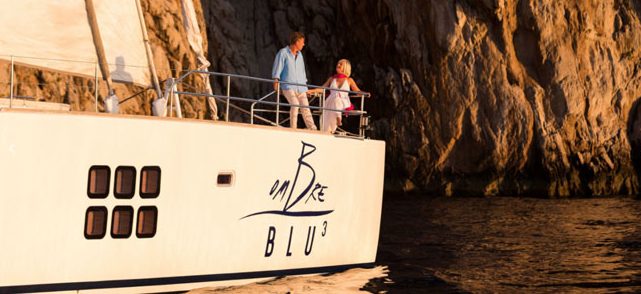 29 September 2018
"First impression, Ombre Blu exceeded our expectations. If you are reading this, dear fellow traveller, you now know what I mean. The boat's length, width, welcoming open spaces and then the introduction to the private places, brought smiles to the four of us.

Next, the "Crew". The boat's physical welcome was complimented by Francesco, Melissa & Marlowe, but that was just the start. For 7 days they laboured to make us comfortable, well fed, well wined, and well horizontal from one lovely place to another., . Always smiling, always eager to laugh with us, always on call – 16 hour days and every hour devoted to our safety and comfort.

Thank you"
Make a plan and contact us for our complimentary travel expertise!