Hola from Barcelona!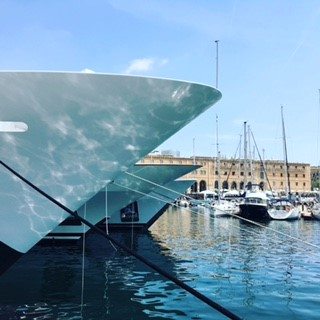 For the first time in 27 years, One Ocean Port Vell Marina in Barcelona will host the most prestigious yachts, charter brokers, press and vendors from around the world at the renowned Mediterranean Yacht Brokers Association (MYBA).
This important European show had been located in Genoa and San Remo, Italy. Now in 2017, this premiere event in the superyacht calendar changed locations to beautiful Barcelona, a world-class city, legendary for its history and culture.
The Balearics are only a 45 minute flight to ideal island-hopping. Many of the yachts now have their Spanish Cruising Flags to charter in this "new hot destination" in the Mediterranean. This means Carol Kent Yacht Charters is pounding the pavement – well, the decks – to stay current with yacht trends.
Renowned as a key showcase of super yachts and ancillary services for the yachting industry, the MYBA Charter Show is a "trade-only" event (for brokers and charter agencies only).
The event offers yacht brokers like Carol Kent a chance to familiarize herself with captains and crews, and get beyond the brochures of the luxury yachts on display. Such an informative experience is invaluable when it comes to advising clients on the kinds of luxury yachts and ever-expanding services and toys that will be ideal for their next yacht charter vacation.
Uniting captains of industry with the very best superyachts available for private charter vacations, the show is, in many ways, a celebration of the beauty and opportunities for cruising in the Mediterranean.
The largest charter yacht attending the MYBA Charter Show 2017 is the 90m/312ft motor yacht INDIAN EMPRESS from Oceanco. Having enjoyed an extensive refit less than two years ago, she is now an ultra-modern super yacht.
Another icon currently berthed in Barcelona ahead of the show is the 90m/296ft luxury yacht NERO. Designed by Neil Taylor, both the classic interior and exterior of the superyacht have dazzled onlookers ever since her delivery from Corsair Yachts in 2007.
The award-winning 70m/230ft luxury yacht JOY also generates much intrigue in the marina, with her Bannenberg & Rowell-styled exterior enjoying an abundance of praise in the press following her delivery from Feadship last year.
As our magnifico time in Barcelona winds down we will have had an exclusive look at nearly 100 of the world's most luxurious superyachts. Carol Kent can answer all of your charter yacht needs and she will be on-site and available via email to answer any of your questions.