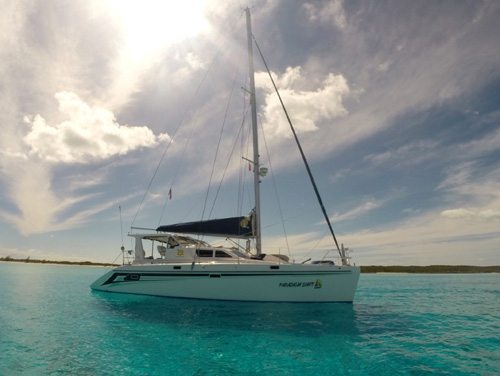 New England catamaran charters are gaining popularity.  Home to mainly monohulls and motor yachts;  a catamaran offers generous deck space, queen master stateroom and steady sailing for the new to charter clientele.
Sailing yacht Catamaran 50′ PARADIGM SHIFT was in Marblehead Harbor last evening. She is currently available for charter in New England and the Bahamas this winter.
This 50′ Catamaran is ideal for families and couples.   She has an accessible forward stairway that drops down for beach landings.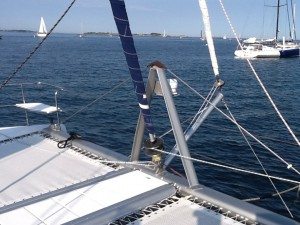 Captain Steve Carroll hails from Maine originally. However, his varied background was discovered last evening as we enjoyed lively conversation with Chandler Hovey Park Lighthouse in the backdrop.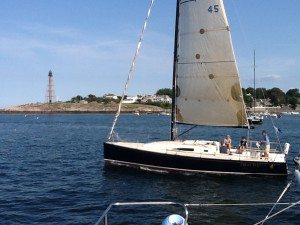 Captain Steve  has lived in Israel (speaks fluent Hebrew), South Africa (speaks Afrikaans) and did his college studies in the UK.  A former commercial fisherman off the coast of Maine – he dazzled us with his wealth of knowledge and easy manor.
Guests will enjoy Bonnie's complimentary style.  She loves to cook and entertain. They are a perfect couple looking to welcome you to discover New England summers and Bahamian Winters.
TABASCO the yacht mascot is a 10lb. Bichon Frieze/Toy Poodle mix. Even if you are not a dog lover, this one will win your heart. We hardly new she was present – no shedding and no barking.