Top Yacht Chef winners were announced at the annual Newport Yacht Charter Show ending last Thursday.
These are the talented Top Yacht Chefs winners of the Culinary Competition last week.
Their challenge: A healthy, specialty diet request using a mystery basket of local Farm to Yacht ingredients.
First Place – Chef Esther of 151' Motor Yacht KATYA made a "heart healthy" dish that consisted of smoked mussels and clams, pickled beets, horseradish and soba noodles.
Second Place – Chef Tracy of 129' Motor Yacht SAFIRA made a "vegetarian" dish that consisted of a raw kale Caesar salad, a cucumber cannoli with pine nut ricotta cheese and a mint, basil, strawberry sorbet.
Third Place – Chef Gail of 116' Motor Yacht VIVERE made a "vegetarian" dish that consisted of a vegetable curry over rice, a warm beat soup and a strawberry rhubarb crumble.
Vacations are all about the food, the wine pairing and the service.
Carol Kent and Sue Gearan were wined and dined aboard sail and motor yachts throughout this 4 day yacht charter show.  This in the way we work…recommending our reviews and meeting with talented crew.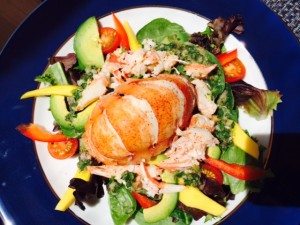 67′ Sail Yacht MORE MAGIC charters in New England in the summers and the Caribbean in the winter.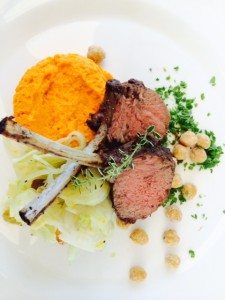 123′ Sail Yacht AXIA served a 4 course lunch! Chef Brigid Rafferty has presented her culinary talents on many famous charter yachts in her career.   Her Captain husband Jonathan hails from Wales.
Moroccan-spiced Grass-fed Lamb Rack served with a Shaved Fennel and Yellow Raisin Salad and Carrot Hummus, Garnished with Fried Chickpeas.  *Paired with Casillero Del Diablo, Reserva Malbec wine from Chile, 2012.
Decadent Dessert from the galley of 155′ Sail Yacht ASOLARE sailing yacht.  Salted Caramel Fondant with Sweet Ice Cream & Edible garnish.
ASOLARE is the famous former SCHEHERAZADE built in Maine with extraordinary workmanship.