Newport Charter Yacht Show held June 21-24 in Newport, RI, an ideal port to embark on a yacht charter vacation in New England.
Thanks to the American Yacht Charter Association (AYCA), over 30 sail and motor yachts will be open for viewing at the Newport Shipyard so that we and other select charter industry colleagues may inspect, meet the crews and taste the cuisine – all for you, our valued clients, of course.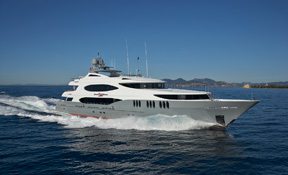 161′ Motor Yacht ZOOM ZOOM ZOOM will be the largest Superyacht in the show this year.
Ideal for up to 10 guests in 5 cabins, her 9 professional crew are available in New England waters this summer. Contact our complimentary planning service today to discuss your ideas and budget.
All of these quality and fully crewed yachts will be coming from the Caribbean, Florida and the Bahamas to ply the waters from Long Island to Maine.
An annual Culinary Competition will be held during the show, and the results will be covered here. You can search our blog for more "Top Yacht Chefs" competitions around the world. Yacht charter clients tend to favor healthy eating, so it is always exciting to see the judging criteria and to cheer on the winners of the Top Yacht Chefs in New England.  Follow this blog for updates.