Renting a luxury yacht offers some distinct advantages over ownership.  Indeed, yacht ownership, according to the Sunday New York Times, may be taking a turn toward the passé, as affluent buyers increasingly prefer to buy experiences rather than material possessions (PricewaterhouseCoopers, 2015).
The upshot is that you don't have to own a megayacht, or even a carefree catamaran, to enjoy the benefits.  Choosing to charter actually offers some unique benefits and flexibility, as we will discuss below in "Top Ownership Concerns".
As an example,  103′ DIAMOND GIRL was featured in that NYT article I mentioned above as a good example of a luxury yacht chartering in the Caribbean for the popular winter season.  To own or to charter?  She has 4 crew, accommodates up to 8 guests, and is offered for charter at $47,000.00 USD per week + All Expenses.  Owning her would certainly cost you more.  Yacht owners report typical annual maintenance costs upwards of 10% of the vessel's purchase price.  Thus, a $1M yacht can cost over $100K annually to maintain.
Top Ownership Concerns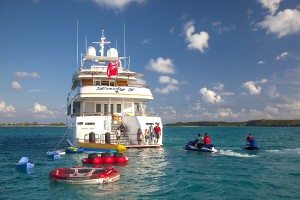 1. Property.  When you own a yacht, you pay the price of a used or new build, plus the inspection, upgrades and refits, taxes and ongoing maintenance – on both the yacht and the equipment used to maintain her.
2. Staff.  You have a crew to take care of your investment. You pay their wages, benefits, health insurance, training and more.
3. Management. If you make your vessel available for charter, you typically pay "management fees" to a yacht management company, which vary depending on the size of your yacht and the management company's fee structure.
4. Location. Want to explore Alaska this summer, but your yacht is in the Caribbean for the winter?  Relocating her means paying for fuel, wear on engines, and crew just to get her to Alaska – before you even step aboard.  By contrast, for approximately $63,000 per week (plus 15% gratuity  or $7,000), you can have an experience on DIAMOND GIRL that is "strings free".
How We Help You 

 
Chartering a luxury yacht is vastly different than any other type of vacation rental. Maritime law and international contract regulations are complex and require specialized expertise.  Destination planning, onshore and offshore, is also best handled by competent experts. Ports of call, their cultures and customs and other insider info, as well as knowledge of boat owners, captains and crew, all require specialized expertise. We handle all the complexities of the charter agreement while working with your own detailed interests, preferences and expectations, to ensure you a stress-free experience.
What Result can You Expect?
Chartering is a savvy way to enrich your life. It is all we do, and all we have done, for over 30 years. Our repeat clients are typically discerning individuals who value privacy, discretion and superior service, and who repeatedly cite the same conveniences, benefits and affordability that we at CKYC know only too well. We live by the mantra: "charter is smarter".
Our expertise is your assurance that the spiritual renewal, off-grid relaxation, sporty exhilaration and rejuvenating, bond-building benefits of a private escape aboard a private luxury yacht can be yours. In the company of your significant other, special clan or deserving business team, you can select from an array of suggested itineraries that range from exotic cultural hots spots to secluded out-islands where no cruise ship can go; to the breathtaking cosmopolitan and old world culture of the Mediterranean, to the northern oceans' coastal cities, or an educationally significant junket to the Galapagos Islands. All this is (pun intended) in our wheelhouse.
This is why be believe "Charter is Smarter".

May we suggest….
The 142′ LADY J is one of my very favorites!  They keep up their floating hotel with updated interior furnishings, plus a vast array of water toys, fishing gear and a tender to get you to and from some delightful experiences.
Here is a list of "Toys" on board LADY J (more details) for your enjoyment:
32' Intrepid towed Tender, powered by 2 300HP Yamaha engines
2 x 3-person wave runners
2 x kayaks and 2 x inflatable kayaks for children
2 x paddle boards
Water skis (slalom; adults and children)
Snorkel gear for 12 (adults and children)
Wakeboards, kneeboards, towable toys (Rave, Banana boat and Trampoline)
Full array of Fishing Equipment
Exercise Equipment: 2 Treadmills, free weights, yoga mats and instruction DVD's
SCUBA – RENDEZVOUS DIVING (the yacht is equipped with 6 full dive sets and commercial grade dive compressor for Certified Divers Only)
Sun Deck Jacuzzi with oversized sun pads
Wii and XBOX 360, huge assortment of games
Board Games
Audio-Visual Library
BBQ beach gear with gazebo
DVD and CD Library
DSS satellite TV (Europe, USA, Bahamas, Caribbean)
V-SAT constant internet via wi-fi throughout the yacht
Computer, printer, scanner, SatPhone, SatFax, Cell Phone
AppleTV in Main Salon and Skylounge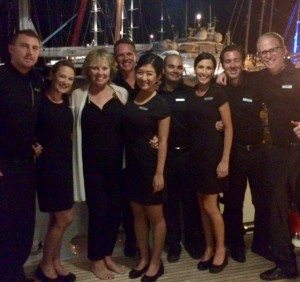 LADY J in Antigua ~ and lucky me!
You just may want to rent your yacht attire, and possibly a private island.  We can help you make all the arrangements.