People often ask me why I prefer yachting to cruising, possibly hoping for insights to help them decide. My answer is that it depends on your preferences.  I've done plenty of both, and I personally find yachting more satisfying. Here is what I have found.
When you compare chartering a sail or motor yacht for one week, with your own private crew and a custom tailored itinerary, to a cruise ship group voyage where your time is their schedule, you quickly discover some trade-offs.
As an example, last summer I was invited to join an incentive group cruise with 100 guests (among 2,294 others on board).  We were most fortunate to experience Alaska and five ports of call in a one-week voyage.  At night, while we slept, the ship covered many sea miles, thus our trip ranged over 2,000 miles to visit Juneau, Skagway, Glacier Bay, Ketchican and Victoria (BC) by day. That's very convenient.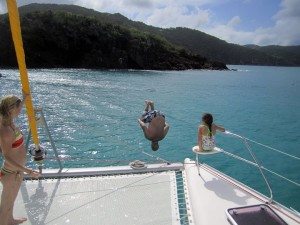 Being a "yachtie" all my life (free spirited adventurer, non-conformist traveler, independent planner), I did enjoy many aspects of this trip.  Still, the cruising experience differs in so many ways.
Price and Convenience
Yachting means flexibility! It's your itinerary, so you can plan and price it exactly how you'd like. And, if you wish to deviate slightly to take advantage of weather, attractions or serendipity, it's generally feasible (try telling that to a cruise ship captain). And, if any one of your onshore excursions lasts a little longer than expected, your yacht will wait. Cruise lines, by contrast, actually warn you that they will – and indeed do – leave you behind, stranded and alone, if you cannot re-board well before scheduled departure time.
Unlike a cruise ship, onshore excursions can be scheduled right into your yacht charter itinerary, not charged a la carte, and you generally won't face long lines or risk getting squeezed out of a popular onshore activity, or having to pay for unplanned extras. On a yacht, you have greater confidence that you will get what you asked for – quite often, more.  Our yacht charter service selects captains and crews based on their ability to defer to the guest's interests.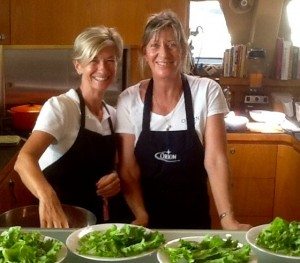 Yachting Means Health
Eat healthy! Choose your menu, and the crew shops for you. Yacht charter crews actually compete for culinary awards for Top Yacht Chefs, often surprising and delighting guests with tailored menus to suit the most discriminating palate, exacting standards, dietary preferences, health goals and vivid imaginations.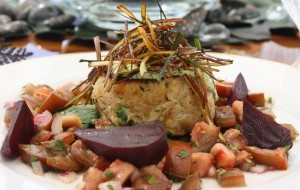 Avoid food-borne contagion! Fewer people means lower risk of exposure to food borne germs, human borne viruses, or contagion caused by other people's unhealthy habits or poor sanitation. It's all much more manageable on a private yacht.
Yachting Means Action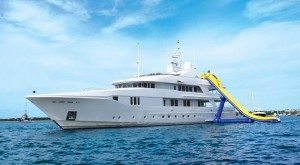 If you get tired of your hammock, activities abound in a variety of forms, and can be included in your itinerary. Select a yacht equipped with all manner of toys for playing in, on and under the waters, experiencing nature's beauty beauty close-up and undisturbed in places the cruise ship crowd simply cannot go. And you won't have to worry about condition, sanitation or maintenance of the sporting equipment by the last user.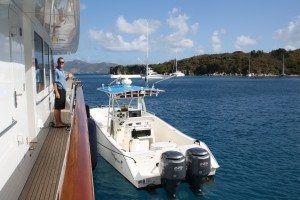 Some yachts actually have PADI certified SCUBA instructors, if that is your interest.  Others may carry a virtual water park full of toys including water slide, para-sail, jet-ski, snorkeling, paddle boarding, wave surfing, wake boarding, and of course inflatable flotation toys in all shapes and sizes.   Larger yachts can even have auxiliary boats for quick trips ashore, or for fishing and water play.  It seems every year a new, imaginative recreation toy comes along.
Privacy and Security
Privacy means no long lines or missed opportunities. Enjoy your favorite cocktail, activity or water toy anytime the weather suits!
No crowds means better security. Crowds are a criminal's favorite target, where distractions and confusion make it hard to keep track of family, friends, personal items and directions. In your small private party, you can easily keep track, make plans and stay safe.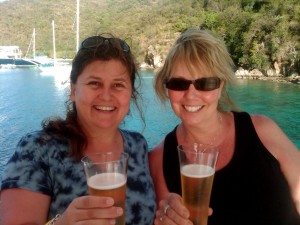 Many of your financial needs and transaction plans can be handled securely and with utmost discretion well in advance of your yacht trip.  And, while interruptions such as mechanical mishaps can occur on any size water craft, a yacht can more easily enter any port for parts and repairs if needed. Cruise ships, by contrast, can remain stranded at sea for days, awaiting specialized high-end support equipment, while its thousands of angry, inconvenienced passengers and crew grapple for resources and relief.
It is no wonder why cruise ships often make comparisons to private cruising in their sales pitch.   For some, yachting maybe the perfect option the best offers a great Caribbean vacation.
The peace of mind, tranquility, fun, health and excitement of a tailored, private yacht charter is a singular experience, and a lot more convenient and affordable than you might expect.  Yachting offers freedom to choose your itinerary, activities, shore explorations, dining and entertaining.  Nothing compares!
For best results, tell your travel dates and ideas to our complimentary planning service today.