JOIN THE WORLD ARC 2018-19 ITINERARY TO SAIL AROUND THE WORLD
Sea-batical, anyone? In 2018-19, 57′ Bowman Sailing Yacht EMILY MORGAN will circumnavigate the globe with the World ARC (WARC) sailboat rally. In the world of yacht charters, this is a once in a lifetime experience.
The World ARC fleet follows the trade winds along a tried and tested route, avoiding storms, political unrest and piracy. This sailing Sea-baticalTM is a mix of long ocean legs, shorter passages and cruising, with organized tours plus social and educational events along the way.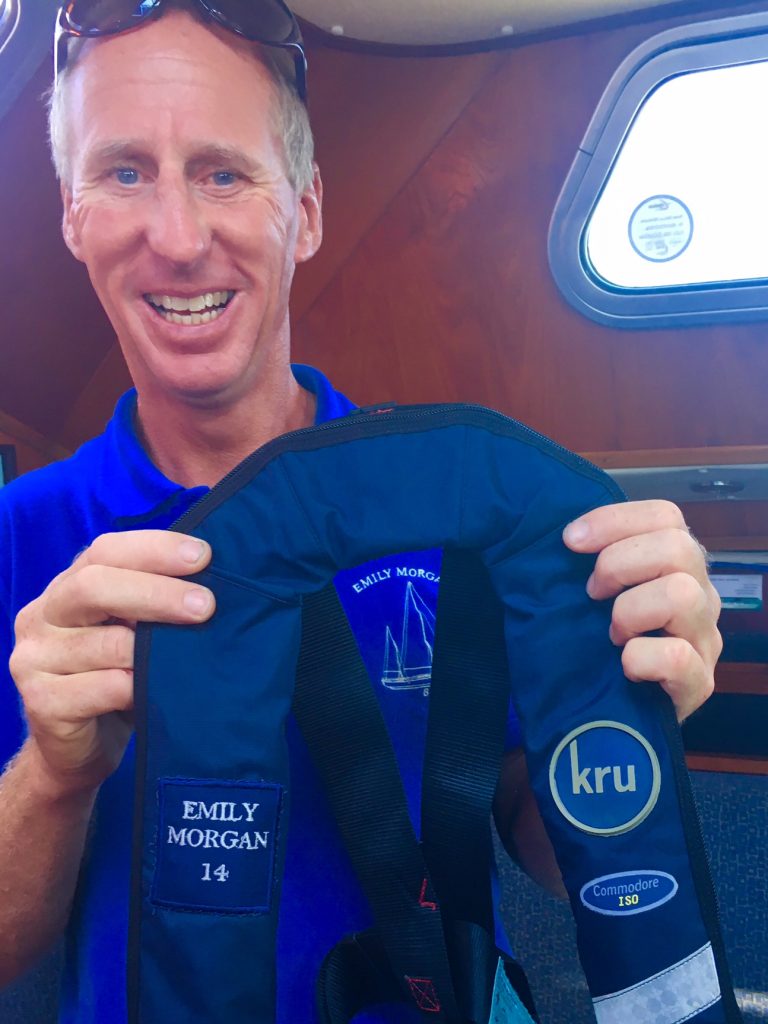 Individual and groups of guest sailors can book by berth rather than chartering the entire boat. You can join the EMILY MORGAN for one leg, many legs or the entire 15-month sail around the world.
Legs are broken up into "months" that range from 19-36 days. The more you sail, the more you save on your yacht charter fees. (See the chart below.)
Capt. Bones says, "As part of an organized rally, a lot of the planning for this sailing adventure is done for us. This way we can concentrate on sailing, exploring and making sure that guests have a great time."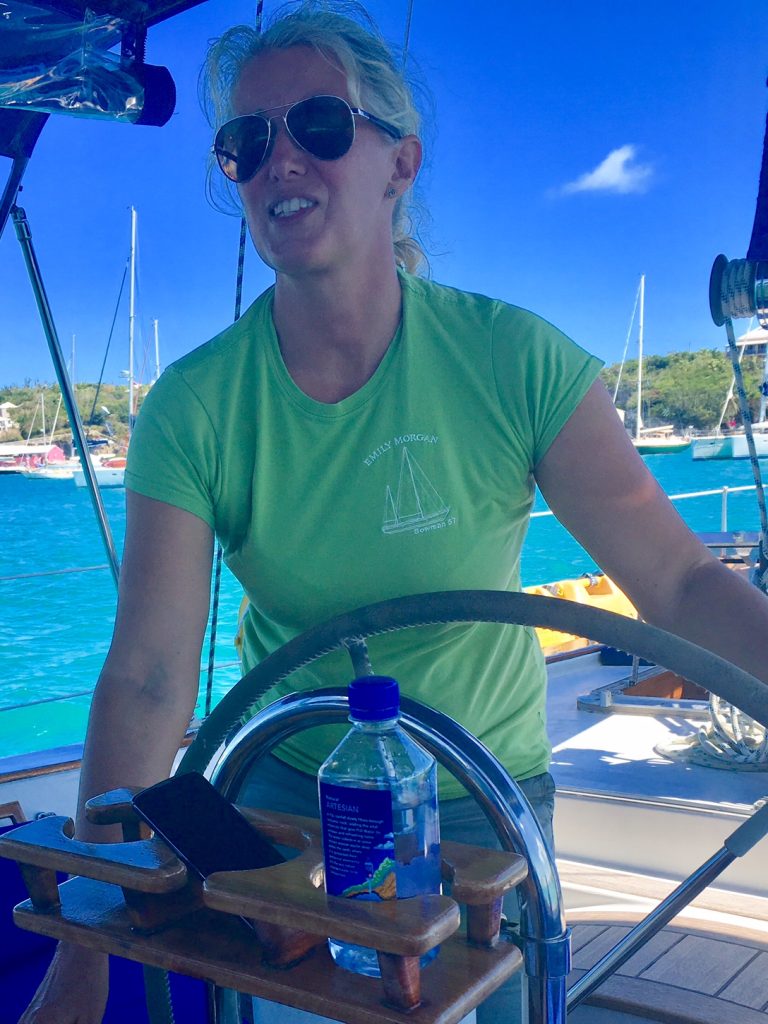 The rally starts from St. Lucia in early January 2018.(See chart below). It crosses the Caribbean Sea, through the amazing Panama Canal, across the Pacific Ocean, stopping to explore the Galapagos and many spectacular island groups, then on to Australia where we cruise inside the majestic Barrier Reef before crossing to Lombok in Indonesia.  The route then takes us across the Indian Ocean to Mauritius and Reunion before skirting the bottom of South Africa, then back across the Southern Atlantic to enjoy carnival in Brazil before heading back to the familiar Caribbean to end in St. Lucia in April 2019.
I have personally sailed with Bones and Anna in Bermuda this past June during the America's Cup races.  Both are expert captains who know the oceans, seas and their beautiful yacht.  They have been chartering out of the US, BVI's and down island for many seasons. This is their dream and they invite you to share it!
Captains Anna and Bones have room for 6 guest sailors in this exciting opportunity. Participants must have sailing knowledge and be interested in the running of the ship. Experienced sailors will work and play and benefit tremendously from sailing with these seasoned captains.
IMMEDIATE MESSAGE from Captain Bones (09.11.17)
A place has become available for this year's ARC rally from Las Palmas to St. Lucia.

One of this year's crew has had to pull out of the ARC this November so we now have a place available.  If you are interested, or you know someone who may be interested, please get in touch.
Total travel? 26,000 nautical miles and 15 months.
Book by the berth – you don't have to book the whole boat. There is room for 6 experienced sailors.
This sail-around-the-world journey is divided into legs of about one month each and are offering discounts on multiple legs as you'll see in the chart below.
Which of these routes do you fancy?
Click map to enlarge.
Leg
Dates
Route
Price
Distance
Days
1
6th Jan 2018
4th Feb 2018
Saint Lucia, Santa Marta, San Blas Islands, Panama Canal
£3500 PP
1190nm
29
2
6th Feb 2018
25th Feb 2018
Panama City, Las Perlas, Galapagos
£3500 PP
940nm
19
3
26th Feb 2018
22nd Mar 2018
Galapagos, Marquesas
£3500 PP
2980nm
24
4
24th Mar 2018
23rd Apr 2018
Marquesas, Tuamotus, Tahiti
£3500 PP
830nm
30
5
30th Apr 2018
5th Jun 2018
Tahiti, Society Islands, Bora Bora, Suwarrow, Niue, Vavu'a, Tonga
£4200 PP
1630nm
36
6
9th Jun 2018
3rd Jul 2018
Tonga, Fiji
£3500 PP
580nm
24
7
7th Jul 2018
6th Aug 2018
Fiji, Vanuatu, Mackay, Airlie Beach (Australia)
£3500 PP
1780nm
30
8
12th Aug 2018
13th Sep 2018
Airlie Beach, Whitsundays, Darwin, Lombok
£3500 PP
2550nm
32
9
15th Sep 2018
18th Oct 2018
Lombok, Christmas Island, Cocos Keeling, Mauritius
£3500 PP
3460nm
33
10
24th Oct 2018
25th Nov 2018
Mauritius, Reunion, Richard's Bay, Cape Town
£3500 PP
2200nm
32
11
8th Jan 2019
9th Feb 2019
Cape Town, Saint Helena, Salvador (Brazil)
£3500 PP
3600nm
32
12
17th Feb 2019
21st Mar 2019
Salvador, Northeast Brazil, Grenada
£3500 PP
2300nm
32
13
31st Mar 2019
14th Apr 2019
Grenada, St. Lucia
£1400 PP
120nm
14
£44100 PP
15% discount for whole way round £6615
£37485 PP
All dates are subject to confirmation. Prices are per person. You will not be chartering the entire boat.
10% discount for multiple legs, e.g. Leg 5 Tahiti – Tonga is £4200 pp + Leg 6 Tonga – Fiji is £3500 pp. That's £7700 pp – 10% = £6930 pp
15% discount for the whole way round. £37485 pp – 15% = £30,870 pp
Deposit of 25% due on booking, final balance due 3 months prior to joining.
What's Included
Entry to the World ARC
Customs, cruising permits and immigration costs
All onboard food and drink whilst on passage
Organized tours, parties and events by The World Cruising Club (WCC)! (Count me in!)

Satellite tracking whilst at sea
What's Not Included
Personal visas (if required)
Food/drink whilst in port
Flights/transfers
Personal insurance
For more information, please contact me HERE or call +1 (781) 631-1800. I love chatting about this amazing sailing adventure!