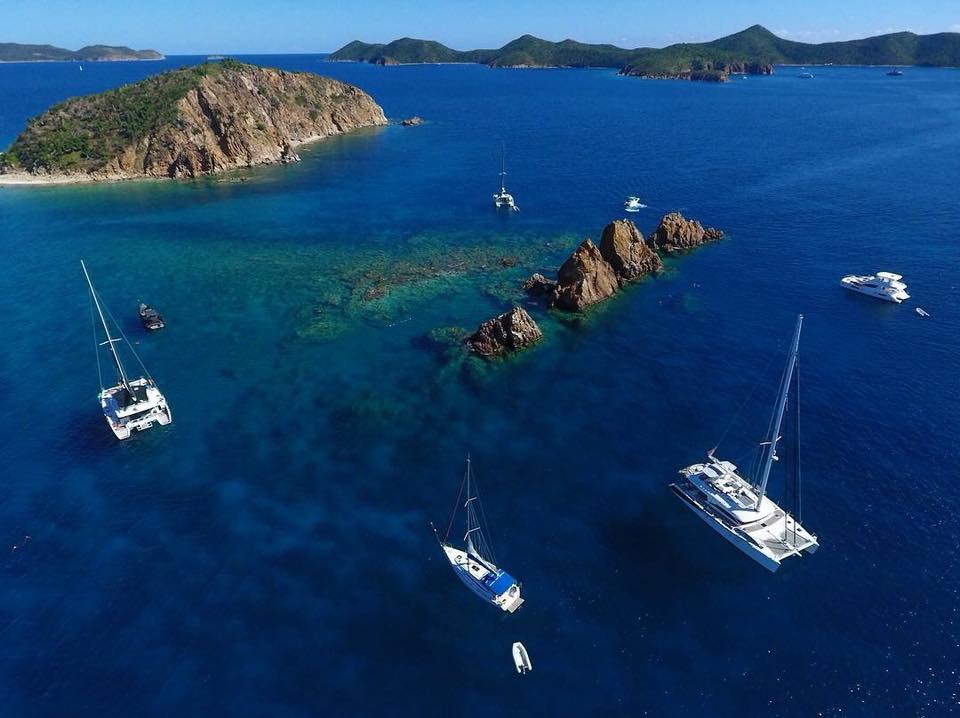 Feb. 6, 2018
Dear Jenn & Darrel,
We had the most incredible time on Sea Boss! You guys were so amazing! The meals were fantastic, the snorkeling was great, the conversations were heart warming and the boating was fun!
We really didn't know what to expect to see and do prior to arriving on this trip because of the devastation that was caused to the islands by hurricane Irma. We had been here once before 6 years ago on a bare boat charter with family and had a great time. Some of our favorite places that we remembered were now gone but Darrel came up with other suggestions that were amazing. The Soggy Dollar Bar and the Pirates restaurant were back up and running, which we were happy to hear and visiting them again was wonderful.
The Super Bowl party on the beach at Leverick Bay was truly a one-of-a-kind experience! Partying with 200 other boaters was such a blast. We also loved visiting Oil Nut Bay resort and spending time at their pool and beach. Lunch there was superb and the staff was friendly. The snorkeling at Mountain Point will always be one of our favorite experiences. We loved buying gifts for our grandkids at Nanny Cay!
We loved hearing stories about your boating relief efforts after hurricane Irma. What you guys did for the BVI community was extraordinary and selfless. Your passion for the islands and its people is evident and our hope is that others get to experience it too! The award given to Sea Boss and her crew by the South Florida Marine Industries for humanitarian relief is well deserved!
Thanks again for making our pre-Valentine vacation very special! We are definitely going to come back again with our kids and grandkids before Christmas!
XOXO
Amira & Mike
London, Ontario
The charter last week went great & overall the islands and water are still gorgeous."  You can see from Matt's drone shots that the anchorages are free of cruise ships and less crowded this season. Notice the aerial view of the famous snorkel site The Indians (Trip Advisor) that this underwater playground can be almost private to charter guests!

Beach bars like Foxy's and The Soggy Dollar Bar are open and ready to serve up some famous painkillers.
Captain Matt Wilson of luxury catamaran LADY KATLO reports:
Wow – what a difference a month makes! While there is still evidence of Irma-Maria in most places, the Virgin Islands are certainly looking much better. Most debris has been cleaned up from beaches, more places are open, and recovery is clearly in motion. One of our guest comments was "breathtaking views"! It's a great time to come to the BVI's, where warm waters and welcoming smiles will greet your clients.
Reported from team Captain Graham and Chef Pam from the Lagoon 560 AZULIA II, they have been hosting families who are thoroughly enjoying all the water sports on offer – Stand Up Paddle boarding, Kayaking, Water skiing, Wake boarding, Tubing and more.
This is a time for people to connect and just have some good old fashioned fun – unplugging and playing board games and card games at night with no distractions is what this vacation is all about.
WHY BVI'S NOW? 
Jacqueline Gifford, the Director of Travel + Leisure magazine recently wrote, "The tourism industry is the economic lifeblood of the Caribbean, its single biggest employer.  As an editor who has been covering the region for more than a decade, I've had many friends ask how they can help.  And I say one word: GO.  Make the conscious effort to vacation there because every dollar matters.  What's more, many of the impacted destinations, including the BVI's, are ready for visitors right now."
Caribbean Comeback…Kids!
You might ask yourselves, "Why go to the Virgin Islands now?"  One of the best reasons is to support the Caribbean economy where tourism is the #1 industry. Without visitors, it will be tough for the islands to get through this period and rebuild to even better than before.
The second and most important reason to go is to experience the incredible recovery work that has been done during this Caribbean yachting comeback. We've been diligent in reaching out to our yachting connections to get responses from both crew and clients and have just a few here.
← The quote at left came in this morning from Captain Darrel and Jenn from SEA BOSS, a luxury power catamaran cruising in the British Virgin Islands. This is the best endorsement one can get to GO SAILING!
60' Motor Catamaran SEA BOSS
Sleeps 6 Guests in 1 King, 1 Queen, 1 Twin(s)
Captain Darrel and Chef/Mate Jenn of SEA BOSS carried out their charters in the Bahamas over the holidays due to hurricane Irma.  Their calendar is now busy chartering back in their beloved BVI.  A terrific family yacht, they have some March and April 2018 dates open.
More Shout Outs from our YACHT CREWS and CLIENTS in the US & BVI
62' Lagoon Sailing Catamaran LADY KATLO  Sleeps 6 Guests in 3 Queen(s)
56' Sailing Catamaran AZULIA II        Sleeps 8 Guests in 4 Queens, 2 Pullman
Further UPDATE REPORTS – British Virgin Islands tourism showing signs of recovery after Hurricane Irma from The Guardian