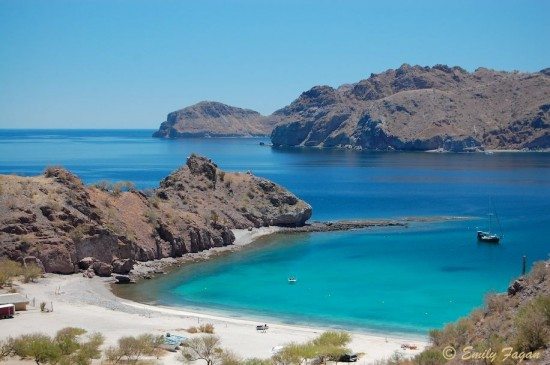 Sea of Cortez cruising begins in La Paz, Mexico. Begin your yacht charter in this vibrant Capital city of Baja California Sur.
7 Day Sailing Itinerary – La Paz, MEXICO
DAY 1 — La Paz to Ensenada Grande, Isla Partida
Ensenada Grande is a popular anchorage with its picturesque turquoise waters, rocky cliff sides and white sandy beaches. Enjoy excellent hiking through the arroyos as well as snorkeling along the rocky shorelines.
DAY 2 — Ensenada Grande to Los Islotes (Day Stop) to San Evaristo
Located just off the northwest tip of Isala Partida is Los Islotes famous for its sea lion rookery. The National Park office has installed mooring buoys for use by dinghies on both the northern and southern shore of Los Islotes. Located on the Southwest of Los Islotes is El Bajito a popular dive spot with a variety of tropical fish. Take a short sail to San Evaristo, a quiet little fishing village, for the night in a well-protected anchorage.
DAY 3 — San Evaristo to Isla San Francisco
White sand beaches, red-rocky cliffs and crystal blue water make the crescent shaped bay of Isla San Francisco another popular anchorage. This picture-perfect cove is excellent for hiking, snorkeling, fishing or lounging on the Beach. The bay is large enough to accommodate many boats with a good holding ground.
DAY 4 — Isla San Francisco to Amortajada, Isla San Jose
The anchorage at Amortajada is located on the southwestern tip of Isla San Joe. Even if you don't plan to stay the night, a dinghy or kayak trip through the mangroves to the main lagoon is the highlight at Amortajada and should not be missed. Remember to bring binoculars to watch the snowy white egrets and herons.
DAY 5 — Amortajada to Bahia Gabriel, Isla Espirtu Santo
Bahia San Gabriel is a large, beautiful bay and offers one of the nicest white sand beaches on the western shore of Isla Espiritu Santo. A trail through the small arroyo on the southern end of the beach links Bahia San Gabriel to this enormous white sand beach and Playa Bonanza on the island's eastern shore. The rocky western shore of Punta Prieta and the southern point of Ensenada de la Dispensa offers good snorkeling.
DAY 6 — Isla Espirtu Santo to Puerto Balandra
Picture perfect anchorage with its white sandy beach and beautiful blue water and home to the famous Mushroom Rock "El Hongo." Puerto Balandra is a wonderful playground to the snorkeler, hiker and kayaker.
DAY 7 — Puerto Balandra to La Paz
Short sail back for disembarkation