Top Chef best of show winners at BVI Charter Show 2014 comprised of talented yacht chefs judged by a select group of local food experts during the yacht charter show at Nanny Cay Marina, Tortola, in the British Virgin Islands.
Black Barrel's Mount Gay Barbados rum was the main ingredient combined with local produce, products and the talented crew preparing their signature dishes for this well respected competition.
62′ LADY KATLO catamaran won first-place in four categories (Appetizers, Entrées, Desserts and Best Overall) in the 2014 Culinary Competition.  Congratulations to Chef David and crew!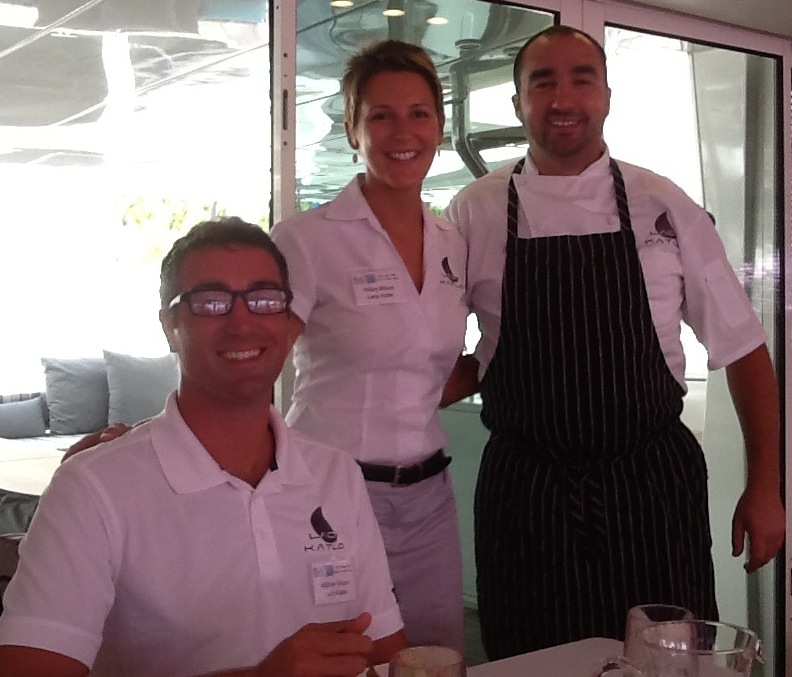 I was invited on board the luxury three stateroom LADY KATLO for lunch with Chef David Richmond.  It was nothing short of ecstasy on the taste buds! Chef David's winning entrée was lamb (especially prepared for me due to my fish allergy) while the others enjoyed his raved about fish dish.  Considering the small galley kitchen space, it was incredible that he could create such a varied, delectable meal.
More about the Chef:  Chef David, who grew up in a little fishing village in southwestern Wales, made his way to London after culinary school. During his time there, he worked two years for Marco Pierrre White, Britain's first celebrity chef and three Michelin-starwinner, and cooked for Queen Elizabeth and Sir Elton John. After 12 years, Chef David decided to take a break from the bustle of the big city and became head chef at The Last Resort restaurant in the British Virgin Islands. Captain Patrick managed to convince him to share his culinary masterpieces on Lady Katlo. I'm so glad he did.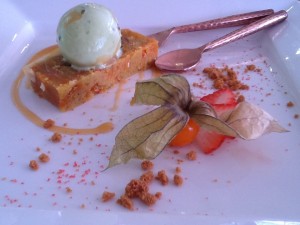 Congratulations to All Top Yacht Chef winner!  A great show with talented professionals

TOP CHEF winners also include:
Appetizers
3rd Place: Briar Smith, 76′ AKASHA (10 Guests)
2nd Place: Valentina Ferrario, 47′ NEMO  (8 Guests)
Entrées
3rd Place: Valentina Ferrario, 47′ NEMO
2nd Place: Patricia Romero Sobeira, 56′ ZYLKENE (8 Guests)
Desserts
3rd Place: Tory Peters, 53′ ZUMA  (4 Guests)
2nd Place: Niki Payne, 76′ KINGS RANSOM (10 Guests)
Best Rum Dish
3rd Place: Audry Harper, 70′ ALETHEIA (10 Guests)
2nd Place: Tory Peters, 53′ ZUMA
1st Place: Valentina Ferrario, 47′ NEMO
Best Use of Local Ingredients
1st Place: Ceri Beddard, 62′ KATLO  (6 Guests)
Special Mention
Desirée Bean, 56′ MAJESTIC SPIRIT (8 Guests)
How the BVI Culinary Contest works:   Judging is based on the following criteria:
1. Presentation
2. Taste
3. Creativity/Originality
4. Overall Impression with an emphasis on use of fresh local Caribbean ingredients (buy local British Virgin Island)