Antigua Charter Yacht Show runs December 6 – 11th.
This year celebrates 53 years showcasing exclusive charter yachts in the Caribbean,  New England, the Med and all other exotic ports.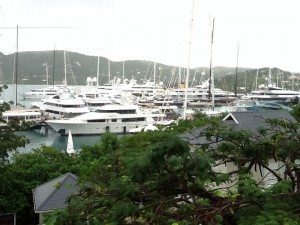 This annual Superyacht charter show spans seven days, three marinas and up to 100 sail and motor yachts.
I attend this show annually for you.  This is such a customized vacation choice, it is crucial that I am current on the newest yachts, culinary Top Chefs, toys and local Caribbean itineraries.
I am here – 2 days early to adjust to the Caribbean heat and to see yachts come into port and see how much energy and work it takes to prepare for us yacht charter brokers and industry suppliers.
This show is not open to the public. Therefore,  I am able to tour, inspect  and taste the culinary delights at the invitation only dinners and lunches this week.
The largest yacht attending is 295′ !  This is my view from my land deck…more exciting reports to come.