2013 US & British Virgin Islands Charter Show  
 Why choose our services?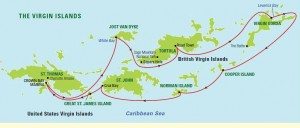 For this reason; each year the annual charter shows give us the unique job of walking the docks, jumping on and off these special sail and motor yachts, meeting the crew that will be your guide for a week or more:  offering dive, snorkeling, windsurfing, paddle boarding, fishing, ecotourism,  hiking, yoga, plus more.
It is a must for us to attend each year!  We provide this important liaison between you and your chosen yacht.  Contracts and monies are protecting you from the possibility of fraud or misrepresentation.  Our allegiance is to you. And someone must do this job…
Over 200 Crewed Charter Yachts will be on display from November 4 – 10th.   32nd Annual US & British Virgin Island Charter yacht show is held at Nanny Cay Marina, Tortola and Yacht Haven Grand, St. Thomas, USVI – we will be boarding each yacht to meet the crew and inspect these private sail and motor yachts.
80% of the charter yacht vacations in the Caribbean begin in this extraordinary set of islands.   See our list of Holiday Yachts (just in case your need to escape) – we will have the most updated information for your vacation.
LIKE Carol Kent Yacht Charters  ON FACEBOOK – and come along for the journey! 
32nd Annual BVI Charter Yacht Show
32nd Annual BVI Charter Yacht Show
32nd Annual BVI Charter Yacht Show