Much Ado About Yachting: Sue New's about the Luxurious Sailing Yacht AIAXAIA
One of the most talked about yachts at the MYBA show is the 151ft/46m motorsailer AIAXAIA. Say that 3 times fast – or even once! It was so interesting to see the finished product after touring AIAXAIA in the yard just one year ago!
AIAXAIA's experienced charter yacht owners have really thought of every detail. Taking 12 guests in 6 cabins, including 2 enormous kings (Master/VIP), make her perfect for multiple families and couples (2 cabins convert from twin to queens).
"Luxury and comfort were the guiding design principles for this beautiful yacht which was built to expand on the success of her popular sister yacht, Navilux," according to AIAXAIA's profile.
The Importance of Being Present at the MYBA Charter Show 
(Wilde, we know; not Shakespeare)
Now in its 30th year, the MYBA Charter Show is dedicated to charter professionals and superyachts and is one of the most important events on the industry's calendar. The 2018 edition ran from April 23- 26, coinciding with the start of the Mediterranean charter season.
Previously held in Genoa, Italy for 27 years, this is the second consecutive year the MYBA Charter Show was held in Barcelona, Spain.
Carol and Sue at the MYBA Charter Show
It only took a few transportation emojis – the plane, train and automobile – to know that our Sue Gearan had had a long day. Nevertheless, she arrived at the Mediterranean Yacht Brokers Association (MYBA) Charter Show ready to rock with Carol and do the best boat research two brokers in Barcelona can do.
As You Like It: Making the Perfect Yacht-Client Match
As glamorous as attending a superyacht show sounds, it's actually essential work for charter brokers – fun work but essential. Boat shows like the MYBA Charter Show, provide charter brokers in-depth tours of scores of charter yachts and opportunities to meet captains and crews, sample menus, track travel trends, catch up with suppliers and discover destinations. All of this in-person research helps yacht charter brokers match each client with their perfect yacht, crew, menu, destination and adventure.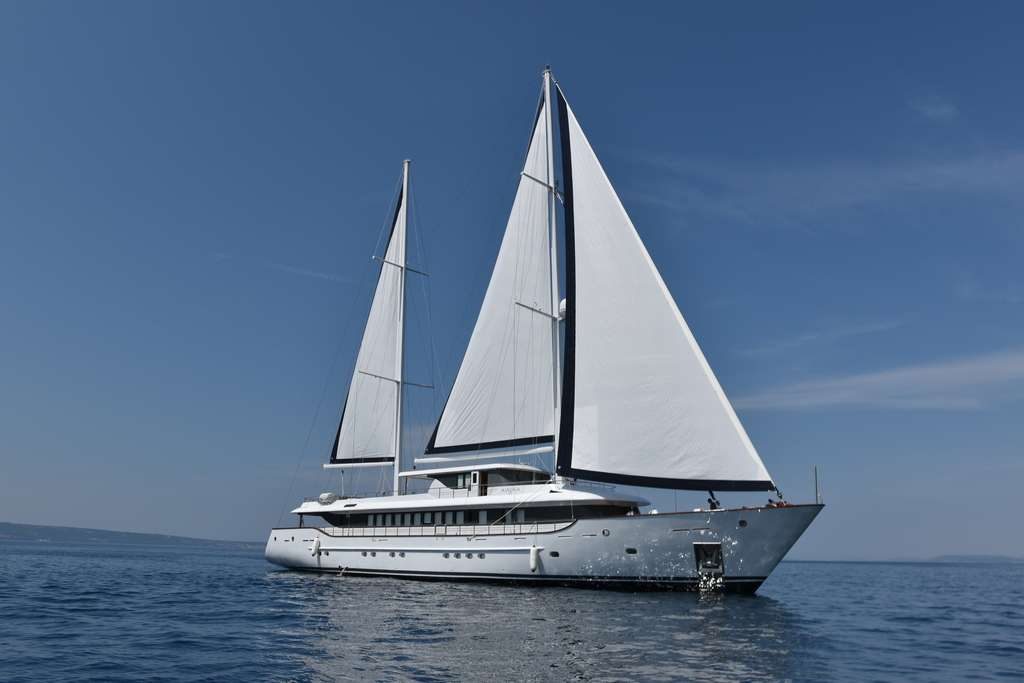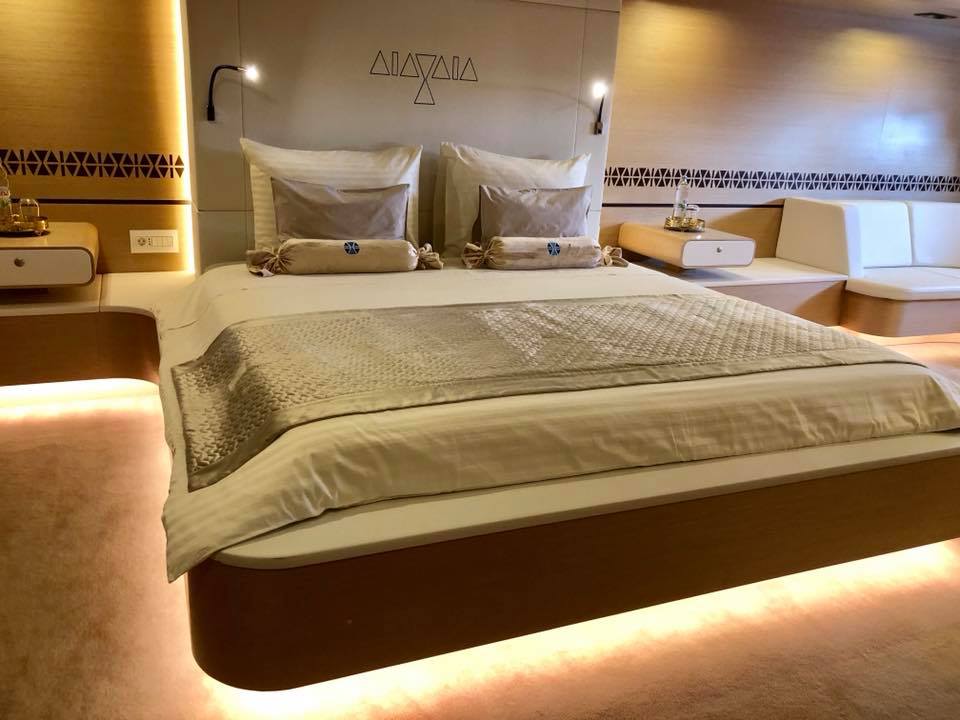 A Midsummer Night's Dream
As you might expect, this yacht has a Jacuzzi, sauna & water toys galore – true megayacht options.
Food and service are impeccable – 5-star all the way.
← An inspired feature not to be missed is the addition of two enormous slices of geode that AIAXAIA's designers encased in shower walls. 
To round it all out, this luxurious motorsailer is run by the best management company in Croatia. Get to this hot destination now!
Croatia is famous for it's rich history, stunning beaches, clear water and glorious beaches. Read a sample itinerary HERE.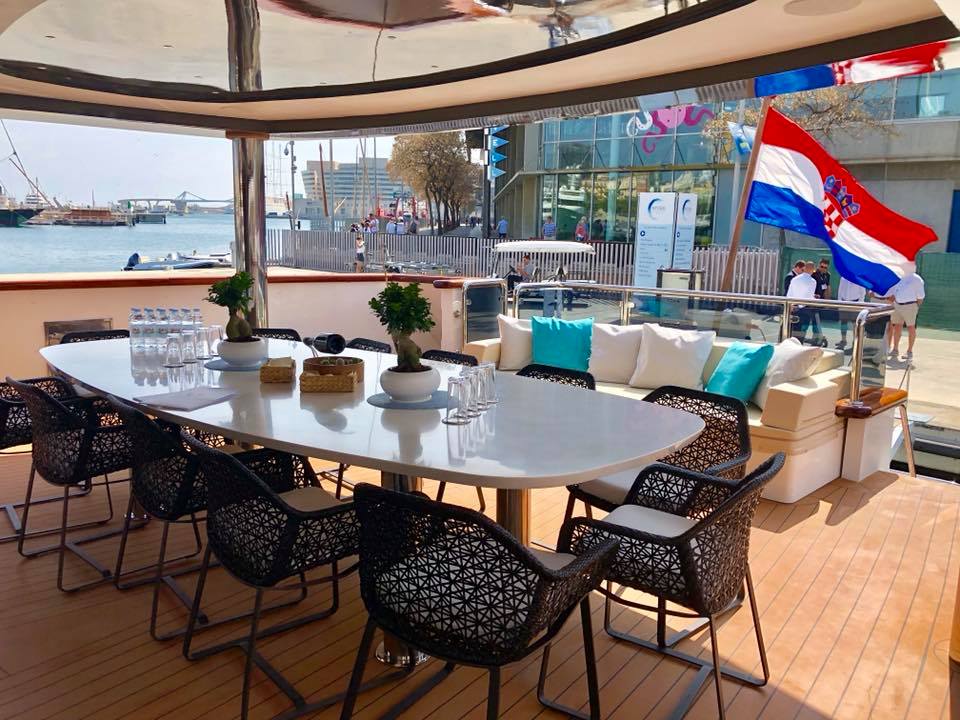 Winners of the 2018 MYBA Charter Show's 5th Superyacht Chefs Competition 
Top Yacht Chef Competitions are a favorite feature of boat shows. These magicians create some of the best food we've ever had in their small – and even tiny – galleys. 
Rarely do these brilliant chefs present food and table settings that aren't impressive; more often their work is innovative and stunning.
The competition at this year's MYBA Charter Show did not disappoint.
AIAXAIA's Crack Staff Takes 2 Honors
The motorsailer AIAXAIA falls into the category of Yachts 43 to 55 meters long.
Chef Karlo Kaleb from AIAXAIA, featured above, won 3rd place in his category for his gorgeous steak tartar and dessert. 
Carol lunched on this beautiful and delicious food and shared these photos of his winning dishes and the happy chef himself.
Karlo was awarded a Yachts International Certificate, a bottle of champagne and prize from Port Vauban "Gopro camera".
Additionally, AIAXAIA's Steward Miro was awarded in the category of Table Décor for Yachts 43-55m.
Read all the 2018 MYBA Charter Show Superyacht Chef awards HERE.