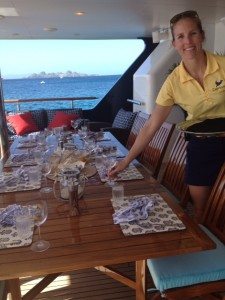 News from CharterWave January 2014
Delighted and thank you Kim for reviewing my incredible trip on board 140′ CAPRICORN this not so long ago December.
Since I am a Capricorn by birth date astrology, I know that we are a particular breed of sorts – always striving for the Top of the Mountain.
I have to say the very same for this crew!  Merry always had a smile on her face and made sure everyone was looked after.  They just completed two successful charters over the Holidays…
Plan ahead for summer in the Mediterranean and back in the Caribbean for winter 2014-2015.