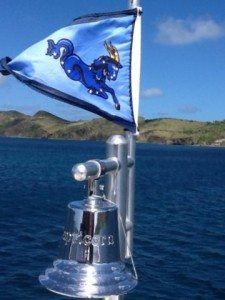 CRUISING ON 140′ M/Y CAPRICORN
The combination of a"goat and a fish" created the most incredible enjoyment for cruising to Nevis, St. Kitts, St. Bart's and ending in St. Martin. The figure of these two unlikely creatures transported our group of six guests (6 staterooms) in luxury and comfort.  Cruising during the evening and early in the AM we discovered three outstanding port of calls in an all too short amount of time.
Easy going and competent, Captain Eddie and his outstanding crew made our trip memorable in so many ways.  The crew tidied our rooms 2-3 times per day, greeted us with cold towels after our explorations on land, dressed up for Asian-themed evening, set creative tablescapes (2012 Winners at the Antigua Charter Show) and looked after our individual requests.  Some of us even tried the two jet skiis.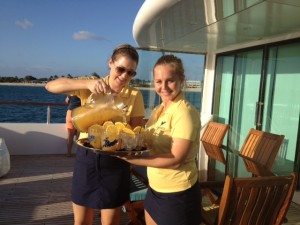 Ashton and Joanne (JoJo) always had a smile for us.
Now the journey!
English Harbor, Antigua is approximately 52 miles cruising to undiscovered Nevis.
The yacht is equipped with stabilizers for smooth cruising.  This time of year is windy – so I may suggest chartering in the LEEWARDS in late February onward into the summer months.  We arrived at sunrise – with the Nevis Peak greeting us.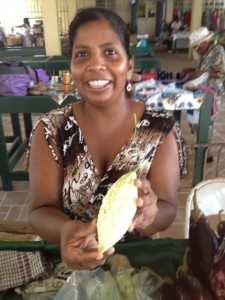 Walking the streets of Charlestown – the market was open for discovering unique to the island spices and vegetables.
This is a "lizard fruit" – do to the shape and maybe because lizards like it too; cook by boiling then slicing for delicate flavors.  Next time I will stay longer.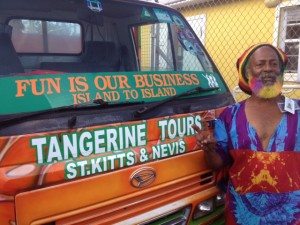 Our guide, Christian was entertaining and historically knowledgeable.   We toured sugar mill plantations turned into luxury boutique hotels, botanical gardens and sulfur springs for healing.
Back on board our home away from home, we enjoyed a swim and delighted in the top deck hot tub.  Dinner was prepared and soon we were eating once again.
Next stop was St. Kitts.  We did not go the full 11 nautical miles to the main Basseterre where those cruise ships land – but to the still undeveloped area of Christophe Harbour planned marina area.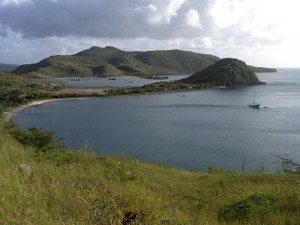 Transported again by "Scout", Capricorn's comfortable tender, we spent the late morning and afternoon in the company of so many interesting island residents.  We lunched at the private club, swam in the infinity pool before heading back to our yacht.  An incredible day!
Next island that the rich and famous love to stay and visit – St. Barts.  Arriving at the main harbor of  Gustavia, one can take in the wealth just by looking at the luxury stores lined up on the quay and side streets.
Charming and friendly (at least this time of year) we walked the steep narrow roads to get the "money shot" of this popular yachting destination.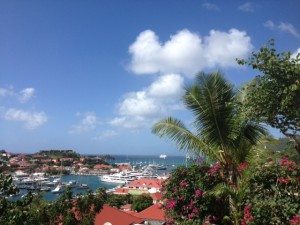 This harbor is well protected and hosts the wealthy yacht owners Regatta ~ St. Barts Bucket Regatta.
You can charter and see these incredible sailing yachts compete and be amongst the fun activities 27 – 30 March 2014.
The day was now complete having stopped off at Le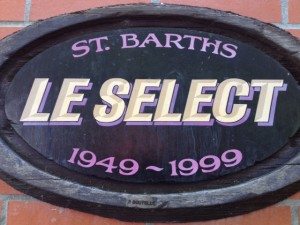 Select for a quick beer and shot of something very delicious!  I did not see Jimmy eating his hamburger in paradise – but it is the place to see and be seen.
My journey is coming to and end.  We left this paradise at 2:30PM and cruised effortlessly into St. Martin, making the opening bridge at 5PM to a safe harbor dock for our last evening.
Our crew surprised us with an Asian-themed evening – yet another meal and decorated table settings.  
All rise at sunrise for an early morning departure on the flight back to Miami at 9:30AM.   Our chef prepared a hearty breakfast with pumpkin spiced muffins, bacon and sausage, eggs and fruit – to tide us over for our journey home.
Thank you all!  Eddie, Merry (our organized purser and leader), Ashton, JoJo, our fun loving engineer Paul, mates James and Kevin and our Chef.
An added special thank you to Aeneas (former Captain of the 154′  Perini Navi Sailing Yacht) now involved with this exciting venture to create Christophe Harbour, St. Kitts.  You made it possible to discover and now be able to share the beauty of Nevis and St. Kitts!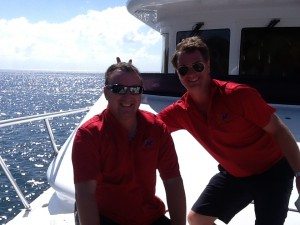 Happy Holidays to you all! 
Call for this winter in the Caribbean and the Med this summer.
She just may be back in New England for 2015!