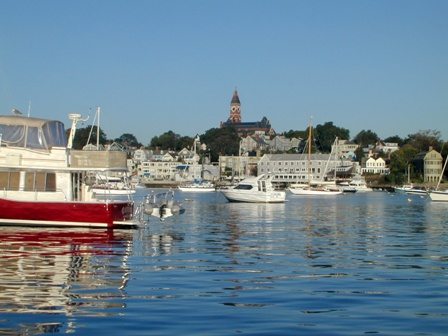 There's nothing  to beat a yacht vacation, I am happy  to tell  enquirers and my customers  have been pleased to confirm that down the years. But for me  that still means hard work in the office sewing up the myriad of details and work at my Marblehead office computer. This week in the broiling heat I had planned to spend a  few hours  keeping up with the CNN TV  debate as the  Democrats tried to choose their presidential candidate.
Then came a horrendous thunderstorm, downing trees and axing local power lines – and of course shutting off the TV broadcast. So I and a friend took refuge  in a local  restaurant immune to the cuts where staff were happy to to turn on the TV set over the bar.
Boy was I in for a surprise. Joe Biden coped with  much of the criticism  from  his nine would-be rivals . Then came an African-American  Senator  unknown to me, 50-year-old Cory Booker from New Jersey, who once as Newark mayor spent 10 days living in a tent to highlight a local housing crisis. On TV this week, he was very powerful and impressive. A local jury set up in Idaho by CNN gave him the highest marks of the night. One woman said  he "reminded  her of Obama", who hasn't  yet endorsed any of the candidates. Other commentators next day thought Cory was the pick of the bunch. Obama hasn't recommended anyone and MIchelle has let it be known so far that she is not interested.  But if Cory got the nod, could Mr.Trump face  a really  tough fight from a new Obama? I really began to wonder. President Cory Booker?  If that's what happens, Remember, you read it here first.
As we say in the biz, as the propeller turns…
—