Mediterranean Yacht Show Chefs' Competition 2015

On May 3rd and May 4th in this historic port of Napflion, the Top Yacht Chef was sponsored by Domaine Skouras Fine Wines.  Top judge was Michelin Star Chef Ettore Botrini and several discerning yacht professionals.  The theme: "A Greek islands' dish, based on local ingredients – showcasing an original recipe".
1st Prize: 62′ Sail Catamaran NOVA  8 Guests | 3 Crew
Stelios Petsas presented his Kalymnian Spinialo.  Spinialo is the gourmet speciality of Kalymnos, an island famous for its fisherman and daring sponge divers.
2nd Prize: 98′ Motor Sail AEGEAN SCHATZ 10 Guests | 6 Crew
Elias Roshi presented Mastelo Lamb_The traditional cuisine of Sifnos island is prepared within the famous local pottery.
3rd Prize:  Motor Yacht SPACE  6 Guests | 3 Crew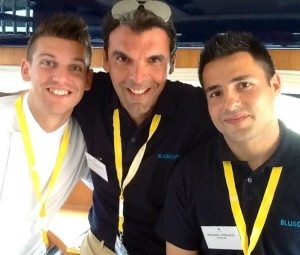 Chef Stelios Arakas (young and talented) presented Red Mullet Savoro, a traditional dish of his homeland, the island of Syros (Cyclades cruising area).
Platinum A Catagory included yachts ranging in 100′ feet plus.
130′ Motor Yacht OURANOS  12 Guests | 7 Crew  Chef presented Rooster Lasagne " Pastitsado". Pastitsado is a classic recipe from Corfu island in the Ionian Sea.
2nd Prize:  103′ Motor Yacht DUKE  10 Guests | 5 Crew  Chef Giannis Papageorgiou presented "Labriatis".  From the old times until our days in Andros island, the Easter dish tradition, is a stuffed lamb with local ingredients such as local cheese, herbs etc.
3rd Prize TIED:  130′ Motor Yacht ENDLESS SUMMER  10 Guests | 6 Crew George Kalavros presented his Grouper with Okra
AND  131′ Motor Yacht O'PATI   10 Guests | 8 Crew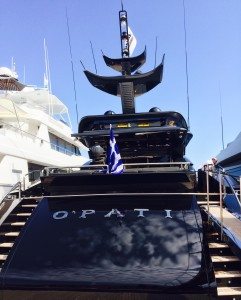 Chef Sotiris Courts presented his Fennel Fritters with Tarama and Ouzo
Marathokeftedes (fennel fritters) is considered the specialty of the Greek islands and each place has altered the recipe adding local products.